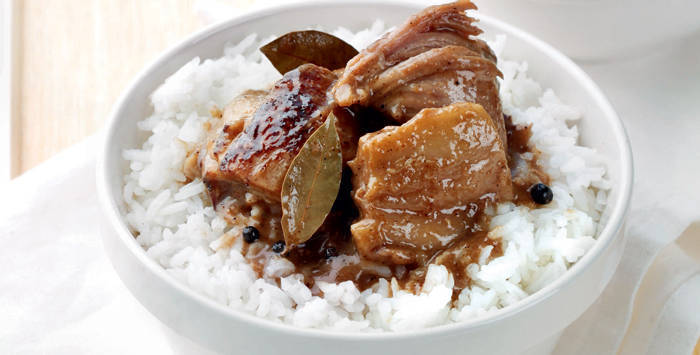 One of our classic recipes, the paksiw, is recipe that relies heavily on vinegar. The most basic of paksiw recipes, after all, require these four important seasoning ingredients: vinegar, peppercorns, bay leaf, and salt. 
If you've ever wondered how else you can prepare this Filipino dish, we have several paksiw recipe you need to try: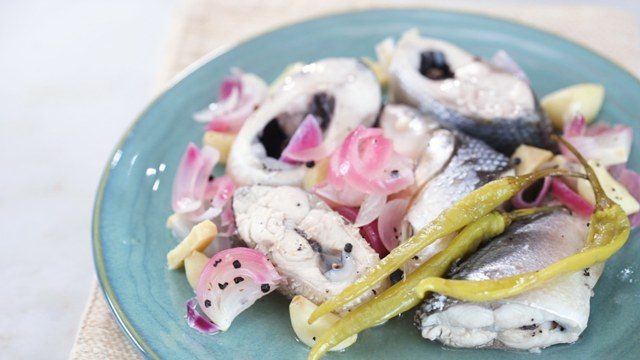 1 Paksiw na Bangus Recipe 
You can't go wrong with a classic recipe such as this. Simmered to temper the harsh sharpness of the vinegar, this paksiw is made with bangus halves so it is easy and almost always available no matter what time of the year you want to make it.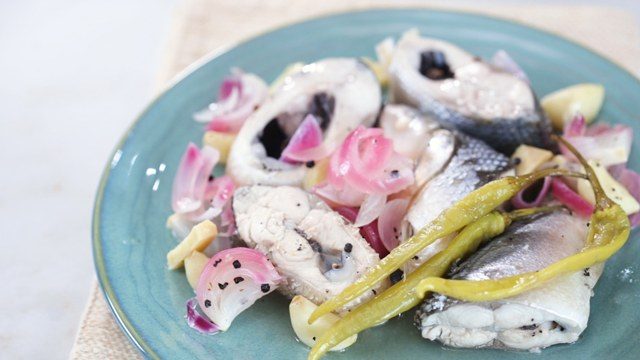 WATCH: How to Make Paksiw Na Bangus
Posted in:
Cooking
} ]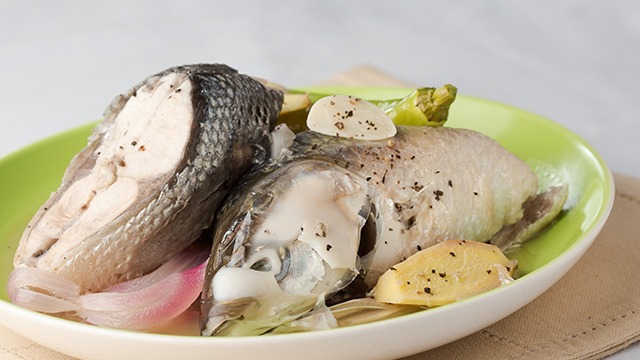 Paksiw na Isda Recipe (Fish in Vinegar)
Posted in:
Recipe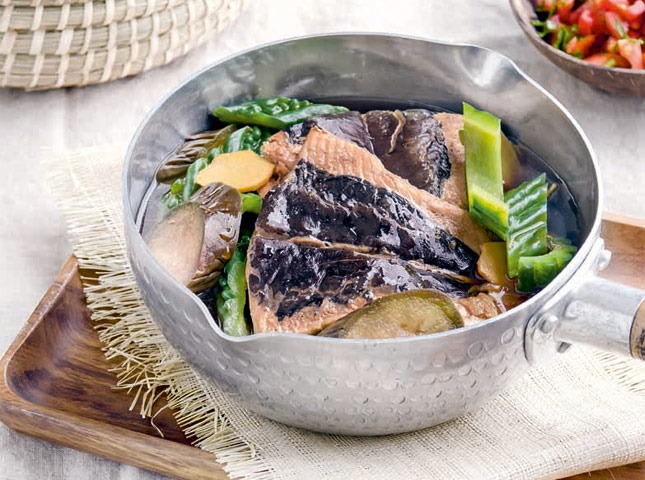 2 Fish Paksiw Recipe 
When it comes to paksiw, fish is what immediately comes to mind. However, whether it's bangus, galunggung, bisugo, asuhos, or even tilapia, you really can shop the palengke for the freshest catch of the day. Cook this fish you find in vinegar to make a delicious paksiw na isda recipe like this versatile recipe that adds some hearty vegetables into the mix.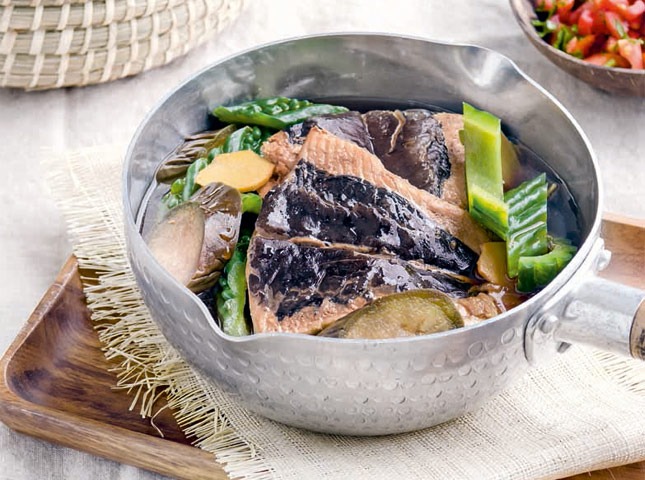 Fish Paksiw Recipe
Posted in:
Recipe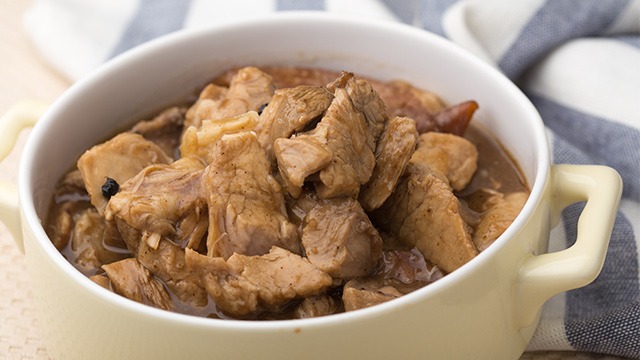 3 Lechon Paksiw Recipe 
When it comes to pork and paksiw, the uneaten parts of the huge lechon from the latest handaan is what comes to mind. It's simmered in a tangy, sour-sweet sauce that is made also from the leftover lechon sauce that's served with the lechon.   
Make a lechon paksiw recipe like this recipe which takes the usual route by using whatever is leftover. (No wonder there is always more lechon that can be eaten at any gathering! It's to make sure there is lechon paksiw to serve the next day.)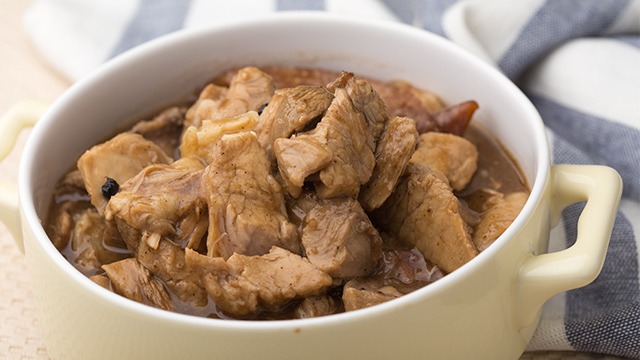 Lechon Paksiw Recipe
Posted in:
Recipe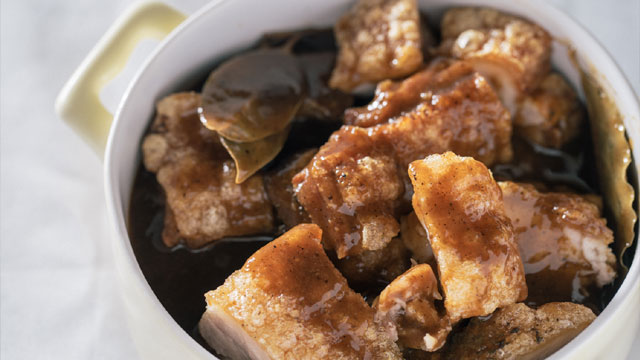 4 Lechon Kawali Paksiw Recipe 
There is more than one way to make lechon paksiw, and one way is to not have to wait until there is a party hoping that a lechon is served to eat it. By using the more economical lechon kawali in place of the rare whole lechon, you not only get to taste this unique after-party dish more frequently, but you also get a chance to have lechon whenever you want.  
ADVERTISEMENT - CONTINUE READING BELOW
Recommended Videos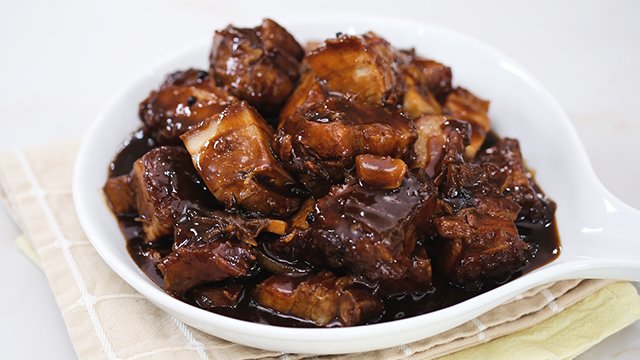 WATCH: How to Make Lechon Kawali Paksiw
Posted in:
Cooking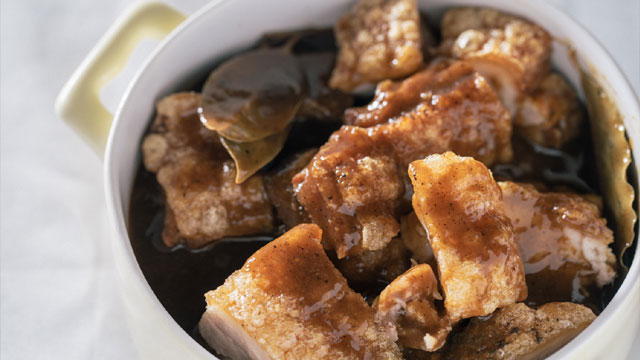 Lechon Kawali Paksiw Recipe
Posted in:
Recipe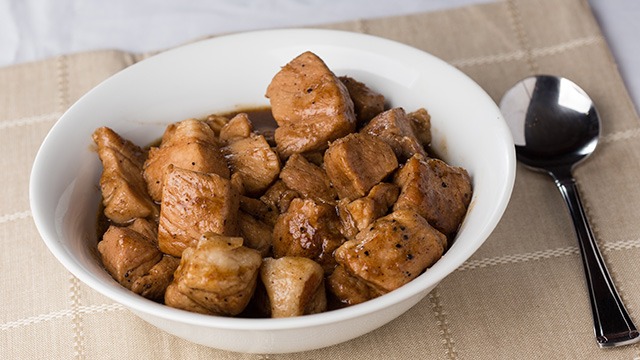 5 Pork Adobo Paksiw Recipe 
How can you go wrong when you combine two favorite Pinoy recipes into one delicious dish? That's what we think has gone down when someone thought to transform a pork adobo recipe and add some lechon paksiw flavors into one umami-packed dish! What you get is a salty, sour, sweet, and, ultimately, delicious pork dish that transcends everything you thought an adobo recipe or even a paksiw recipe could be.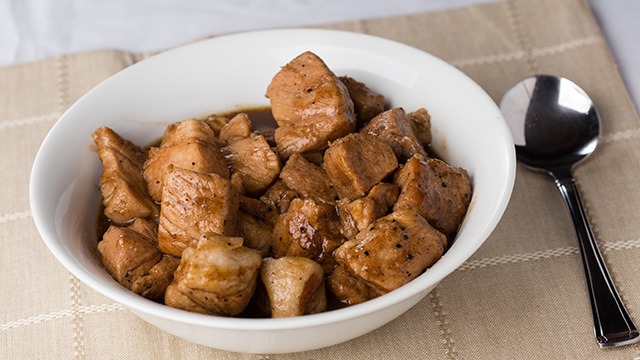 Pork Adobo Paksiw Recipe
Posted in:
Recipe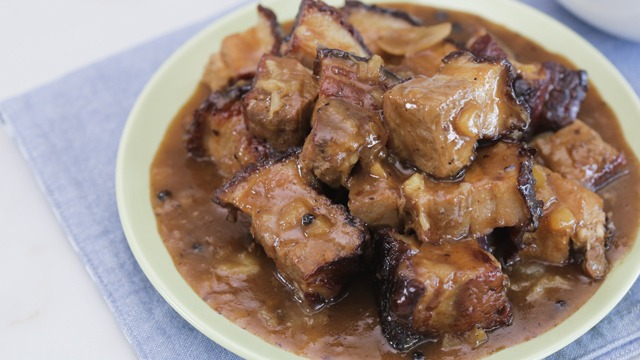 6 Lechon Paksiw with Pineapples Recipe 
It's no secret that the "secret ingredient" in this fantastic recipe is a fruit. What you may not know is that the pineapple not only delivers fruity flavors to the dish but adds to both the sweetness and the sourness to the overall flavor of the saucy pork dish. The pineapple is a great complement to the already present flavors of sour-sweetness of the paksiw while making sure that it's tender and juicy. Even celebrity and Filipino actor Alden Richards makes a similar paksiw recipe!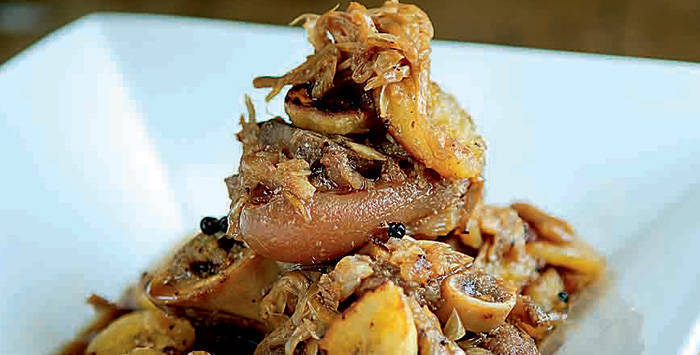 7 Paksiw na Pata Recipe 
The roast pork or lechon really is the most common meat to use in pork-related paksiw recipes but why not change things up and use another cut of meat that is nonetheless delicious? Here, pork pata or the hind leg of pork, with its gelatinous skin and meaty chunks, is cut up and used as the main ingredient in this unique heritage paksiw recipe. What makes it even more unique is that it's got banana blossoms added in as well as other flavor notes – soy sauce and brown sugar – that will make you think it might be a humba recipe rather than a paksiw recipe. 
Whatever it's called, the fact remains that vinegar is still a major seasoning ingredient in this delicious recipe.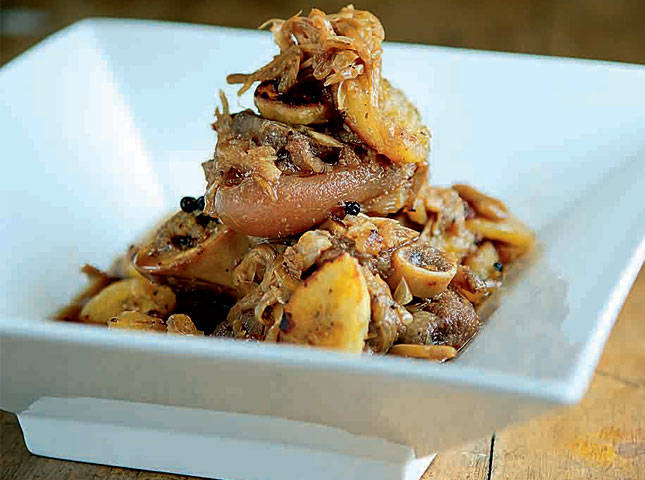 Mercedita Uy De Baron's Paksiw Na Pata
Posted in:
Recipe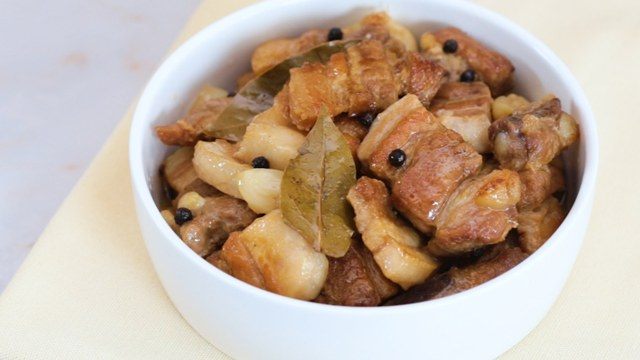 8 Adobong Puti Recipe 
If you think about it, the adobong puti or white adobo is actually a kind of paksiw. The big difference between this adobo and the typical adobo that many are more familiar with is the soy sauce. Whether it's added in or not, the adobong puti can be classified as a kind of paksiw because it too has all the ingredients of a paksiw: vinegar, peppercorns, bay leaf, and salt. With the addition of the garlic and use of pork that's not a lechon or even a lechon kawali, this may be the closest to the original paksiw na isda there is but it's made with pork.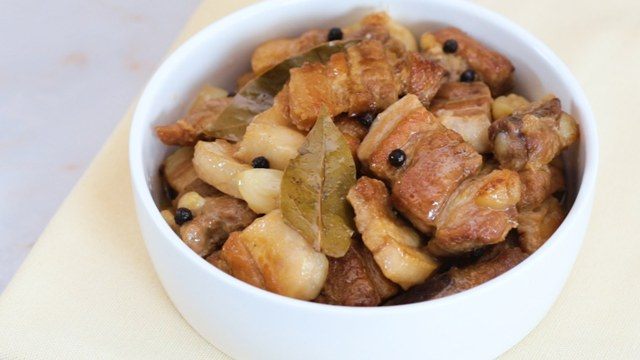 WATCH: How To Make Adobong Puti
Posted in:
Cooking
It's not hard to figure out how a simple recipe such as the paksiw recipe became more complicated in terms of flavor. The creativity of a cook confident in their cooking is, after all, limited only to the ingredients that are available. Where many ingredients are available, that's where a four-ingredient recipe such as the paksiw can become more than just an ordinary meal. 
From pineapples stirred in to give it a fruity flavor to swapping out the classic fish for leftover lechon pieces and adding a liver sauce to the sour-sweet mix, any of these simple paksiw recipes can be a satisfying meal. You just have to try the variations to begin to love it. 
ALSO READ: