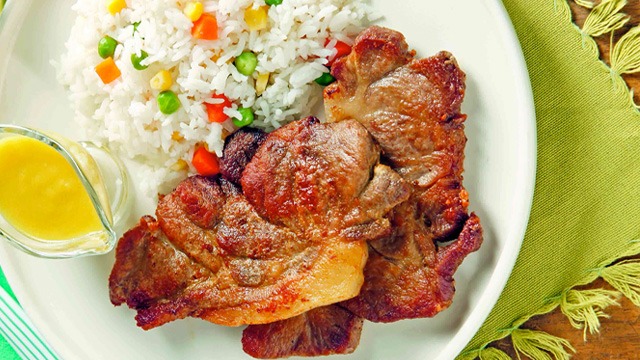 Steaks are usually under the beef category but we think you need to think out of the box when it comes to steak. That's because there is a cut of pork that is just as delicious but doesn't come with the hefty price tag. 
Pork steaks are delicious! It's usually not the favorite cut of pork since there are the pork belly and the pork chop cuts, but the pork steak cut is just as tender, flavorful, and easy to cook as either of these cuts! 
What you may not know is the reason why the pork steak should be considered the better, if not the flavorful, cut of pork compared to the pork chop because of the marbling of fat that runs through this cut.
Here is the reason why.
The pork chop is cut from the back loin. This is not a very well used muscle, which is why it stays tender when cooked. It's incredibly lean, too. It's an easy-to-cook cut which makes it a favorite among those who love fast and easy pork meals. 
The pork steak, meanwhile, is cut from the kasim, or the shoulder of the pig. This part of the pig gets more exercise than the back does and thus, has more fat and tissue running through it. This marbling is what makes this cut more flavorful than the loin cuts. Fat is incredibly flavorful, and since the pork steak has it running through it than the pork chop, it not only makes sure that this cut is delicious, but it also ensures that the cut is tender because the meat is basted in the fat as it renders out as it cooks. 
Plus, the pork steak has a bone running through it as well so you know it's going to be flavorful!  
If you're convinced that this cut will be your new favorite pork cut, here are recipes that we know you will fall in love with!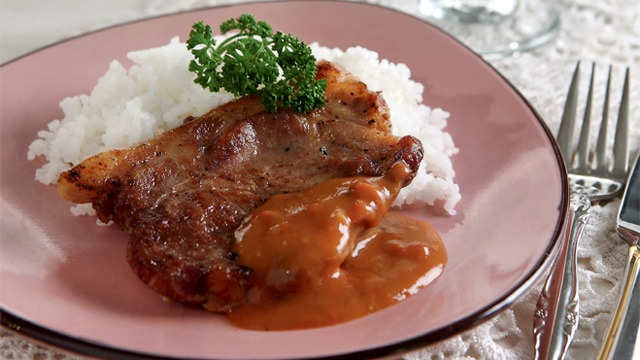 1 Pork Steak With Spicy Tomato Sauce Recipe 
It's easy to fry pork. Whether you're frying a pork steak or a pork chop, salt and ground black pepper is the universal seasoning. That's why the sauce can be such a meal changer! The sauce will be the one that elevates your normal pork to one that's lip-smacking delicious! Here, a simple tomato sauce is made even tastier and more appetizing by adding some heat, some chunks, and a delicious stock to bring this easy meal all together. 
Best of all, this recipe is the perfect meal to cook for two.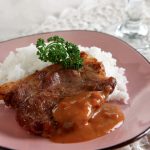 Pork Steak with Sauce Recipe
Posted in:
Recipe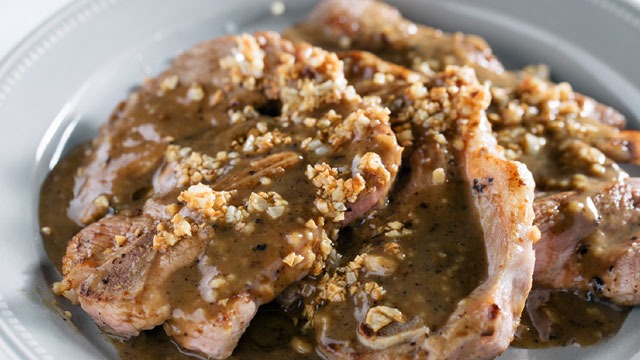 2 Pork Steak Ala Pobre Recipe 
Whenever you see the words "ala pobre", you know that garlic (Lots of toasted garlic!) will be involved. Simplicity is the key here so neither the pork nor the garlic becomes swamped with other flavors, so a little seasoning and an easy fry is all you need before you toss these pork pieces in a garlicky, umami-packed sauce. Rice is a must!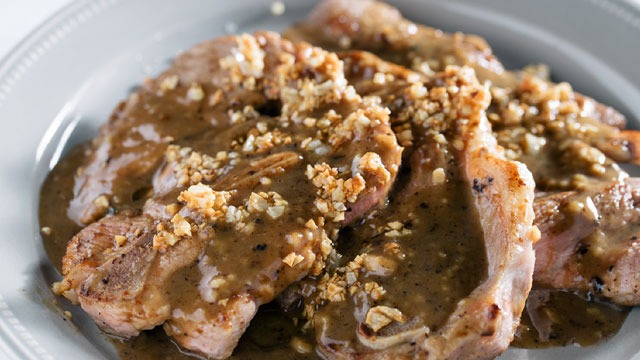 Pork Steak a la Pobre Recipe
Posted in:
Recipe
3 Pan-Fried Pork Steak Recipe
If you want a true steak but don't have the budget for it, that's okay! While a pork steak might lack the beefiness that is inherent to real beef, pork can be a fantastic vehicle for the flavors that you love in your steak, too. Rosemary and garlic are delicious, especially when it's cooked right beside the pork so it becomes infused with its aromatic flavors.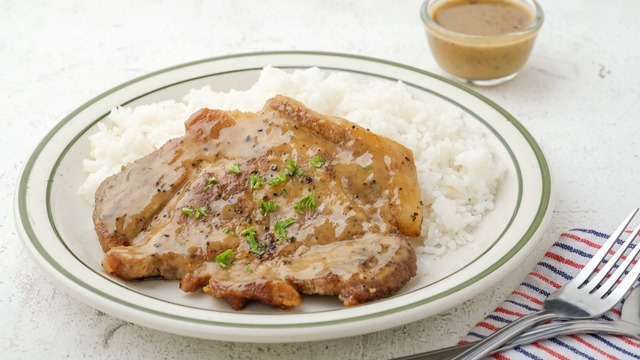 4 Peppered Pork Steak Recipe 
There are many ways to make a pork steak more flavorful. However, there is no need to look for fancy ingredients to make it more appetizing than it already is. Here, we used everyday ground black pepper as the main flavor of the sauce that this simply fried pork steak is slathered in. You still get the intense flavor of the pork but it's bolstered by the pepper gravy.  
ADVERTISEMENT - CONTINUE READING BELOW
Recommended Videos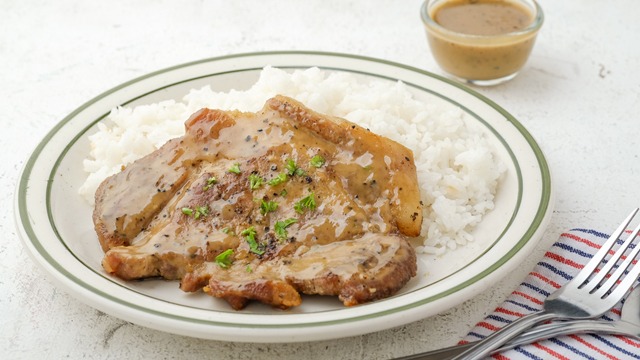 Peppered Pork Steak Recipe
Posted in:
Recipe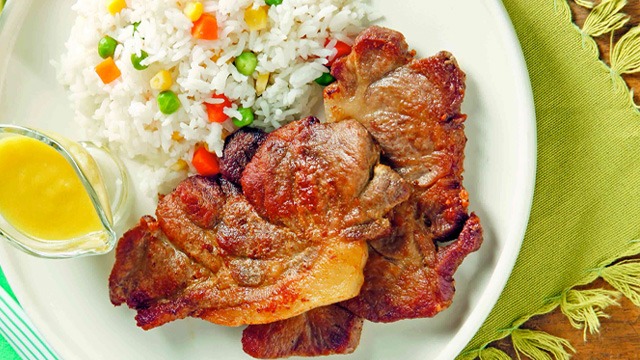 5 Pork Steak in Asparagus-Mustard Sauce Recipe 
Powdered soup mixes that you need to stir into water may be cheap, but that's why it's such a great ingredient to use! Soups in powdered form are intensely flavorful. It's got everything you need to make a big batch of soup, making it the perfect pre-packaged mix to help you make a delicious and appetizing sauce. We used cream of asparagus soup plus a little flavor boost from some mustard to pair with this simple fried pork steak meal.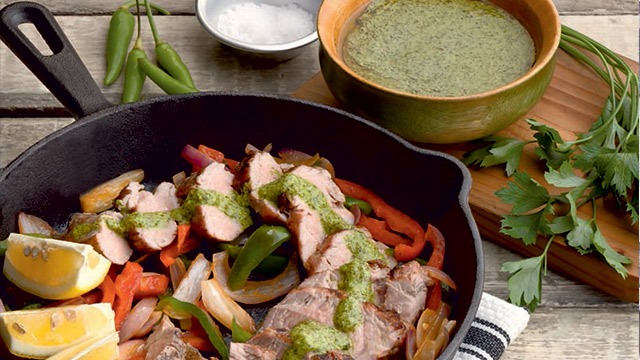 6 Grilled Pork Steak in Chimichurri Sauce Recipe 
We already said that the pork steak is a great budget cut for a beef steak. This just means you can do many things with the pork steak cut that you can do with the steak. Here, pork steak is grilled to perfection and then sliced thinly before it's served with a creamy chimichurri sauce alongside veggies. It's the perfect meal if you're craving a tender steak that's affordable.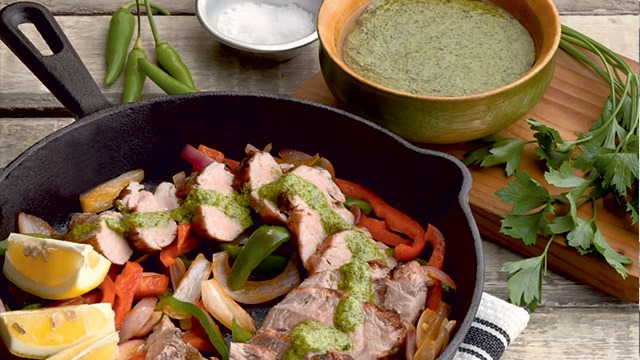 Grilled Pork Steak with Chimichurri Sauce
Posted in:
Recipe
7 Herbed Pork Steaks Recipe 
Strong spices go wonderfully well with pork since it's a versatile meat, but subtle herbs are just as great a pairing, too. Here, a trio of herbs, namely woody rosemary, minty thyme, and bittersweet tarragon, are combined with orange marmalade, Worcestershire sauce, sesame oil, and water to make the aromatic marinade for this pork steak recipe. Served with vegetables made wonderfully aromatic with sesame oil, this is one pork steak meal you'll want to have every week.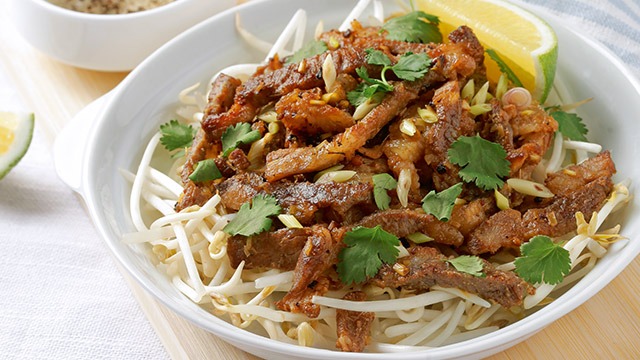 8 Vietnamese Pork Strips Recipe 
There's no reason why pork steak can't be served as something other than a whole pork steak. The Asian ingredients in the marinade that the pork absorbs before cooking makes this pork steak dish unique and extremely flavorful. Top a refreshing bowl of bean sprouts with this flavor-infused pork and it's a fresh take on the togue and pork mix we're familiar with.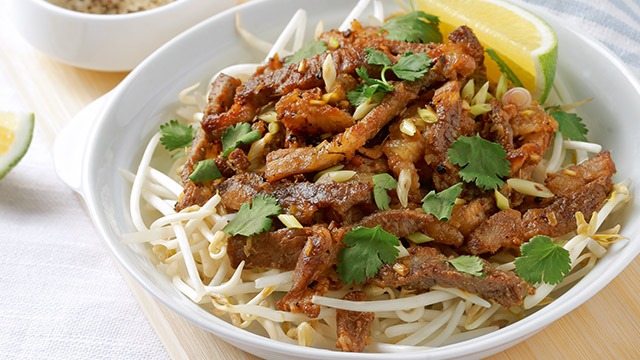 Vietnamese Pork Strips Recipe
Posted in:
Recipe
Pork chops and pork steaks are delicious cuts of pork! However, when you find that either one isn't available at your butcher, you now have an alternative cut to buy that is just as delicious as the other. 
ALSO READ: