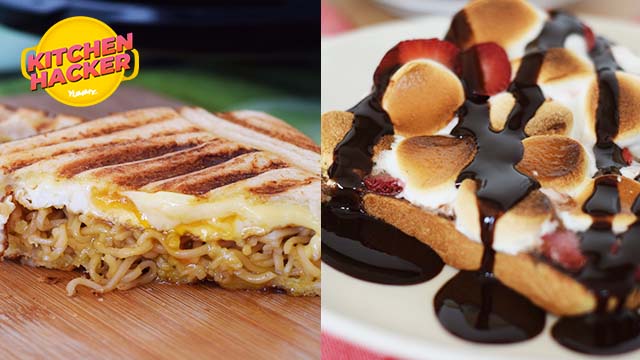 Is bread your go-to snack? We leveled up our bread with these 5 easy snack recipes. There are perfect for breakfast, too!
Pancit Canton Toast Recipe
1 130-gram pack pancit canton, chili-mansi flavor
2 bread slices
1 medium egg, fried, sunny-side-up
1/8 cup quick-melting cheese, grated
2 teaspoons butter, for toasting
1 Cook the pancit canton according to package directions.
2 Assemble the sandwich by adding the pancit canton on the bread, topping with crispy fried egg and grated quick-melting cheese.
3 Cover with another slice of bread. 
4 Toast the sandwich in a sandwich maker for 2 to 3 minutes.
5 Slice into half and watch the egg yolk ooze out. Serve.
Chocolate French Toast Recipe
3 bread slices
2 tablespoons chocoate hazelnut spread
2 medium eggs
unsalted butter, as needed
pancake syrup, to serve
1 Spread the chocolate hazelnut spread onto two bread slices. Stack 3 bread slices.
2 Cut off bread crusts and save them for later.
3 Dip the sandwich into beaten egg and coat each side.
4 Toast each side of the sandwich for 30 seconds to 1 minute, or until fully toasted.
5 Serve with butter on top and a drizzle of pancake syrup.
Caramelized Bread Popcorn
4 to 5 bread slices, cut into cubes
4 tablespoons brown sugar
1 tablespoon water
1 1/2 tablespoons unsalted butter
3 tablespoons fresh milk
1 Cut the bread into cubes.
2 On medium heat, pan toast the bread until brown and crispy. About 5 minutes.
3 Remove the toasted bread from the pan and set aside.
4 On low flame, add 4 tablespoons of brown sugar and 1 tablespoon of water. Mix and cook until sugar is dissolved.
5 Add in 1 ½ tablespoons unsalted butter and 3 tablespoons fresh milk.
6 Mix until all ingredients are well incorporated and turned into caramel. About 8 minutes.
7 Turn off heat when caramel texture and consistency is achieved.
8 Toss in the toasted bread into caramel mixutre.
9 Separate bread cubes and cool completely.
10 Serve.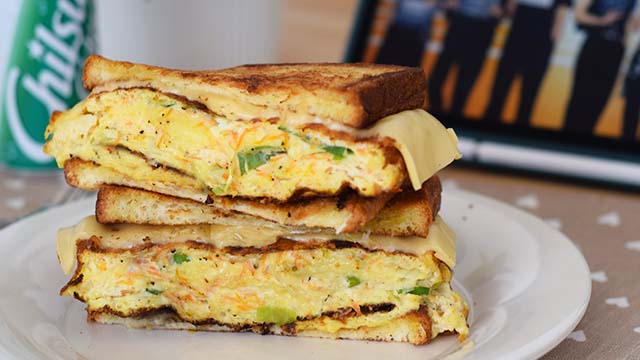 Korean Cabbage Sandwich Recipe
1/2 small cabbage, sliced thinly
1 big carrot, grated
1 leek, sliced thinly
6 large eggs
salt and pepper, to taste
50 grams quick-melting cheese, grated
2 slices cheddar cheese
2 bread slices, toasted
butter, for toasting
1 Slice the cabbage and leek, grate the carrot, and soak them in water to clean. Drain.
2 Place vegetables into the beaten eggs and mix.
3 Season with salt and pepper. Set aside.
4 Toast 2 slices of bread and set aside.
5 On a small square pan, fry the egg mixture.
6 Add the grated quick-melting cheese on top of the uncooked part of the egg.
7 Fold in the egg and cook completely.
8 Add in the egg to the toasted bread and top it with 2 slices of cheddar cheese.
9 You can serve it with ketchup and mayonnaise. 
S'mores Sandwich Recipe
1 bread slice
2 to 3 fresh strawberries, thinly sliced
3 to 5 big marshmallows, cut in half
1 tablespoon chocolate hazelnut spread
chocolate syrup, optional
1 Spread 2 tablespoons chocolate hazelnut spread on a slice of bread.
2 Top with 4 to 5 strawberries and 6 to 8 marshmallows.
3 Heat in a toaster oven for 2 to 3 minutes or until tops of marshmallows are browned.
*** 
ADVERTISEMENT - CONTINUE READING BELOW
Recommended Videos