Lots of people use bread to make different kinds of sandwiches, but did you know that there are so many other recipes you can create using this versatile ingredient? Rather than making your usual ham and cheese sandwich, how about snacking on Cheesy Potato and Leek Bake or Dynamite Lumpia made using your favorite, go-to bread?
These are just two of the more than 100 exciting bread-based dishes found in Gardenia's Unlimited Bread Possibilities, a limited-edition recipe book created in celebration of the bread brand's 25th anniversary. The book puts together easy-to-follow recipes from Kusina ni Gardee, which offers people fresh and exciting ways of enjoying their favorite Gardenia bread. The recipes are found on the Gardenia website while recipe videos are published on its Facebook page.
If you're wondering who Gardee is, he is Gardenia's mascot. You may have already seen him before, particularly if you've visited or toured the bread brand's bakery plants.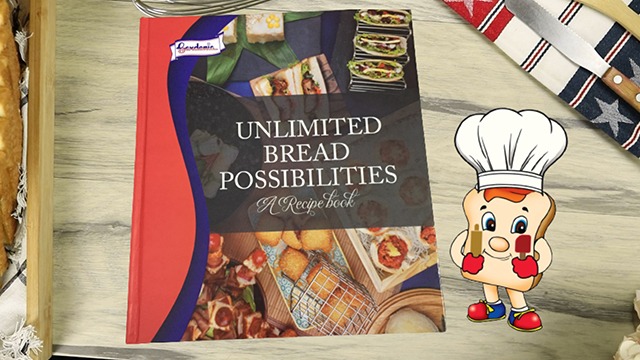 The Unlimited Bread Possibilities recipe book is divided into five sections based on the Gardenia bread you will use — classic white bread, whole wheat bread, flavored loaf, buns and pandesal, and baked snacks. Most recipes are created specifically for breakfast, lunch, and dinner. There are also recipe ideas that are great for snacks, appetizers, desserts, parties, and even for your food business!
Here are three recipes that you should definitely try:
For Breakfast: Gardenia Patata Española Recipe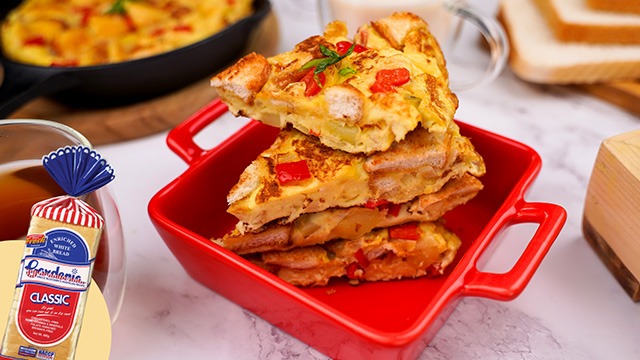 This easy Spanish-inspired dish uses potatoes, onions, eggs, oil, and Gardenia Classic White Bread. The result is a moist, flavorful, and hearty tortilla you can have for breakfast or any time of the day!
Gardenia Patata Española Recipe
Ingredients
1

cup

vegetable oil

1

piece

onion

thinly sliced

1

piece

potato

thinly sliced

3

eggs

1

tablespoon

spring onion

chopped

2

slices

Gardenia Classic White Bread
Instructions
In a nonstick pan, add vegetable oil, onion, and potato. Cook until tender.

Drain excess oil then transfer potato mixture into a bowl. Add eggs and spring onions, then mix. Set aside.

Toast Gardenia Classic White Bread then slice them into small cubes. Add bread cubes to the potato mixture.

Pour mixture into the pan and cook for 5 to 6 minutes. Flip like one whole omelet and continue cooking until set.

Slide onto a plate, sprinkle with spring onions, and serve while hot. Optional: If you want more veggies in your dish, you can add chopped red bell pepper to the potato mixture before cooking.
For Lunch: Gardenia Menudo Turnover Recipe
The Unlimited Bread Possibilities cookbook also has amazing recipe ideas for leftovers. This recipe, for example, turns leftover menudo into a fiber-rich and filling lunch thanks to Gardenia High Fiber Wheat Cranberry Loaf.
Gardenia Menudo Turnover Recipe
Ingredients
4

slices

Gardenia High Fiber Wheat Cranberry Loaf

1/2

cup

leftover menudo
Instructions
Flatten Gardenia High Fiber Wheat Cranberry Loaf slices using a rolling pin or bottle. Cut into round shapes.

Place 1 tablespoon of leftover menudo in the center of the flattened bread and cover with another slice. Seal it using a fork.

Toast for 10 to 15 minutes.

Serve warm.
For Dinner: Gardenia Hardinera Recipe
For dessert, try making the luscious Gardenia Banoffee Pie recipe. This no-bake dessert uses Gardenia Butter Toast as the pie's extra buttery base.
Ready to try these recipes? Shop Gardenia products and get the Unlimited Bread Possibilities cookbook with a minimum spend via Gardenia's official Lazada and Shopee stores. The recipe book is also available at the Gardenia Bread Store when you visit Gardenia's bakery plant in Biñan, Laguna, for a free plant tour.
Follow Gardenia on Facebook and visit its website to learn more about its products and Kusina ni Gardee recipes.