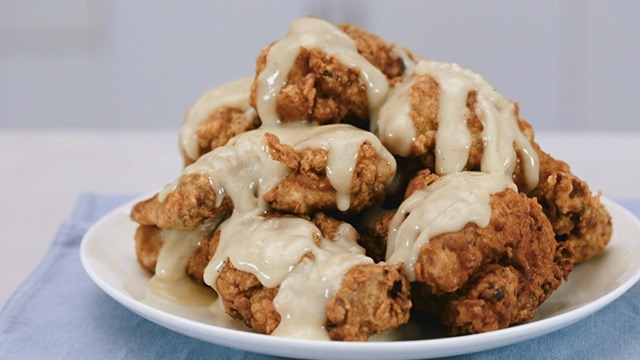 One would think that fried chicken is already quite an appetizing dish but we have a recipe that takes it over-the-top—in both flavor and texture. This golden fried chicken recipe doesn't just cover each chicken piece in a flavorful coating, it also tells you to brush each with lots of melted butter and then serve it with a buttery gravy that's the perfect compliment to the chicken. There's even enough gravy made to spoon some over the steamed rice you're going to need to eat with it. 
If you love butter and adore fried chicken in all its forms, you may want to sit down and feast your senses on the buttery deliciousness that this butter fried chicken recipe made the Pinoy way will deliver. 
Pinoy-Style Butter Chicken Recipe 
Takes 50 minutes
Makes 6 servings
 
1 kilo chicken pieces
1 cup buttermilk
2 cups all-purpose flour
1 teaspoon garlic powder
1 teaspoon onion powder
1/2 teaspoon ground dried oregano
2 teaspoons baking powder
1 teaspoon salt
1 teaspoon ground black pepper
2 large eggs, beaten
Vegetable oil, to deep-fry
1 cup butter, melted
 
For Butter Gravy:
1/2 cup unsalted butter
1/2 cup reserved flour mixture
3 to 4 cups water
1/4 cup Knorr Savorrich chicken
 
1 Combine chicken and buttermilk in a bowl. Marinate, covered, in the refrigerator for 30 minutes.
 
2 Combine flour, garlic powder, onion powder, celery salt, baking powder, salt, and pepper in a bowl. Reserve 1/2 cup for gravy.
 
3 Heat oil in a deep pot. Deep-fry chicken until golden brown, about 10 minutes. Drain on a wire rack for 5 minutes. Dip in or brush on melted butter and then let it stand for 10 to 15 minutes.
 
4 Make the Butter Gravy: melt butter in a pan over medium heat. Add the reserved flour from the fried chicken. Whisk until toasted, about 5 minutes. Pour in water and Knorr Savorrich chicken; mix until thickened. Serve with buttered fried chicken.
Need more fried chicken recipes on your dinner table? Here are more to satisfy any fried chicken craving you may have: 
ADVERTISEMENT - CONTINUE READING BELOW
Recommended Videos