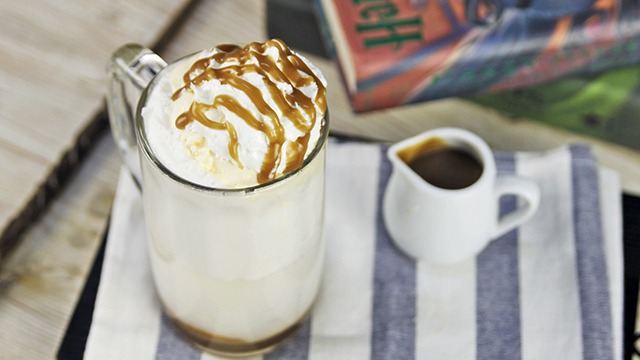 While you are spending time away from Hogwarts, here's the ultimate recipe hack using only a few pantry staples for your favorite drink: butterbeer! 
Sweet butterscotch, fluffy whipped cream, smooth ice cream, and fizzy soda water make up this comforting and satisfying sipper. Remember to season your butterscotch with a pinch of salt so that it doesn't become overly sweet! 
Butterbeer Recipe
Serves 4
Ingredients
To make the butterscotch:
4 tablespoons unsalted butter
1 cup brown sugar
3/4 cup whipping cream
Pinch of salt
1 cup heavy cream, whipped
4 (330-ml) cans soda water
1 pint or 4 scoops vanilla ice cream
Directions: 
1  Melt the butter over medium heat. Add sugar and stir until dissolved. 
2  Add the whipping cream and salt, then cook over medium heat for 7 minutes. 
3  In a mixing bowl, whip the heavy cream until you reach soft peaks and fold in 2 tablespoons of cooled butterscotch. 
4  In a tall mug, layer the ingredients. Drizzle butterscotch in the bottom first. Then, layer the whipped cream, soda water, and a scoop of ice cream. Garnish with whipped cream and a drizzle of butterscotch. 
Recipe by Zee Castro-Talampas