Buttermilk is something of a culinary mystery. It sounds like a thick, rich, dairy-based ingredient that can instantly elevate any dish, whether sweet or savory.
A fermented dairy substance, buttermilk was sort of discovered by accident. In days of old, it was the liquid left behind from churning butter that sat outside a little too long. Since then, it's been traditionally used as a marinade in Southern cooking in the United States and Indian regional cuisines.
These days, buttermilk is used to enhance the flavor and richness of different kinds of dishes. It makes for an extra tender and extra flavorful fried chicken. It helps make cakes and pancakes soft and moist. And, it also gives the richness of cream and tangy notes of yogurt to certain dishes.
To make buttermilk, add 1 tablespoon of vinegar or lemon juice to 1 cup milk. Let the mixture sit for about five minutes, and you're good to go.
If you don't have buttermilk on hand, use Alaska Créma, which has buttermilk. It can add a delicious twist to your favorite dishes, enhancing their flavor and richness in an instant.
Create the following recipes to see how Alaska Créma can elevate everyday dishes into something you'll be proud to serve on the table for the whole family to enjoy: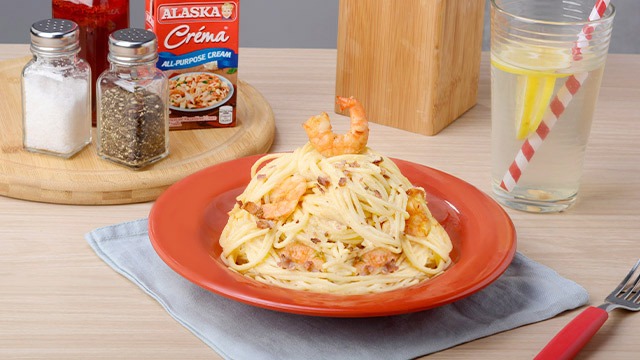 Spicy Carbonara Recipe
The lemon juice and zest plus the chili garlic oil add a fun kick to the richness of Alaska Créma.
Prep Time: 5 minutes
Cooking Time: 10 minutes
Ready In: 15-20 minutes
Yield: 4-6
Spicy Carbonara Ingredients:
500 grams pasta noodles of your choice
1 chicken broth cube
1 cup warm water
100 grams bacon, diced
1 tablespoon chili garlic oil
2 tablespoons butter
300 grams prawns or medium-sized suahe
1 tablespoon flour
1 pack (250 ml) Alaska Créma
half a lemon, juice and zest
2 tablespoons of Italian seasoning
1 can (284g) mushrooms, pieces, and stems
2 teaspoons salt
ground black pepper, to taste
grated Parmesan (optional)
parsley, chopped (optional)
How to Cook Spicy Carbonara:
1 Cook pasta noodles according to package directions. Drain and set aside.
2 Dissolve the chicken broth cube in a cup of warm water, and set aside.
3 In a pan, fry bacon until crisp. Drain on a paper towel to maintain the crunch until ready to use.
4 In the same pan, add chili garlic oil and butter. Add and sauté prawns until pink or coral. Set aside shrimp.
5 Add in flour then sauté for about a minute. Pour in Alaska Créma, prepared chicken broth, lemon juice and zest, and Italian seasoning. Let it simmer until sauce starts to thicken.
6 Add in mushroom and cooked shrimp. Simmer for another minute. Season with salt and pepper.
7 Toss pasta noodles in the sauce until fully coated. Transfer to a dish then top with crispy bacon bits. Add Parmesan and parsley if desired. Serve.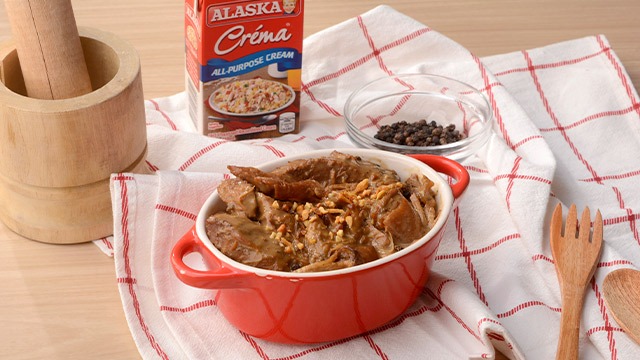 Creamy Paksiw na Lechon Recipe
Make your party leftovers new again with the added taste of Alaska Créma and a little bit of vinegar.
Prep Time: 5 minutes
Cooking Time: 15-20 minutes
Ready In: 30 minutes
Yield: 6-8
Creamy Paksiw na Lechon Ingredients:
500g chopped leftover lechon/lechon kawali
1 bottle (550g) lechon sauce
3 teaspoons garlic, roughly chopped
3/4 cup water
1 teaspoon whole peppercorns
2 tablespoons vinegar
2 bay leaves
1 pack (250 ml) Alaska Créma
How to Cook Creamy Paksiw na Lechon:
1 In a pot, mix together leftover lechon, lechon sauce, garlic, water, and whole peppercorn.
2 Add vinegar and bay leaves without mixing. Cook over medium-low heat until it comes to a boil.
3 Once boiling, mix to make the paksiw. Let it simmer for 2 to 3 minutes or until desired tenderness of meat is achieved.
4 Stir in Alaska Créma, then let it simmer again for another 2 minutes. Serve warm.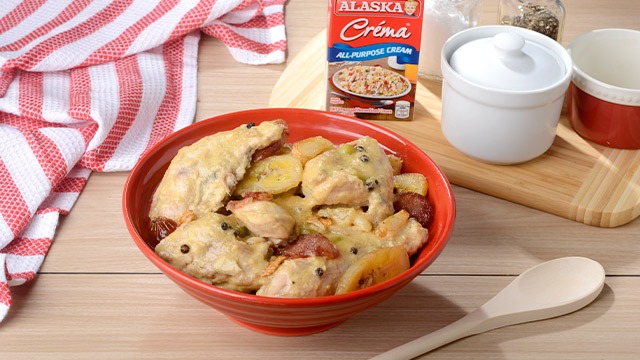 Chicken Estofado Recipe
There are a million little ways to switch up chicken—this is just one of them! The sweet-tart flavor of the pineapple gives this dish a little something extra, especially with the addition of vinegar and Alaska Créma.
Prep Time: 10-15 minutes
Cooking Time: 30 minutes
Ready In: 45 minutes – 1 hour
Yield: 5
Chicken Estofado Ingredients:
1/2 cup vinegar
1 tablespoon patis
4 tablespoons brown sugar
2 laurel leaves
2 teaspoons black peppercorn, cracked
2 teaspoons rock salt
6 cloves garlic, smashed
400g chicken pieces
oil for frying
5 pieces saba, sliced
3 pieces Chinese sausage, sliced
1/2 cup pineapple juice
1 pack (250 ml) Alaska Créma
1/2 cup pineapple bits
1/3 cup green peas
How to Cook Chicken Estofado:
1 In a bowl, mix together vinegar, patis, brown sugar, laurel leaves, pepper, salt, and garlic. Add chicken pieces and toss in the marinade until all pieces are well coated. Cover and refrigerate for at least 30 minutes for the marinade to soak.
2 Heat enough oil in a pan to shallow-fry saba slices. Set aside on a paper towel.
3 In another pan over high heat, place enough oil to coat pan. Sear marinated chicken pieces until brown. Set chicken aside.
4 In the same pan, take garlic pieces from the marinade and sauté with Chinese sausage for about a minute. Strain marinade and pour into pan. Let simmer for at least 5 minutes before stirring.
5 Add in pineapple juice and Alaska Créma. Allow to simmer for 5 minutes.
6 Add the seared chicken pieces. Let simmer while covered for 8 to 10 minutes until chicken is cooked through.
7 Add pineapple bits, green peas, and fried saba slices until warmed through. Serve.
It can be intimidating to get creative with dishes you already know and love, but the adventure will be well worth it. Alaska Créma can recreate that buttermilk magic so you can serve #inCrémable dishes your family will love.
For more Alaska Créma recipes, visit the Alaska Red Kitchen website or follow Alaska Red Kitchen on Facebook and YouTube.