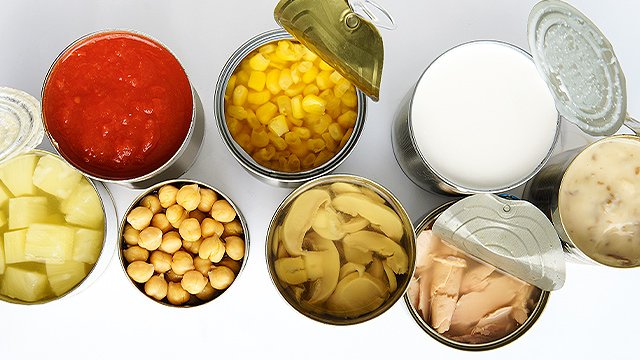 Although cooking from scratch is always ideal, hurried home cooks need a little help once in a while. Stock your pantry with these cheap grocery buys to make home cooking much easier and much faster. You'll be able to make anything from tasty soups, to pasta sauces, to easy desserts in a snap. Here are a few ideas:
1 Cream of Mushroom
You should always have a can of soup at the ready, and cream of mushroom is your best bet. In this can is a condensed version of everyone's favorite soup, meaning it's been reduced to a thicker product. Use it to make pasta sauce, gravy, or a tasty dip in a jiffy.
2 Canned Coconut Milk
If you can't run to the market to get fresh coconut milk, canned coconut milk will work fine. It's made of just coconut, water, and a stabilizer, which means you get the same essence as fresh coconut milk. It also thickens just as well, so you can use it for curries and drinks.
3 Canned Tuna
Always have canned tuna in your cupboard; it's so versatile: Use it to make a sandwich spread, put it on top of rice, or mix it into pasta sauce. It has a neutral flavor profile, which means it doesn't have a fishy aftertaste and can go with almost anything.
4 Canned Mushrooms
The most common type of canned mushrooms is made from champignon mushrooms, commonly known as white button. You can choose from whole, sliced, and pieces and stems. Canned mushrooms are economical alternatives to fresh mushrooms, and provide the same heft and earthy goodness to salads, sauces, and other dishes.
5 Canned Corn Kernels
Canned corn kernels are great options for when you want to cut prep time—you can say bye-bye to boiling and shucking ears of corn! Stock your pantry with cans of cream-style corn, too; they're great for quick soups, casseroles, and iced desserts like mais con yelo.
6 Canned Tomatoes
Canned tomatoes can be your best friend in the kitchen! You can choose from crushed, puréed, diced, and stewed versions. Some cooks prefer canned tomatoes over fresh because of the richer, more consistent flavor profile. What's more, canned tomatoes have been preserved in heat, releasing lycopene, a carotenoid which helps fight cancer.
7 Canned Chickpeas
Canned chickpeas save you from the tedious task of boiling and cooking these beans, which can take an hour or so. With canned chickpeas, you can instantly make soups, hummus, and the classic puchero.
8 Canned Fruits
Always have canned fruits like pineapples, peaches, and lychees on hand for quick dessert options. Though canned fruits may not have the same texture as fresh ones, you can rely on them for their sweetness. You can add pineapple chunks to an ordinary salad, roast them in the oven and top over ice cream, or add them to Filipino dishes for an instant makeover.
ALSO READ:
Article originally published in the July 2017 issue of Yummy magazine. Minor edits have been made by Yummy.ph editors.
ADVERTISEMENT - CONTINUE READING BELOW
Recommended Videos