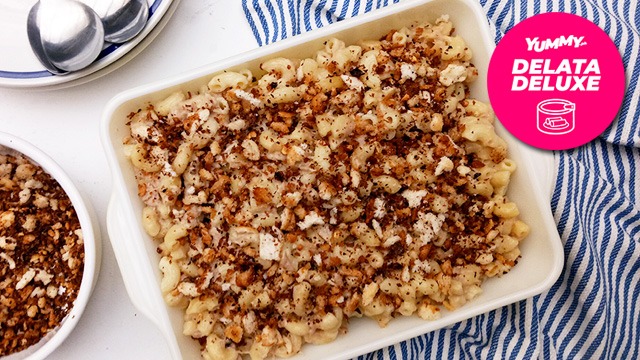 You can make many different recipes using a can of tuna! From simply mixing it with mayonnaise for an easy palaman to combining it with grated vegetables for a tasty tuna version of your favorite lumpiang shanghai recipe, the canned tuna is the versatile canned food that you can rely on to use for an easy meal.  
There are several pasta recipes using canned tuna, too. You can make a creamy tuna and corn pasta recipe or a simple spicy tuna pasta recipe using a can of spicy tuna as your main ingredient. The possibilities for meals can be endless for the humble tuna. You can even make an easy one-pot creamy tuna mushroom macaroni recipe. 
Here's what you do: 
1. Saute 1 185-gram tuna chunks in vegetable oil in a large wok. 
2. Add 3 cups water and bring to a simmer. Add 2 1/2 cups elbow macaroni and simmer for 7 minutes. 
3. Add 1 71-gram pack cream of mushroom soup powder then whisk into the tuna pasta mixture until dissolved. Simmer, while stirring, until thickened. Season to taste with liquid seasoning. 
That's it! It's easy and there are no extra pots to wash, too! 
However, the best way to serve this is with some garlic bread. Instead of using a lot of bread, you can make a crunchy bread topping instead: All you need is a bread slice or two, garlic, and butter to make any tuna pasta you can whip up into something more delicious, more appetizing, and definitely looking more deluxe than usual. You can find this crunchy topping on many macaroni and cheese recipes. 
How to do it?
1. Make your tuna pasta. Set aside.  
2. Shred 1 bread slice into fine crumbs. (We used a hand-cranked mini food chopper!) 
3. In a frying pan, melt 2 tablespoons salted butter. Saute 2 cloves garlic, chopped. Lightly season with salt. 
4. Add fresh breadcrumbs. Toast breadcrumbs until toasted and crisp. 
5. Top pasta with breadcrumbs and serve.  
If you need more ideas on what other pastas you can use with these breadcrumbs, here are recipes you can try, too: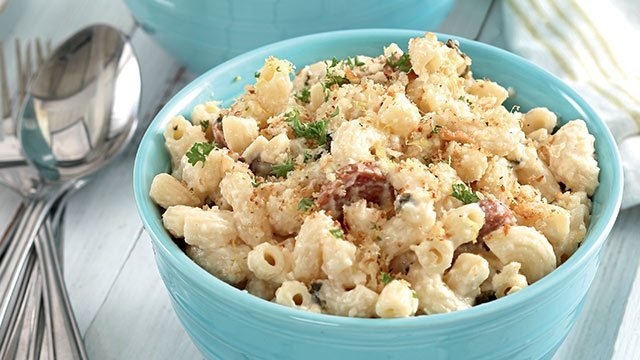 Chorizo and Cheese Macaroni Recipe
Posted in:
Recipe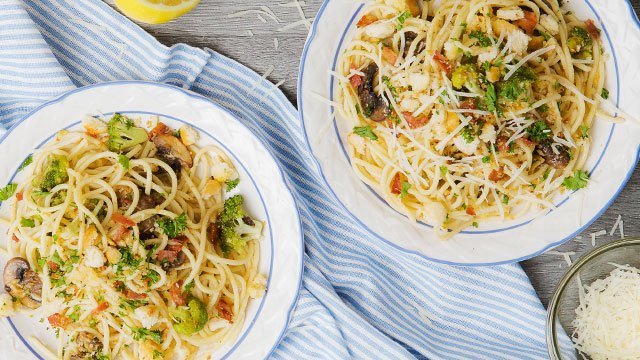 Broccoli and Mushroom Spaghetti Recipe
Posted in:
Recipe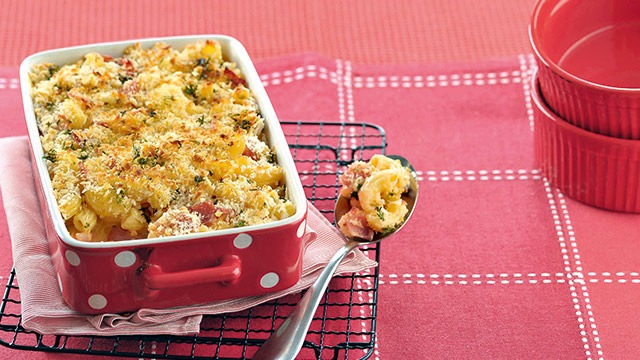 Holiday Mac and Cheese
Posted in:
Recipe
ADVERTISEMENT - CONTINUE READING BELOW
Recommended Videos