Christmas comes only once a year—a time when families come together over a hearty meal. For this very special event, the dishes all of you will share need an upgrade. Chef Sandy Daza shares three recipes that you can prepare for the holiday family feast. Elevate them by simply adding MAGGI Oyster Sauce.
COFFEE SPARE RIBS

Add a dose of MAGGI Oyster Sauce to the java jolt of this dish. Your loved ones might get tempted to eat these ribs on their own.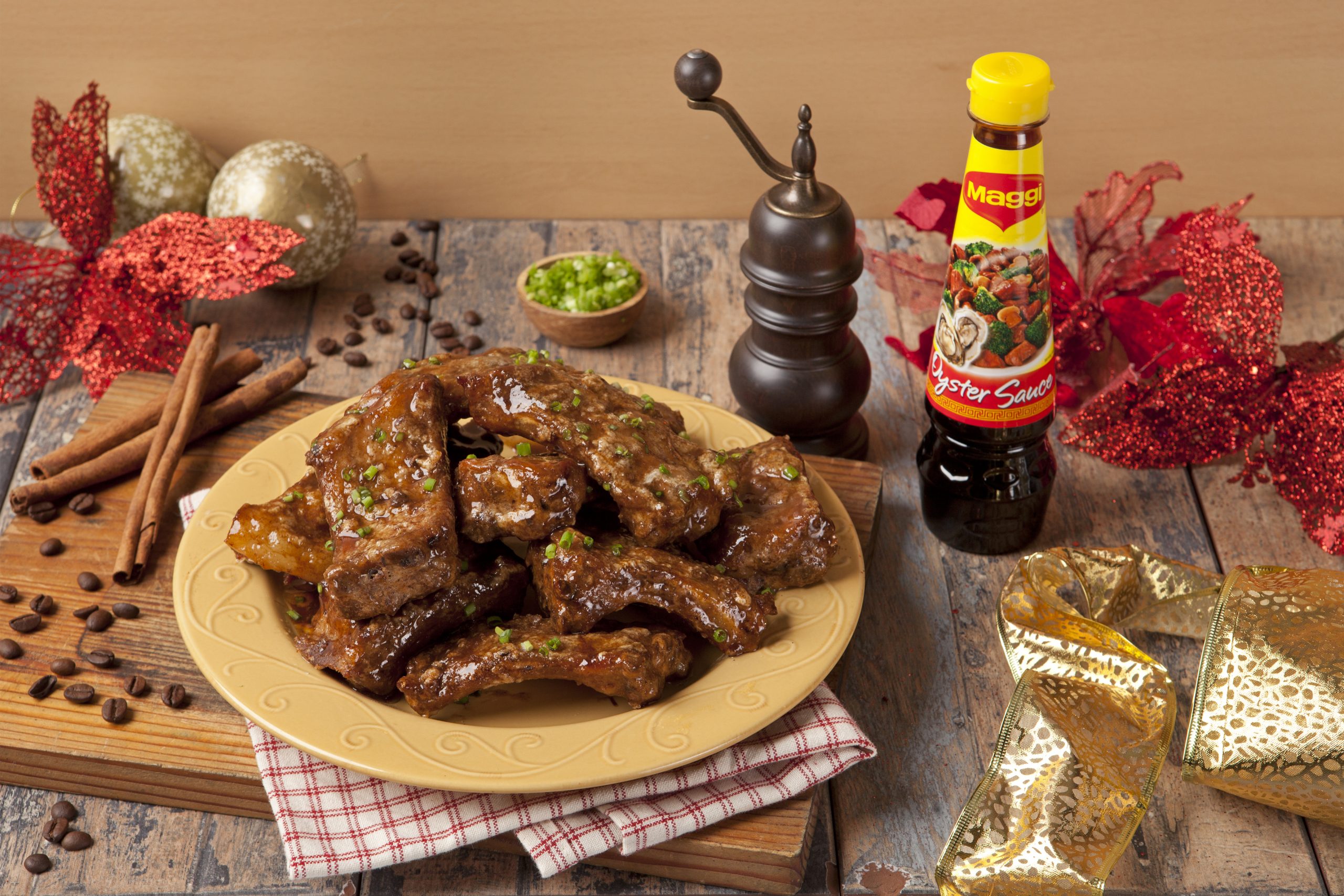 Yield: 10 servings
Ingredients:
1 cup hot water
2 teaspoons Nescafé Classic
½ cup MAGGI Oyster Sauce
¼ cup sugar
1 tablespoon sesame oil
1 teaspoon cinnamon powder
2 kilograms pork spare ribs, cut into two-piece ribs
2 8-gram sachets MAGGI MAGIC SARAP®
4 pieces egg whites
2 cups cornstarch
3 cups cooking oil
3 tablespoons sliced spring onions
Procedure:
1. Whisk together water, coffee, MAGGI Oyster Sauce, sugar, sesame oil, and cinnamon powder in a bowl. Divide into 2 portions.
2. Season ribs with MAGGI MAGIC SARAP®. Coat well with 1 portion of the glaze and place in a baking pan. Cover with aluminum foil and bake for 1 hour at 325°F.
3. Remove ribs from the pan and set aside to cool. Add egg whites and mix well. Toss in cornstarch and coat well.
4. Fry in preheated oil until golden brown. Transfer onto a cooling rack to drain excess oil.
5. Combine glaze and pork ribs in a large bowl and toss well to combine. Transfer into a serving plate, garnish with spring onion, and serve.
ROAST CHICKEN

What makes this different from the roast chicken that you can enjoy on a regular day? A little MAGGI Oyster Sauce goes a long way!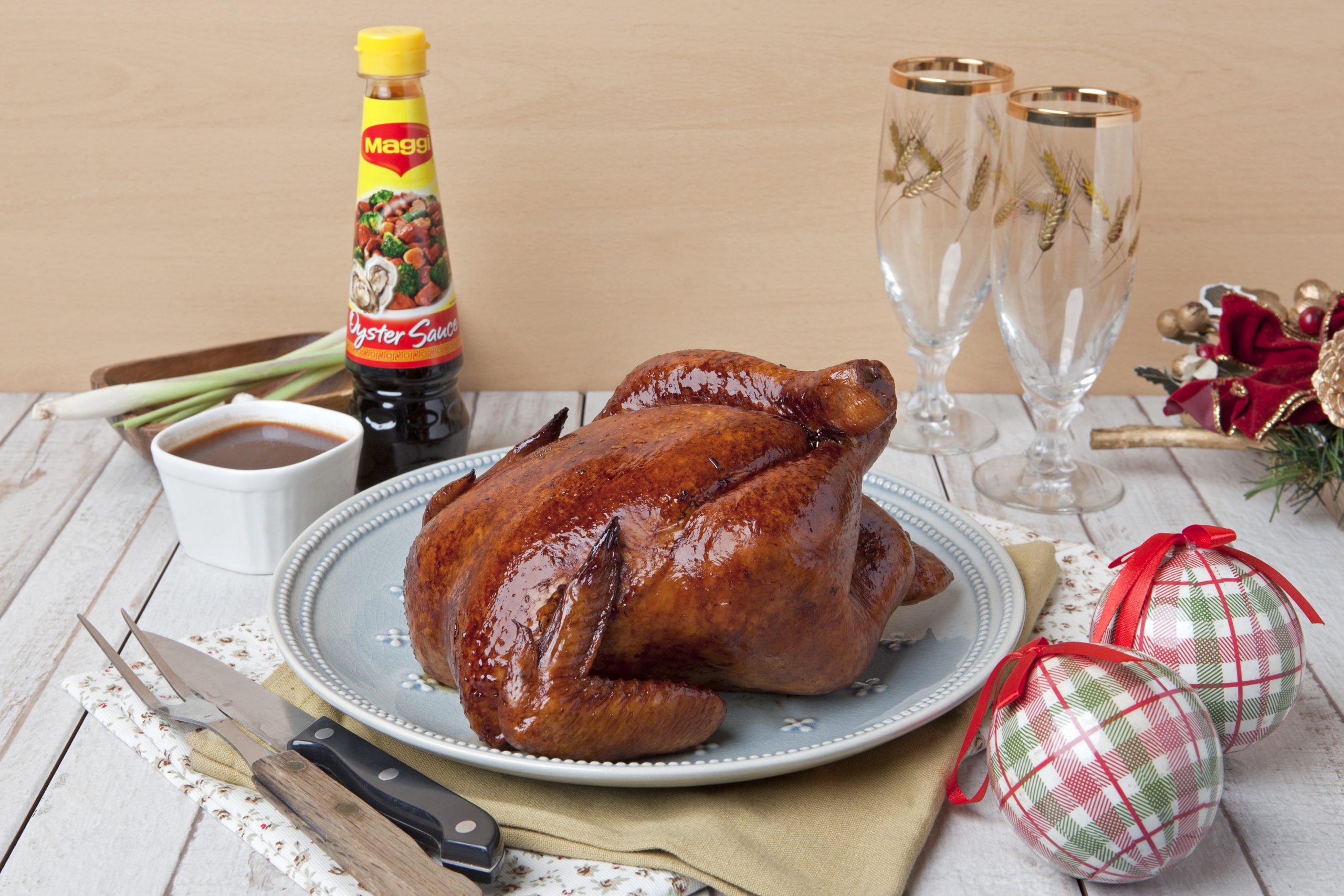 Yield: 8 servings
Ingredients:
1 piece 1.5-kilogram whole chicken
2 8-gram sachets MAGGI MAGIC SARAP®
6 tablespoons MAGGI Oyster sauce
1 tablespoon sesame oil
2 tablespoons Chinese wine
2 tablespoons banana catsup
1 teaspoon hot sauce
3 tablespoons crushed garlic
2 tablespoons honey
½ cup sliced onion
2 tablespoons sliced lemongrass
½ cup water
Procedure:
1. Season chicken with 2 sachets MAGGI MAGIC SARAP® and set aside.
2. Combine 4 tablespoons MAGGI Oyster Sauce, sesame oil, Chinese wine, catsup, hot sauce, garlic, and honey.
3. Coat chicken well and stuff with onion and lemongrass. Marinate overnight in the refrigerator.
4. Remove chicken from the refrigerator 1 hour before roasting. Truss with butcher's twine. Preheat oven at 350°F. Place chicken in a roasting pan and roast for 1 hour and 15 minutes. Remove from oven and set aside to rest for 15 minutes.
5. While resting, remove excess fat from the roasting pan. Deglaze with water and strain into a small saucepan. Simmer and stir in 2 tablespoons MAGGI Oyster Sauce. Pour into a serving bowl.
6. Remove twine from roast chicken and serve with sauce.
ORIENTAL STEAMED FISH

Serve a healthy option to balance out the rich feast. This fish dish has a light sauce made tastier by MAGGI Oyster Sauce.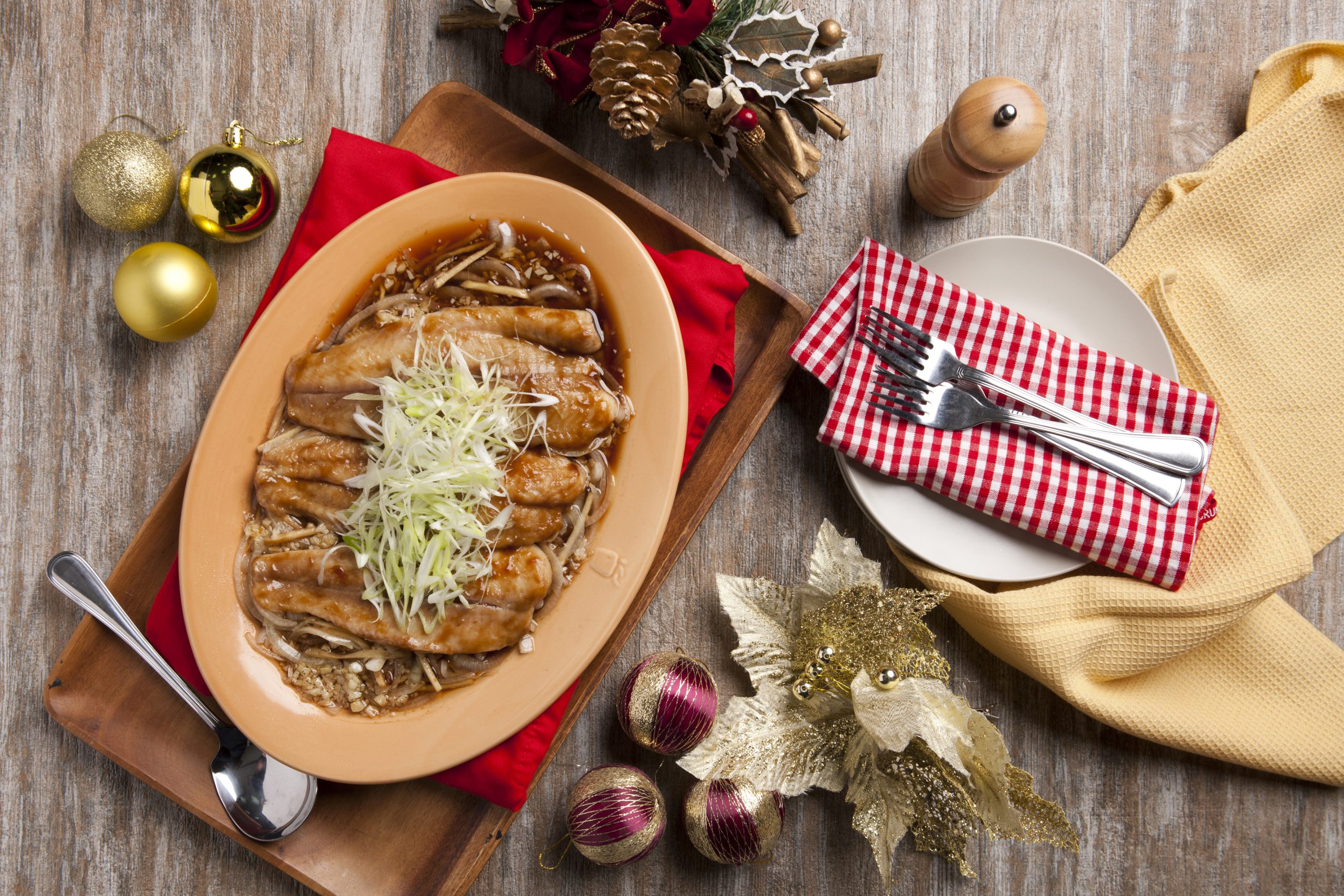 Yield: 12 servings
Ingredients:
2 kilograms dory fillet
3 tablespoons MAGGI® Savor
¼ cup MAGGI® Oyster Sauce
2 tablespoons calamansi juice
1/3 cup julienned ginger
1 cup sliced onion
¼ cup minced garlic
½ cup MAGGI® Oyster Sauce
2 cups chicken broth or water
½ tablespoon sugar
¼ cup vegetable oil
¼ cup sesame oil
1 cup shredded leeks
Procedure:
1. Combine MAGGI® Savor, MAGGI® Oyster Sauce, and calamansi juice. Rub all over fish fillet.
2. In a large plate, spread ginger, onion, and garlic. Place marinated dory on top and steam for about 25 minutes. Remove and set aside. Reserve juices accumulated on the fish.
3. Combine MAGGI® Oyster Sauce, water, sugar, and juices in a small pan and bring to a simmer. Heat oil and sesame oil in another pan.
4. Pour hot MAGGI® Oyster Sauce mixture all over fish. Pour boiling hot oil mixture after. Garnish with shredded leeks and serve.
For more oyster sauce recipes, go to www.maggi.ph. Check out the official MAGGI® social media pages by clicking below!