10 Chicken Ideas for a Food Business
Make extra money on the side by whipping up these chicken dishes.
One of the most common business ideas during the holidays is selling food: brownies, cookies, fruitcake, jam, pasta sauce—you name it. This year, why not try chicken? The following dishes will work great as food products you can sell this Christmas and even beyond. They are easy to pack and affordable to put together. Just remember to cook the chicken well (to avoid the spread of food-borne diseases), use durable food packaging, and follow the tips on handling and storing chicken properly.
CHICKEN SCHNITZEL
Instead of pork schnitzel, why not make chicken schnitzel? Meaning "cutlet" in German, schnitzel refers to anything deep-fried and breaded. Basically, you follow the same steps as with pork and veal: flattening the meat, and dipping it in a mixture of flour, egg, and bread crumbs. Serve the schnitzel with gravy or lemon butter sauce.
CHICKEN GUMBO
A gumbo is a thick stew that has, as its base, a mixture of fat and flour (aside from the usual panggisa: onions, garlic, celery, bell peppers), cooked for a long time over low heat. The best chicken part to use for gumbo would be chicken thighs. Use strong spices such as cayenne, paprika. Set up your pot in your neighborhood stall, and let your gumbo's wonderful aroma draw your customers. Make sure you've got rice on hand for extra-hungry guests!
BAKED PARMESAN CHICKEN CUTLETS
These are smaller than a schnitzel and baked, not fried. You can use boneless breasts or thighs. Prepare the batter with eggs and mustard in one bowl, and in another shallow bowl, the Japanese bread crumbs, oregano, and Parmesan cheese. You'll need a third bowl for the flour. Before you dip the chicken pieces in, sprinkle both sides with salt and pepper. Place on a baking rack and bake for at 375°F for 35 to 45 minutes until golden.
CLASSIC CHICKEN NUGGETS
Who needs to go to a fast-food restaurant when you can serve and sell these much healthier options? The recipe is almost the same as that of baked cutlets (above), except you use mayonnaise and calamansi instead of mustard and eggs. You also refrigerate the nuggets for at least 20 minutes (for the taste of the coating to set in) before baking. Trying to save time? You can also buy Bounty Fresh chicken nuggets at the nearest supermarket and make your own #DiskarteNaMayArte sauce.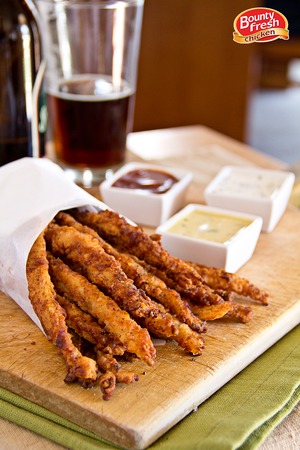 CHICKEN TENDERS
Even picky eaters love chicken tenders, so that's already a captured market right there. You can go either sweet or spicy. Use boneless breast meat, cut into two-inch-wide strips. Mix in marinade of your choice (honey, garlic, or hot sauce) and refrigerate overnight. When ready, take them out and grill or broil right in front of your customers' eyes. Serve with a yogurt-vinegar-Worcestershire-cheese dip or any dip that you choose.
ARROZ CALDO OR CHICKEN CONGEE
Don't stop at just plain chicken. Let your customers create their own arroz caldo or congee by offering choices of shiitake mushrooms, spinach, egg slices... The list goes on. This is perfect for cold nights.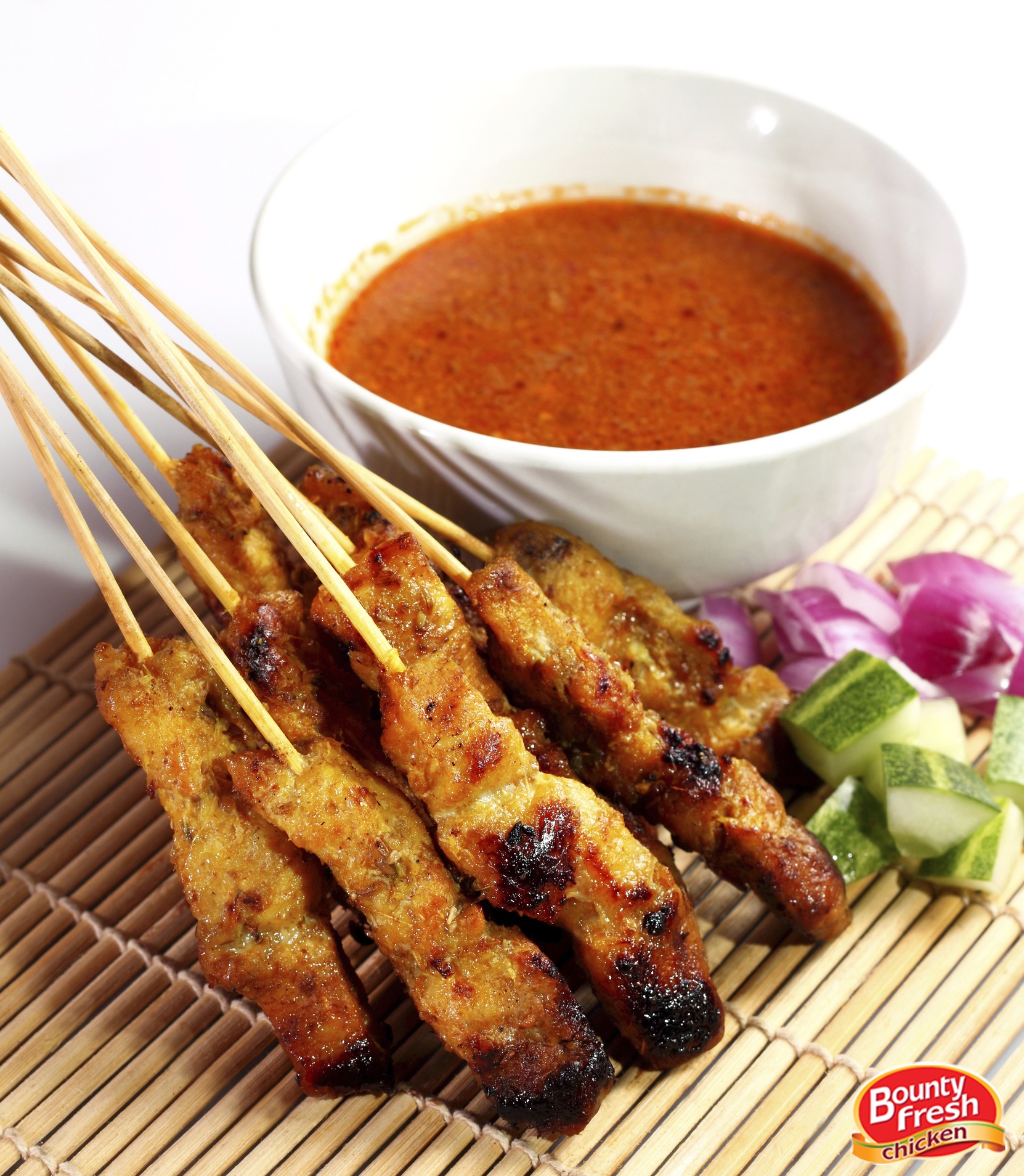 CHICKEN SATAY
Originally made with a peanut-based sauce, you can't be too careful these days with kids' allergies, so here's an alternative marinade: soy sauce, sesame oil, brown sugar, and coriander. When you've cut the meat into two-and-a half-inch cubes, soak it evenly in this mixture (we suggest using a zip-top bag to distribute the flavor). Refrigerate up to half a day. Grill and cook through, and then serve.
CHICKEN SAUSAGE
Try making your own chicken sausage. Be sure you already have the proper equipment—a grinder, a sausage stuffer, a small weighing scale—and you've already sourced the casings. Making sausage takes practice, so don't be discouraged if you don't get it perfect the first time. You can let your customers eat it as it is, or come up with your own sauce.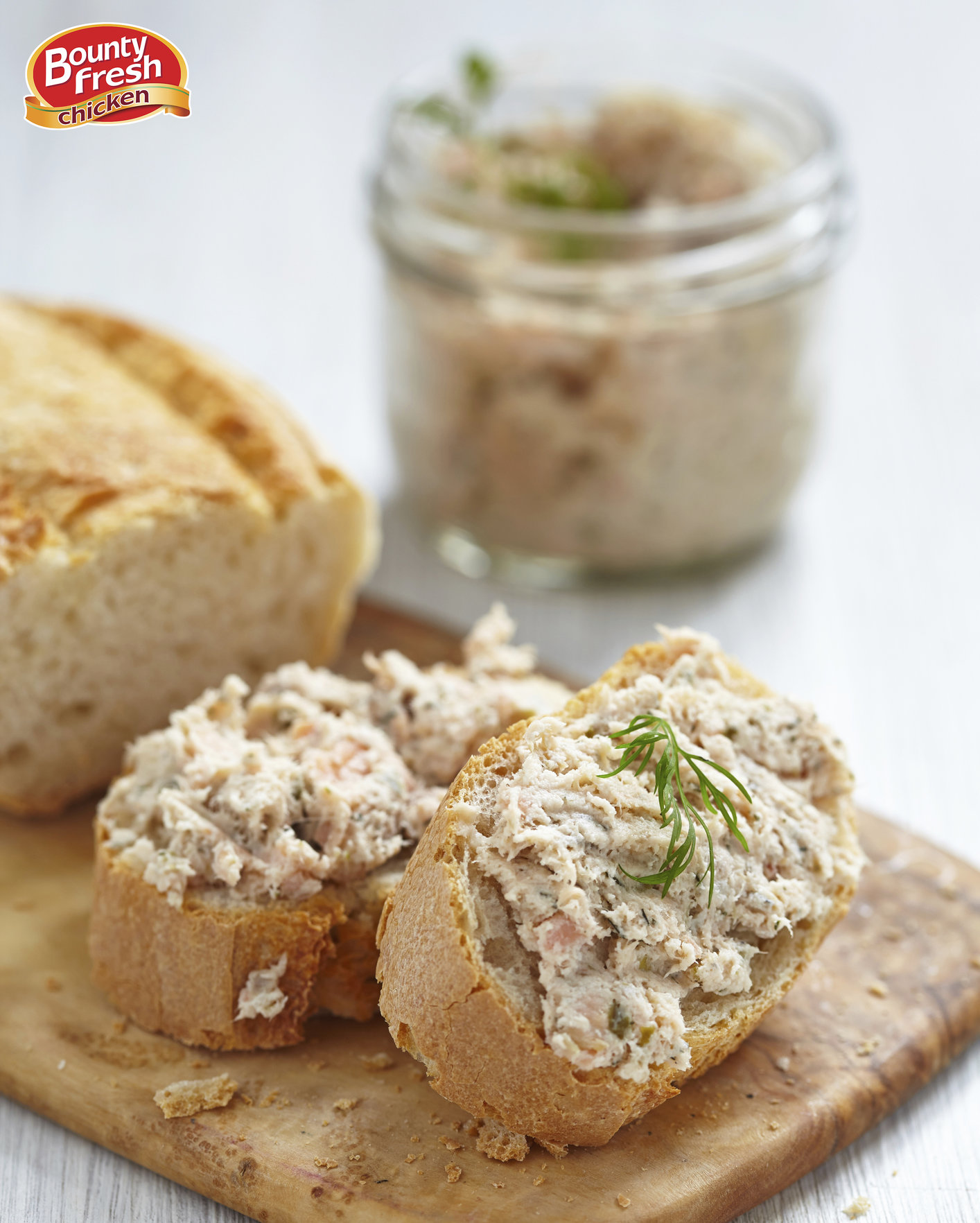 CHICKEN SPREAD
You can go traditional (with mayonnaise, onions) or experiment with your own concoction—just what a #DiskarteNaMayArte Bounty Fresh mom would do. You can even go creamy (adding cream cheese in your mayo mixture). Serve in a sandwich, or sell it bottled.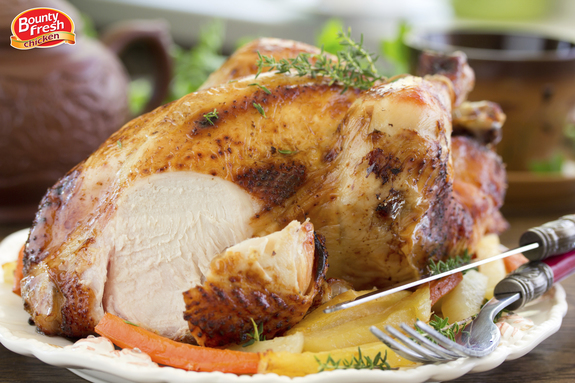 ROAST CHICKEN
If you have a large oven and have mastered making this classic over the years, why not try selling it? Talented home cooks and #DiskarteNaMayArte moms all have their own version for sure: roast chicken stuffed with garlic and quail eggs, smothered in butter and mustard, served on a bed of rosemary and thyme... Use an adequately-sized foil pan to catch all the drippings to make gravy or a special sauce for your dish.