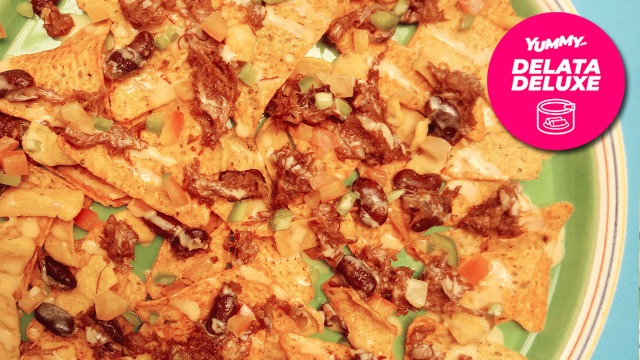 A can of corned beef can be your instant breakfast meal. It's naturally tasty from the can and when you saute it with some onions, garlic, and tomatoes, it's instantly more flavorful. It's a classic favorite that you can rely on when you want a beef meal that's not going to take up too much cooking time before it can be served. 
If you're missing nachos, you can turn to this canned food for a quick and easy nachos recipe. The corned beef becomes the taco meat, especially when you season it with taco seasoning. The red kidney beans add heft to the meat mixture, similar to a chili con carne. Then just grab a bag of corn chips and some cheese spread for the topping and it's a quick hack to satisfy your craving. 
A can of corned beef, taco seasoning, corn chips, and cheese spread makes an easy nachos for when you're missing Mexican food. 
How to make it? 
1. In a frying pan over medium heat, heat about 1 tablespoon oil. Add 1 small red onion, chopped, then 2 cloves garlic, chopped. 
2. Add 1 210-gram can corned beef and 1 tablespoon taco seasoning, and saute until almost dry. Add 1/2 cup red kidney beans, rinsed and drained, if using. Remove from heat. 
3. To assemble, arrange 1 65-gram bag cheese-flavored corn chips and 1 27-gram bag barbecue-flavored corn chips on a platter. Top with corned beef taco mix, 1 tomato, chopped small, and 1/4 cup green bell pepper, chopped small.
4. Drizzle with 2 tablespoons cheese spread, heated until runny, before serving immediately. 
Canned food is your super kitchen meal helper. Do you know any other way of preparing your canned food into a meal that's better than usual? 
ALSO READ: 
ADVERTISEMENT - CONTINUE READING BELOW
Recommended Videos