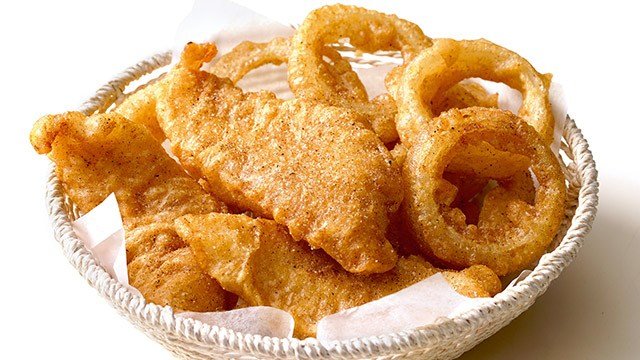 The secret to cooking crispy onion rings is actually not a big secret. In fact, you may already know it. The thing is you may be omitting the ingredient. We don't blame you. With everyone leading busier and busier lives, skipping a step or two can help us all have more time for other things. 
However, if you do have a little time, we suggest you not omit this ingredient when you make these onion rings. The results will be crispy and delicious homemade onion rings that you will turn to every time you desire to have this resto-favorite dish. 
Curious what this secret ingredient is? Beer in the batter! We suggest you use a beer batter and when making it, don't over mix so the batter retains the bubbles.  
Make a breading station with two bowls: one with seasoned flour and one with a batter. You can actually add another layer to your crispy onion rings by rolling the coated rings in Panko breadcrumbs or crushed crackers but even without these crispy ingredients, the resulting onion rings will still emerge crisp from the hot oil.
Once you're ready to start on cooking your own batch of crispy onion rings, here's what to do: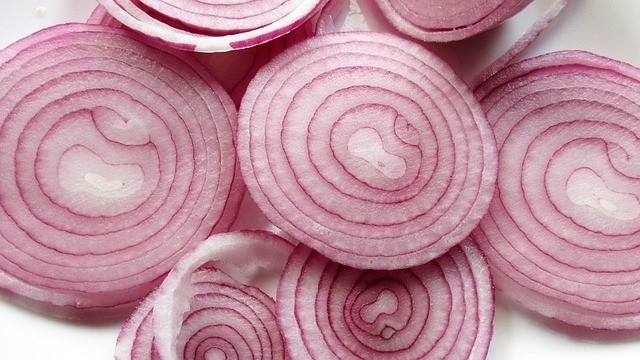 1 Slice 1/2 inch thick rings from each onion but no thicker. 
Cutting thick onion rings will need more time in the oil to cook, and unless you like your onions on the raw side, keeping the onion rings at this thickness or a little thinner is the ideal width. Once your onions are all cut up (use either white or red onions as desired), separate the rings. You can reserve the too small pieces for another dish if desired.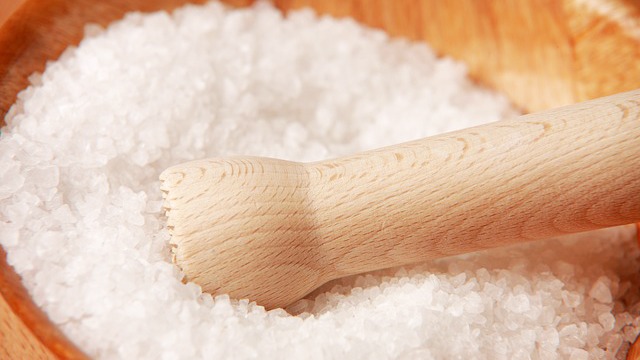 2 Season all the layers, including the flour, and coat well.
When you have all your onions and the breading station prepared, remember to add seasoning to all the layers, including the dry flour. This way, you're not only eating a crispy onion ring, but you're also eating a tasty one. 
To coat onion rings, toss the onion rings in the dry seasoned flour first then the batter and finally in the breadcrumbs if you're using it. If your batter is thin, you can return the battered onion ring back in the flour for another thin coating before returning it to the batter. Repeat with the remaining onions while the oil heats up.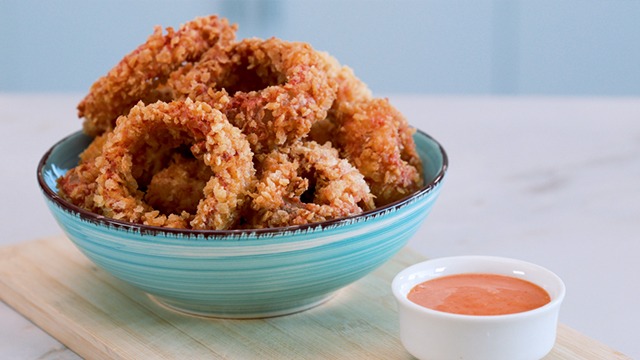 3 Cook in batches according to size in properly heated oil. 
All this means is that you will avoid ending up with onion rings that are not cooked through, are still raw, or are oily and soggy. First, separate the smallest onions from the large onions so you can cook similarly sized onions at the same time without crowding the pot.  
ADVERTISEMENT - CONTINUE READING BELOW
Recommended Videos
Then check your oil. It should be at least around 350 degrees F (175 degrees C) or if you test a little batter, it should gradually brown, not blacken immediately. Once you start cooking, keep a vigilant eye out for browning so you can readily flip each one so the other side can also become golden brown. 
4 Serve immediately. 
This may be the most important rule to follow because once those onion rings become stale, it won't be as crispy as it originally was when it was fresh out of the oil and still hot. 
Here are more articles you can read to help you learn how to fry food better: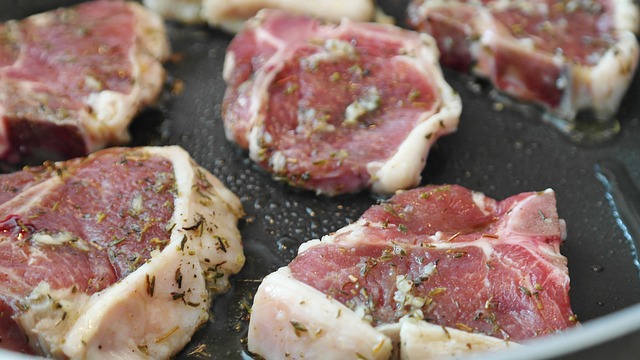 Here's How To Fry Food Using Less Oil
Posted in:
Cooking