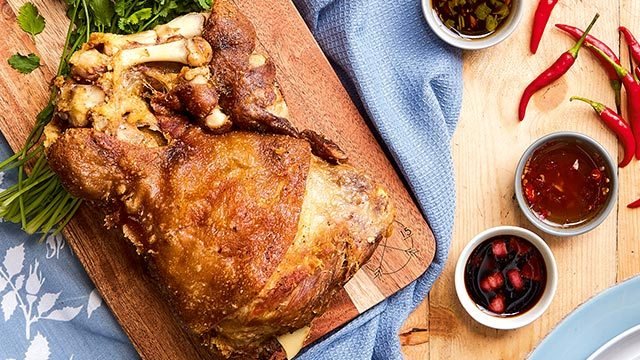 Crispy pata is essentially deep-fried pork knuckles and is a favorite for many Pinoys. It's crispy on the outside with little chewy bits, too. When done well, crispy pata will have flavor all the way to its tender meat.
But while it's already an indulgent dish, crispy pata is not complete without an important component: the dipping sauce. Here are three simple complementary dips you should try the next time you follow everyone's lead when they scream for crispy pata.
Classic Dipping Sauce:
Mix 1/4 cup soy sauce; 1/4 cup vinegar; and 1 tablespoon sugar in a bowl until dissolved. Stir in 1 small onion, peeled, chopped.
Sesame Dipping Sauce:
Whisk 1/4 cup sesame oil; 2 tablespoons vinegar; 2 tablespoons soy sauce; and 1 teaspoon honey until dissolved. Stir in 2 teaspoons fresh ginger, peeled, finely chopped; 1 tablespoons cilantro leaves, finely chopped; and 2 cloves garlic, peeled, finely chopped.
Spicy Lime Dipping Sauce:
Stir the juice from 1 green lemon; 2 tablespoons sugar; 1/4 cup water; 1 tablespoon patis; 1 clove garlic, finely chopped; and 1 siling labuyo, thinly sliced, together in a bowl.
Recipes originally published in the April 2016 issue of Good Housekeeping Philippines.