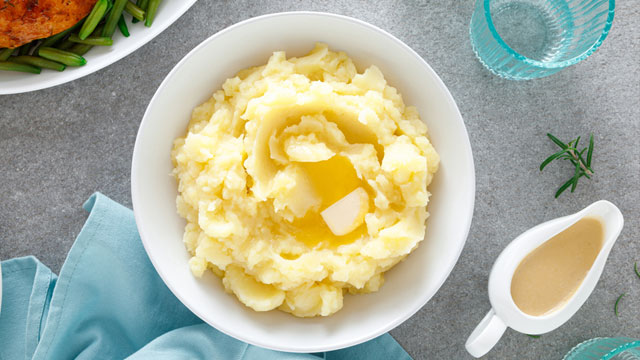 Mashed potatoes are a satisfying side dish that makes a great substitute for rice. The hardy root vegetable is a great ingredient for many dishes but when mashed, it's at its most delicious. It becomes smooth and has a melt-in-your-mouth feel that can be chunky or silky depending on how much you mashed the tuber. It can be simply seasoned with salt but it becomes extra irresistible when you add enough butter for it to flow from your spoon when you tilt it. 
If the idea of mashed potatoes with a twist make your meal a more appetizing one to look forward to, here are other ways to make a delicious mashed potato recipe: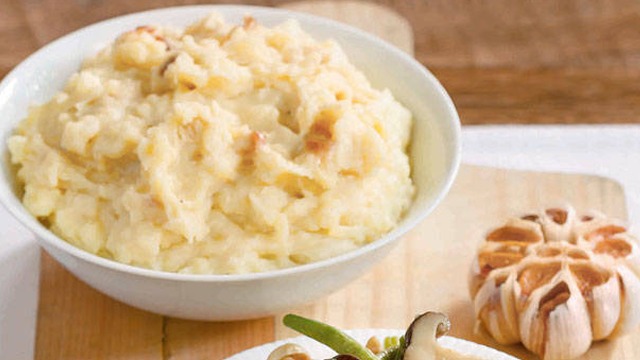 1 Make it garlicky. 
Garlic is an aromatic that few Pinoy kitchens can live without. Garlic makes our sinangag the legendary side dish that it is. So if there is one ingredient that can compete with this icon of the Pinoy meal, it has to be garlic mashed potatoes. You can add it with the potatoes when boiling them until tender so you can infuse the water with its flavor and aroma from the beginning of cooking. You can also toast the garlic in the butter that you will add to it later one when you're ready to mash.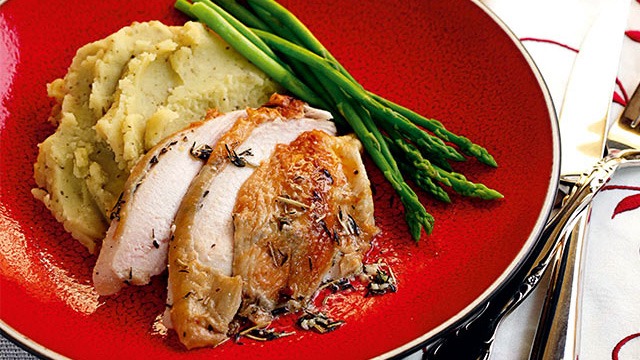 2 Stir in pesto.  
If you love pesto then you'll adore this mashed potato hack! Pesto itself is packed with flavor. The finely chopped basil, nuts, garlic, Parmesan cheese, and olive oil emulsion are all just waiting for a simple food to flavor, and mashed potatoes is a great canvas for its flavor. It marries well with the potato flavor and even if you don't add butter, you can lighten the texture up with olive oil to play with the rest of the pesto flavors. You should try this with an herb roasted chicken!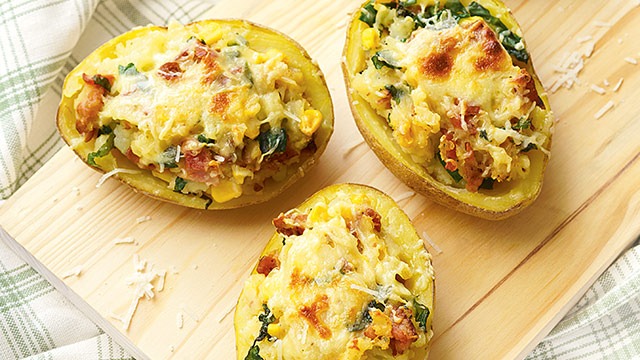 3 Cook it twice. 
Take a bite of these twice-cooked and stuffed potatoes and you might just agree these are fantastic. These potatoes are not just mashed but also mixed with other delicious ingredients and then placed back in the scooped-out potato skins.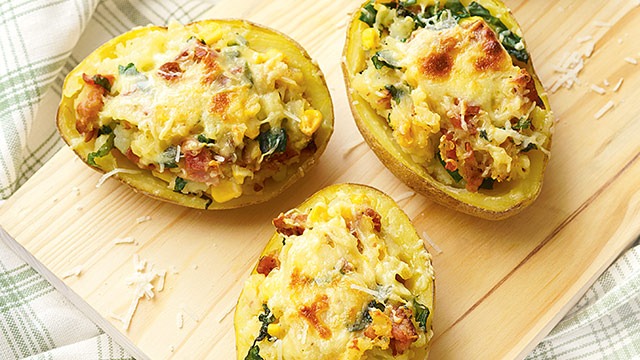 Potatoes with Bacon Recipe
Posted in:
Recipe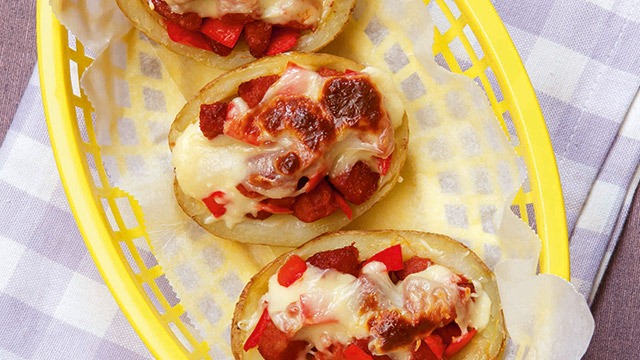 Sausage-Stuffed Potato Boats
Posted in:
Recipe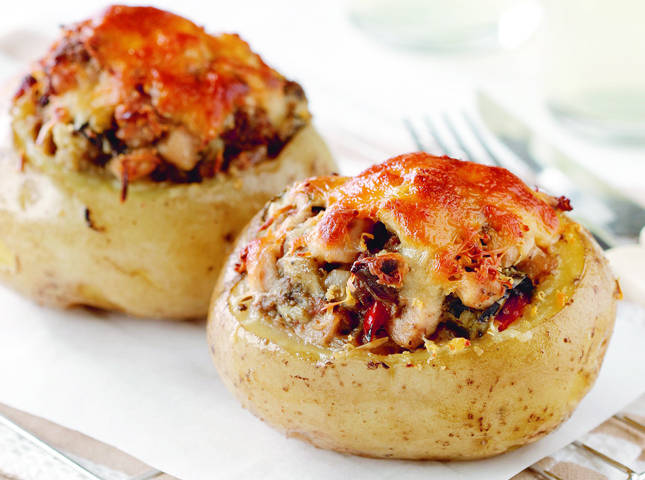 Meat-stuffed Potatoes
Posted in:
Recipe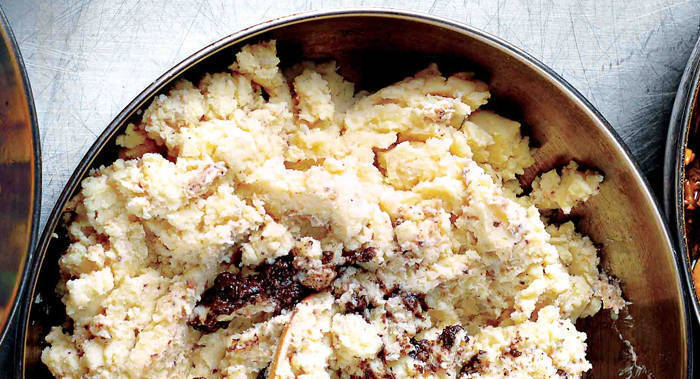 4 Use truffle oil. 
If you have a bottle of expensive truffle oil and are thinking of ways to use it beyond pasta, this is a great way to use it: stir it into mashed potatoes. The potatoes are deliciously creamy and the earthy truffle oil is a great complement to this flavor. A word of caution: use sparingly and use it by the drop because it can overwhelm the flavor of your potatoes easily. Our suggestion: add a drop or two at the start, stir well, and give it a taste before adding more, drop by drop, until you get the perfect balance of earthy truffle in your dish. You can even use the truffle for French fries and potato soup!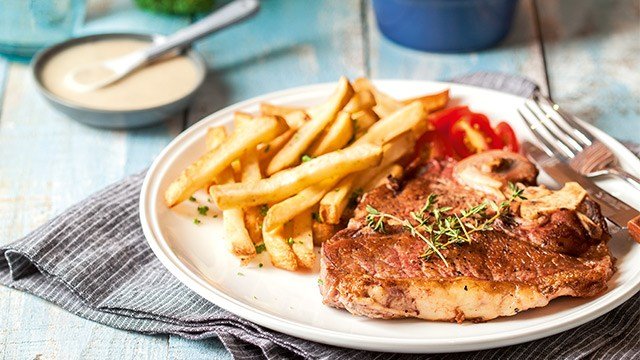 Steak with Truffle Fries Recipe
Posted in:
Recipe
Truffle Potato Soup Recipe
Posted in:
Recipe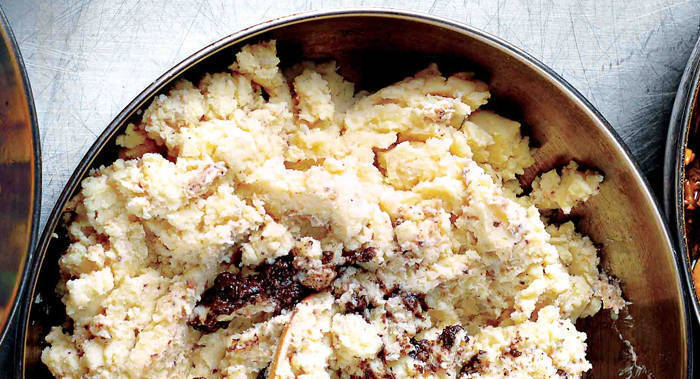 Truffle Mashed Potatoes Recipe
Posted in:
Recipe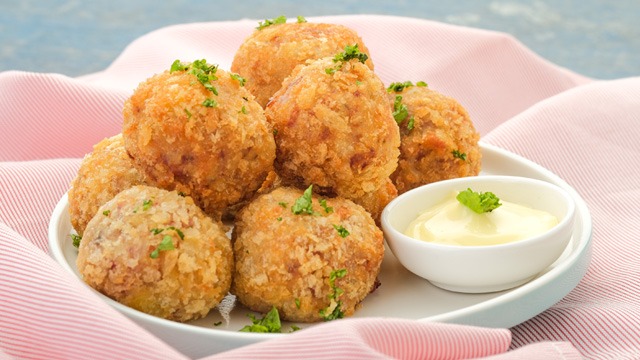 5 Make croquettes or pancakes! 
We know that you can sometimes have leftover mashed potatoes no matter how much you love them. You can of course just reheat and enjoy them as is. However, we think it's a great opportunity to make them even better. Mix it with other ingredients such as ham, cheese, leftover shredded chicken, or even corned beef from breakfast! Roll them up with a little flour and egg and cook them again into crunchy little balls or patties. 
ADVERTISEMENT - CONTINUE READING BELOW
Recommended Videos
If you enjoyed them simply, you'll be delighted to know you enjoy mashed potatoes when it's been made better using any of these ideas. 
***