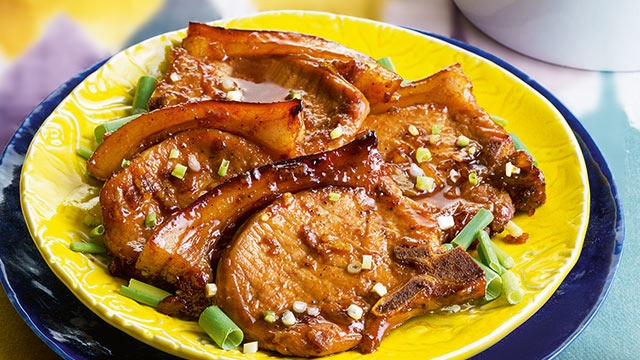 There's no need to go too fancy with the marinade you use for your pork chops. In fact, going with flavors that are familiar may be just what you wanted! In the case of pork chops, many flavors would complement it but there are some flavors, seasonings, and other ingredients that, when mixed together, are perfect for it. 
Grab a kilo or two of pork chops because these are the marinades you should let them sit it in for at least an hour. You won't regret the flavor combinations that you'll taste with every bite!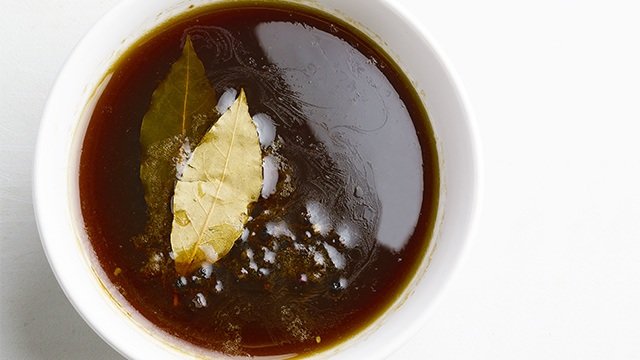 1 Adobo Sauce Recipe 
The classic combination of soy sauce, vinegar, garlic, bay leaf, and black peppercorns is delicious for a reason! It's a fantastic mix of umami-packed flavors in one delicious sauce! If you're looking for a marinade that can double as a sauce that everyone will fawn over, this is the marinade you should try with your pork chops. 
Not only that, it makes an irresistible seasoning for your fried rice, too!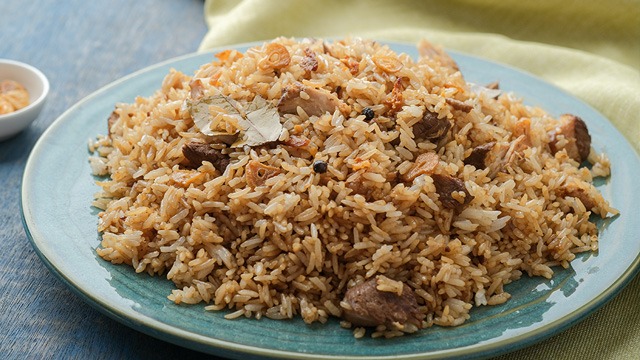 Adobo Fried Rice Recipe
Posted in:
Recipe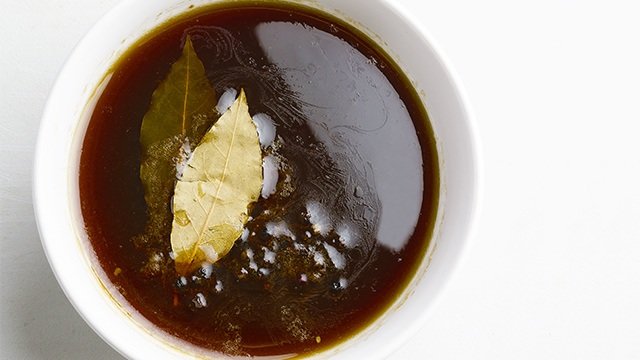 Adobo Sauce Recipe
Posted in:
Recipe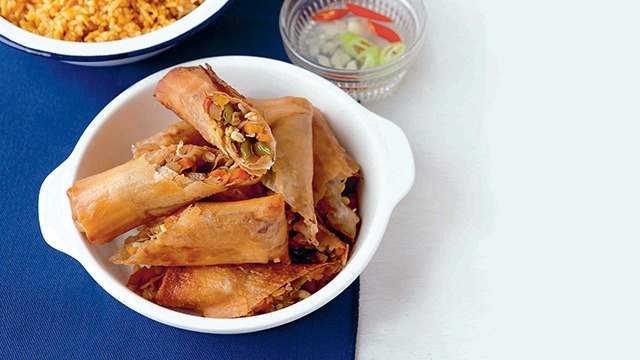 Fried Lumpia Adobo
Posted in:
Recipe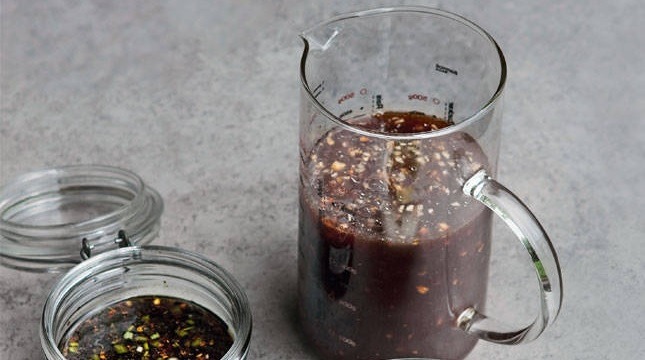 2 Korean Bulgogi Recipe 
Jump on the Korean bandwagon with this marinade! While it is usually used for thinly-sliced beef short-rib strips, we don't see why pork chops can't be made just as tasty as beef. This bulgogi sauce is just like the adobo sauce: a thick concoction of ingredients made even better when mixed together. 
However, unlike the adobo sauce, this is a different mix of ingredients. Soy sauce, ginger, and garlic are combined with sweet elements to balance out the savoriness: a grated Korean pear, brown sugar, and even the mirin all play a part in making this sauce different but no less as delicious as the adobo sauce. To make this marinade sauce even more appetizing is the addition of that warm sesame seed oil that will transform the sauce from a flavorful mix to a heavenly heady and aromatic one that you'll want to pair with lots of steamed white rice. 
ADVERTISEMENT - CONTINUE READING BELOW
Recommended Videos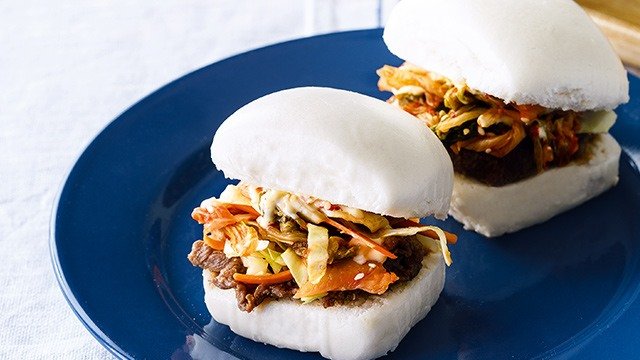 Beef Bulgogi Bao with Kimchi Slaw Recipe
Posted in:
Recipe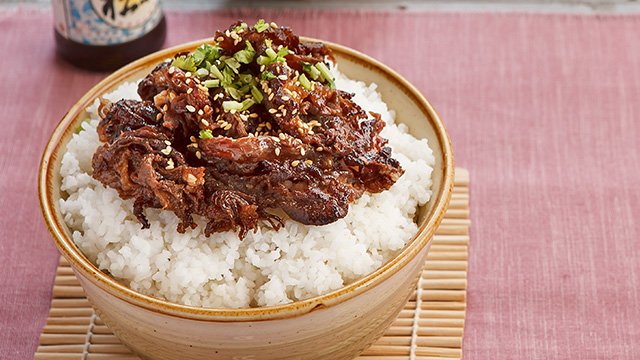 Beef Bulgogi Rice Topping
Posted in:
Recipe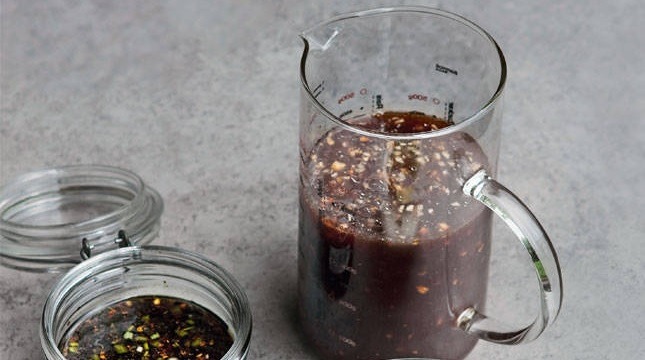 Korean Bulgogi Marinade
Posted in:
Recipe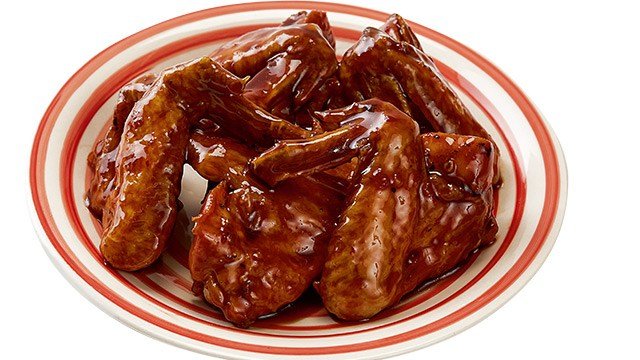 3 Chili Soy Sauce Marinade Recipe 
Soy sauce is a favorite marinade ingredient, if you haven't noticed yet. That's because it's a wonderful but powerfully salty condiment that makes anything that's dipped into it extremely flavorful. If you love your soy sauce with a bit of heat added in, this spicy soy sauce marinade should be just what you're looking for. 
These are fantastic on double-fried chicken wings, but this three-ingredient marinade made of a premade spicy ketchup, soy sauce, and honey should be just as perfect when you use pork chops.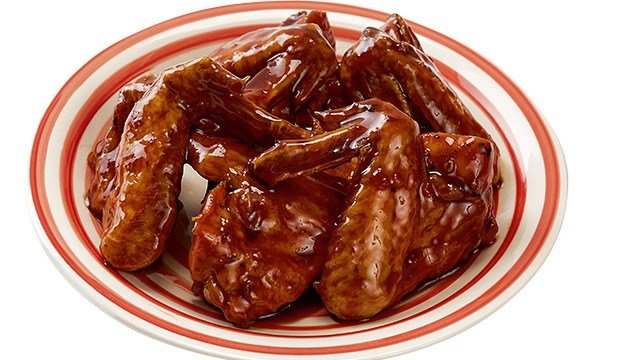 Chili-Soy Chicken Wings Recipe
Posted in:
Recipe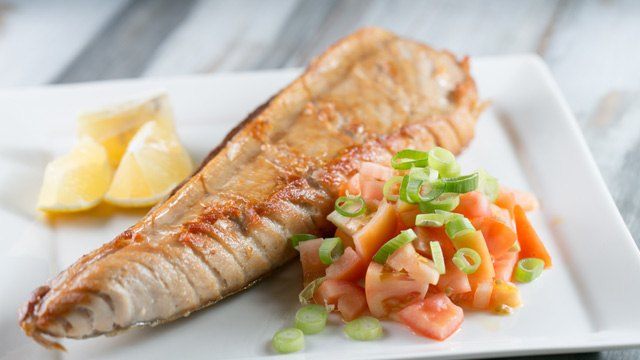 4 Soy-Calamansi Marinade Recipe 
When it comes to simple dishes, two ingredients should be more than enough to create a flavorful marinade! For something as delicate as freshly caught tuna, a soy sauce and calamansi marinade is just what you need to flavor it without overpowering the delicious tuna. You can do the same exact thing with pork chops using this easy marinade. The soy sauce gives it its salty flavor while the calamansi not only makes it tangy, it also gently tenderizes the pork chops as it marinates, too.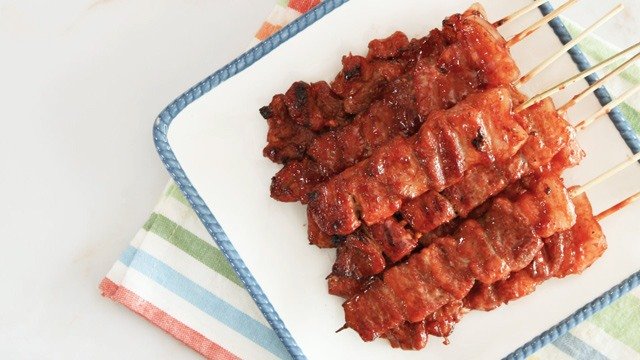 5 Pork Barbecue Marinade Recipe 
We Filipinos love our pork barbecue! There's no party, gathering or celebration that's complete without its presence. That's why there's no harm in making the pork barbecue an everyday thing.
We just think there's a simpler, easier way to have it since skewering pork can take up much of your time. Do this instead: make the barbecue marinade, complete with the lemon-lime soda you use to give it that signature flavor and tenderness, and then use it to marinate pork chops instead. Pork chops, after all, are easier to cook and prepare and you have an excuse to eagerly anticipate every meal with Pinoy barbecue on a daily basis, too.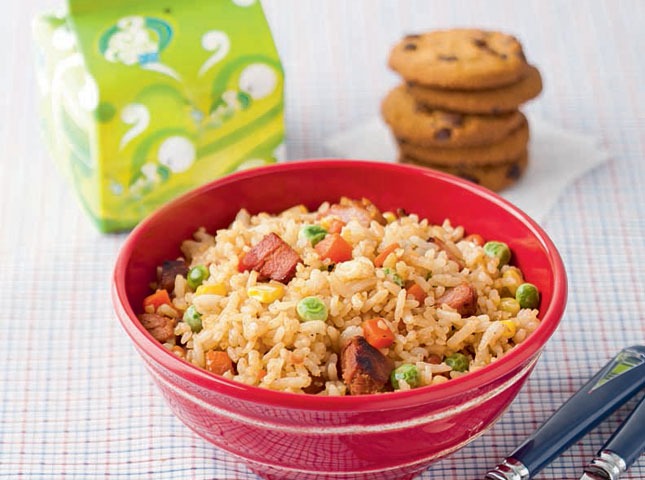 Pork Barbecue Fried Rice Recipe
Posted in:
Recipe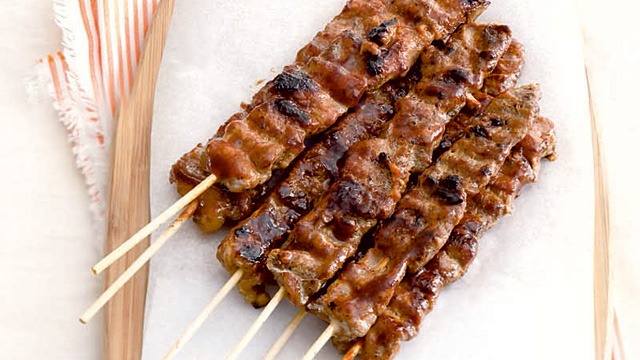 Pinoy-style Pork Barbecue Recipe
Posted in:
Recipe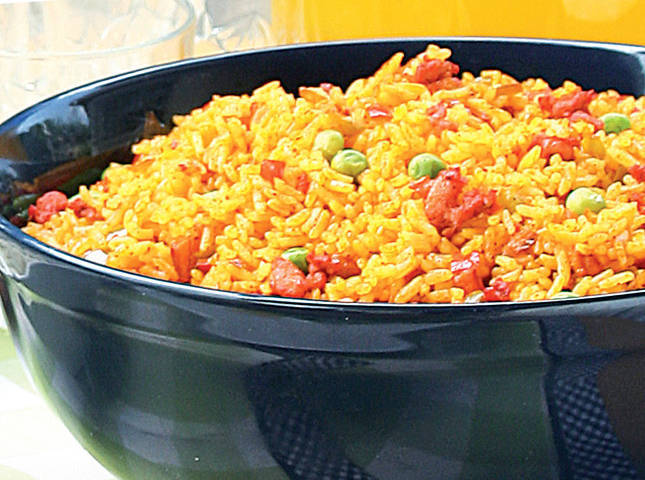 Pork Barbecue Java Rice
Posted in:
Recipe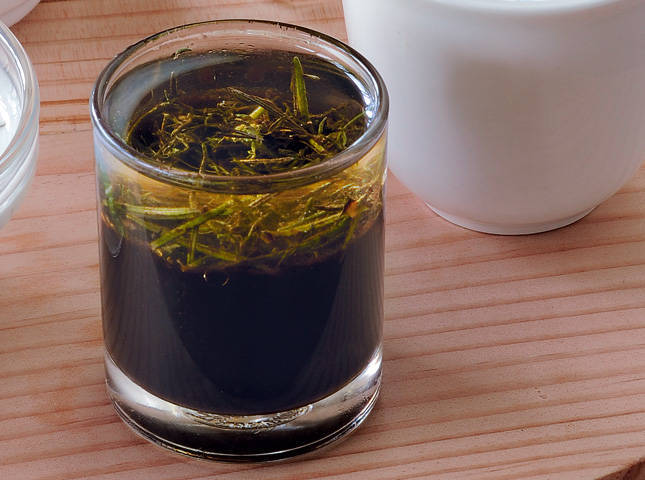 6 Balsamic Marinade Recipe 
If you're tired of the same old soy sauce-based marinades, this is one marinade you may want to reconsider. This balsamic vinegar-based marinade is as dark as soy sauce but's its flavor sure isn't the same. With its strong, but slightly fruity tartness that's not overly sharp combined with some dried herbs, this black-colored vinegar is the perfect vehicle to easily deliver flavor to your pork chop meal. Just think of this marinated pork chop as that kilogram of whole pork loin that you just don't have the time to prepare and cook on busy nights.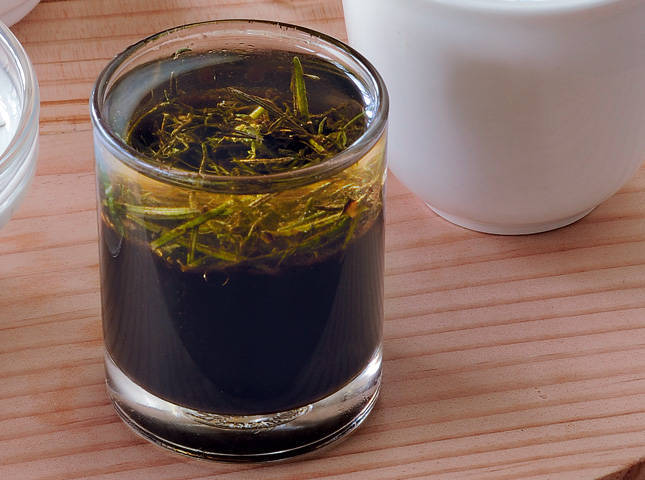 Balsamic Marinade
Posted in:
Recipe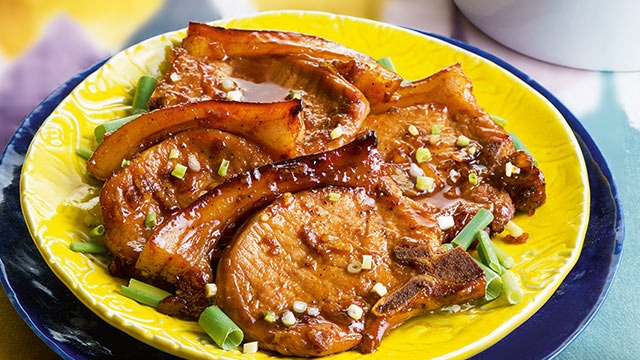 7 Orange Marinade Recipe 
Not all marinades need to be made with pantry staples but it does make the creation of something flavorful extremely easy. To make your marinade different tasting every time, try adding another element of flavor in the form of something fresh and delicious that you love to eat. In this case, you can take something fresh and grab something that's made with it. In this case, it's the oranges that make this marinade taste sweet, citrusy, and highly addicting.
These easy pan-seared pork chops are made easily flavorful with oranges but instead of the fresh oranges that may be more expensive, use orange jam or marmalade which is even more flavorful than using the fresh fruit.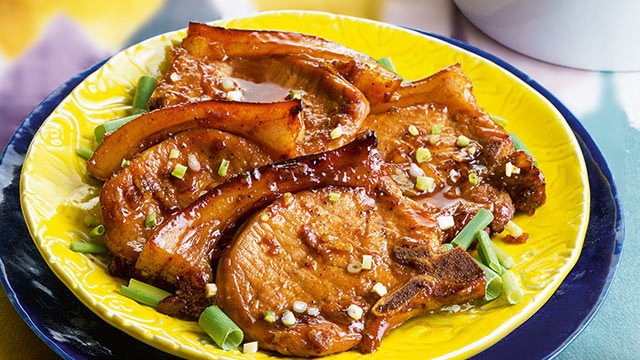 Pan-seared Pork Chops Recipe
Posted in:
Recipe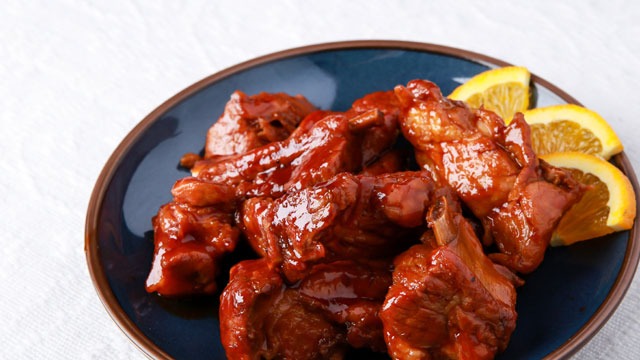 Orange Spareribs Recipe
Posted in:
Recipe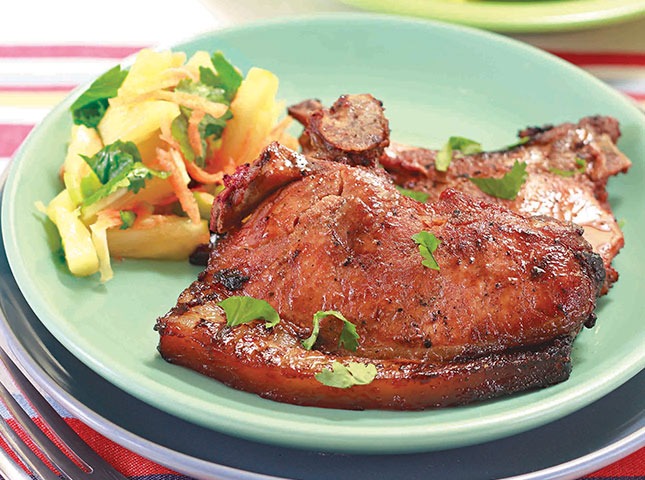 8 Apple Juice Barbecue Marinade Recipe 
Pork chops and apples are actually quite delicious together. It's a common food pairing for good reason: the savoriness of the pork is a great complement for the sweetness of apples. That's why this barbecue marinade made with apple juice is a genius recipe. You don't even need fresh apples to make this intensely flavorful. Just grab your favorite box of apple juice and use that to add to your barbecue marinade. It's an easy hack to your typical barbecue so you can flavor your pork chops in a totally new way!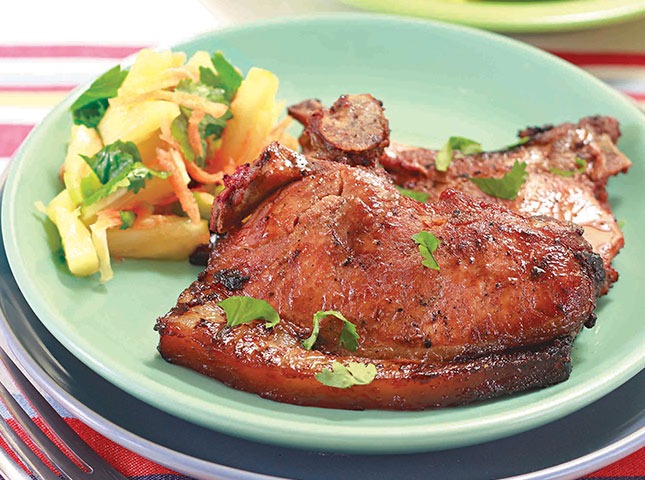 Pork Chop Barbecue with Apple Juice Recipe
Posted in:
Recipe
Marinades are extremely versatile mixtures! What tastes fantastic with chicken might taste just as delicious with pork, beef, or even seafood. You just have to try it to see what flavors would go well with the meat you have. If you have pork chops, it's easily one of the easier ways to cook something fast and easy that's also quite flavorful and tasty at every meal, too.
Try these other pork chops recipes, too: