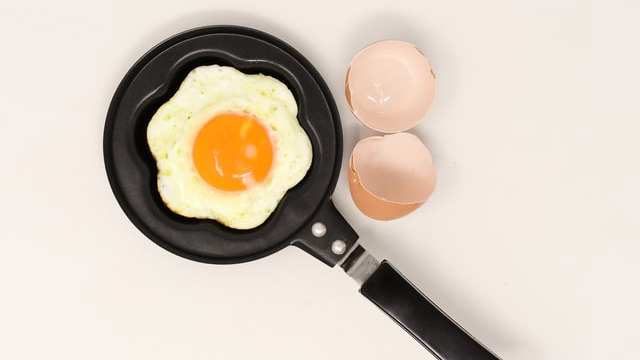 How do you fry an egg? If you love your runny egg yolks, chances are you love your eggs sunny-side up with the yolk still very runny and the whites just set. That isn't the only way to cook an egg for breakfast. 
There is another way to cook it that's comparable to the sunny-side up egg but requires a bit more finesse in cooking: eggs over easy. 
What does an "egg over easy" mean anyway? 
Here's the big difference between a sunny-side up egg and an egg over easy: sunny-side up eggs are fried only on one side. An "egg over easy" is basically a sunny side up egg with both sides of the egg fried. You can still have your runny yolk if you so you desire or it can be cooked until more firm. The "easy" in the phrase refers to how gently it should be flipped or, the most common reference, how you want your egg yolked cooked. You have it "easy" or still runny or cooked a bit more, from medium to hard. You choose how long to cook it. 
This gently flipping of the egg to cook both sides is what makes the big difference between these two fried eggs.
Here's how to do it: 
1. Heat about 1 tablespoon oil in a nonstick pan over medium-low heat. 
2. Break an egg in a bowl and gently place it in the hot pan. (Alternatively, break an egg straight into the pan.) 
3. Fry the egg until the whites are just set, the yolk is still runny but set in place, and the egg easily releases from the nonstick surface. (This is step when you would serve a sunny-side-up egg.) 
4. Using a spatula, quickly flip the egg. Let the egg cook for a few seconds before sliding off the pan and onto your plate for an egg over easy. Cook longer as desired.  
You'll notice that the eggs over easy will be served with the fried part of the egg on top while the sunny side up is served with the yolk seemingly untouched by the heat. This presentation with the bright yellow egg yolk against the egg white background is probably how the eggs got its "sunny side up" name.   
ALSO READ: 
***
Thinking about what to cook next? Join our Facebook group, Yummy Pinoy Cooking Club, to get more recipe ideas, share your own dishes, and find out what the rest of the community are making and eating!
Got your own version of the classic dishes? Pa-share naman! Get your recipe published on Yummy.ph by submitting your recipe here!