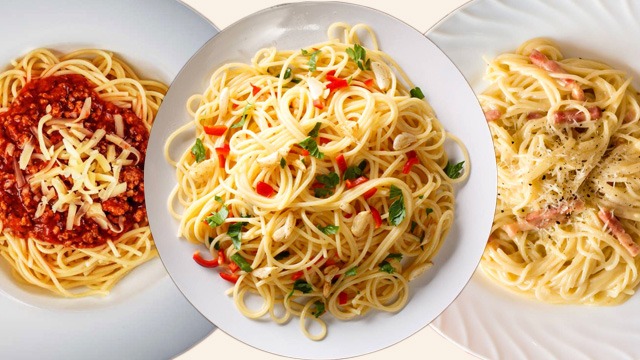 Pasta lovers know what kind of pasta they love the most. The kind of pasta is sometimes not that important but for those who are in the know, the kind of pasta that pairs with a pasta sauce is a matter that is important. That's because the pasta is usually shaped in such a way so that the kind of sauce you are tossing with it clings to it.
As a quick guide, thicker, wider, and heavier pasta are best paired with heavy sauces, while thinner and smoother noodles are best matched with lighter sauces. Spaghetti is a fantastic basic pasta to pair with most pasta sauces, but did you know it's actually not the best kind of pasta for chunky pasta sauces? Sauces with meat such as bolognese are actually better paired with shelled pasta such as macaroni that can capture the ground meat in its tubes. 
There are many kinds of pasta sauces that you can pair with your favorite kind of pasta. There are red sauces, white sauces, and even oil-based pasta sauces. Do you know the difference among these three kinds of pasta sauces? Here is a quick guide: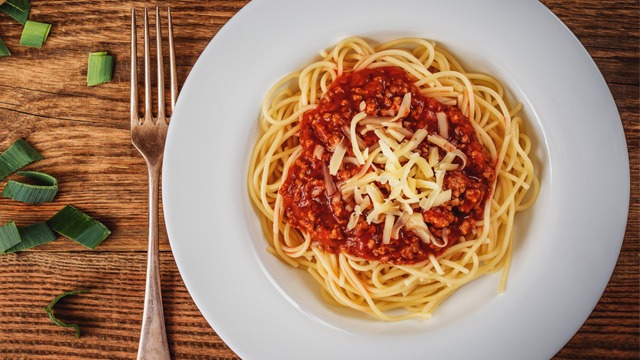 1 Red sauce is made from tomatoes. 
Red pasta sauces are the most common kind of pasta sauce. This is the basic tomato sauce that can be a simple marinara sauce or the more complex and time-consuming recipe for bolognese. The main requirement for this kind of sauce is really the tomatoes and its signature red color hence the name of this category of red pasta sauces. 
Your favorite sweet-style spaghetti sauce is a red sauce. The bolognese, marinara, and spaghetti with meatballs are all red pasta sauces. 
Try these delicious versions of red pasta sauces: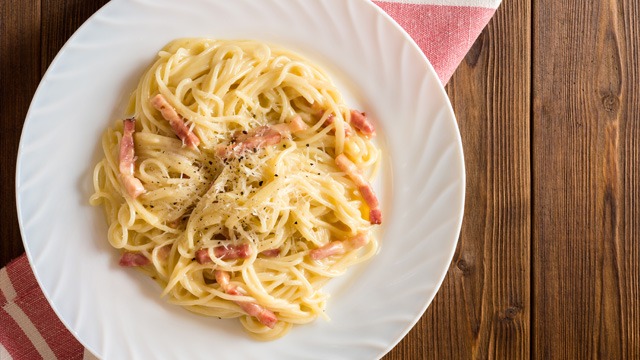 2 White sauce is usually made with milk. 
White pasta sauces are white because of the dairy. This is based on the bechamel sauce, one of the mother sauces or main categories of sauces in the culinary world. This sauce is basically fresh milk thickened with a mixture of flour and butter called a roux.
However, it doesn't always have to be made with milk. The fresh milk can be substituted. It can be in the form of cream which is a common ingredient for easy white sauces since it is already thick in texture. Cheese can be added to sauces to make it creamy such as in the case of the alfredo sauce. 
The exception might be carbonara since this is made creamy because of the eggs. However, since it also includes lots of cheese in the egg mixture, it creates a white sauce that is a credible candidate for being a white sauce. If you made the Pinoy-style carbonara, there's no question that this is a white pasta sauce.   
Here are creamy pasta recipes to try if you love white pasta: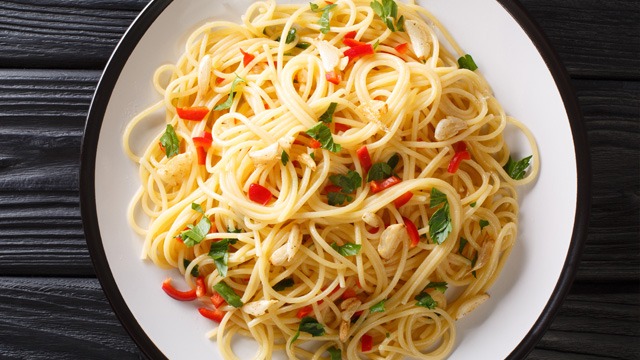 3 Pasta can be delicious simply tossed in oil.   
The most basic of the oil-based pasta sauces is the Aglio e olio or pasta in garlic oil. This pasta sauce relies on the oil to be seasoned before its tossed with the cooked pasta. The best kind of oil is olive oil since it's already flavorful but you can also use neutral-tasting oils. That's because the oil is commonly flavored with garlic. You can boost the oil in flavor with other spices and herbs such as red pepper flakes for heat, parsley for some freshness and its signature bright green color, and some easily cooked shrimps or even chicken strips for a meaty touch. 
The versatility of this sauce is that as long as there's enough oil to coat the pasta, you can use any kind of pasta for this pasta sauce. The oil easily clings to the pasta pieces, whether it's a noodle or a shaped pasta. Just remember to follow the Italian advice of tossing freshly cooked pasta straight from the boiling water to the pan with your pasta.  
ADVERTISEMENT - CONTINUE READING BELOW
Recommended Videos
Try these oil-based pasta recipes to increase your repertoire of this kind of pasta recipe: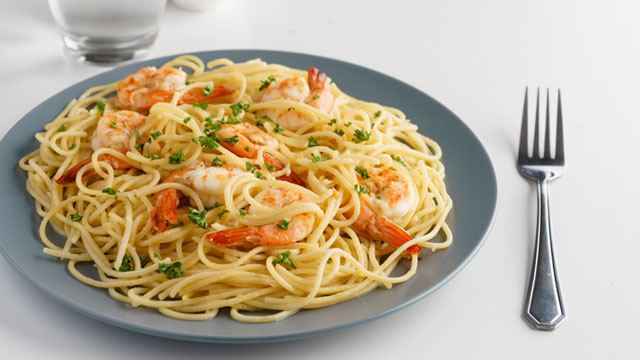 Garlic Shrimp Pasta Recipe
Posted in:
Recipe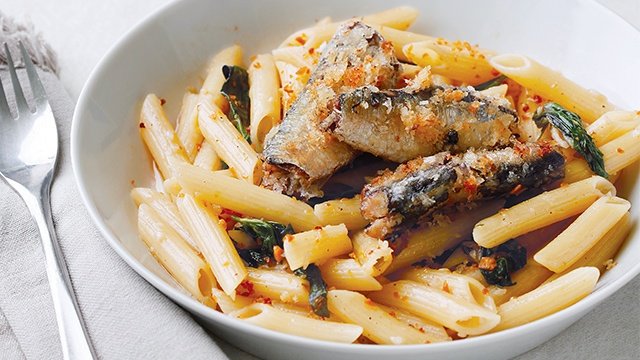 Garlic Pasta with Spanish Sardines Recipe
Posted in:
Recipe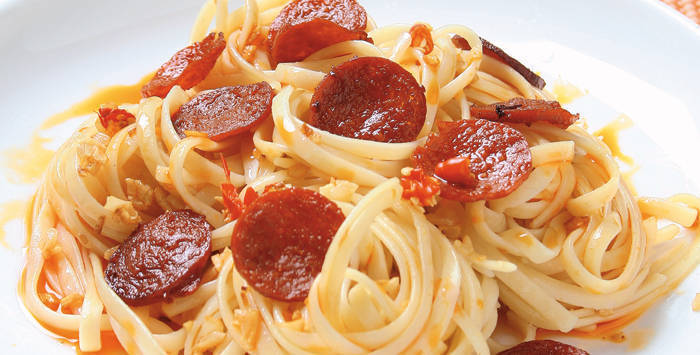 Pasta Chorizo Aglio Olio
Posted in:
Recipe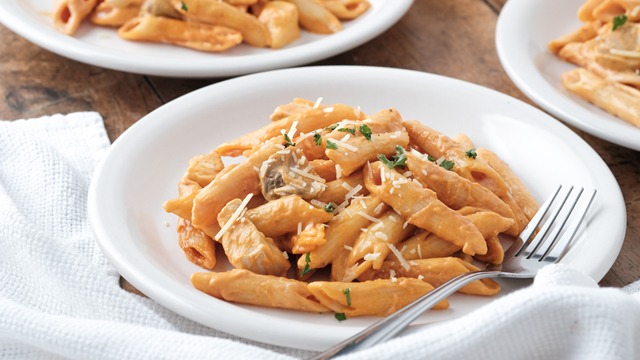 4 You can mix a red and white pasta sauce. 
Ever heard of pasta tossed in a tomato cream sauce? This is the kind of pasta sauce that marries a red sauce and a white sauce to create a creamy yet tangy tomato sauce that satisfies both flavor profiles that you may be missing from the other kind of pasta sauce. 
It can be a simple addition of tomato sauce or paste in your favorite creamy white sauce or you can add some milk or cream to a tomato sauce that you love but wish had some silkiness to its texture. Try the heritage recipe, the timbal, or this easy 5-ingredient pasta sauce.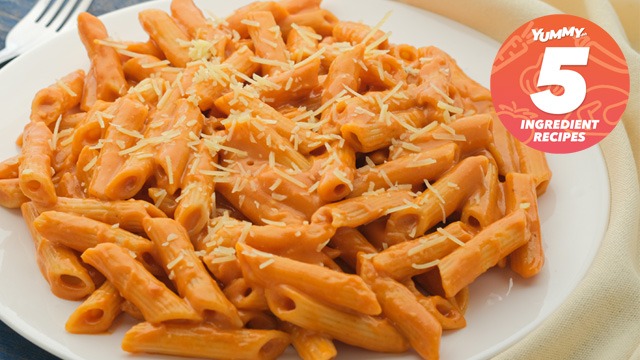 Easy Creamy Tomato Pasta Recipe
Posted in:
Recipe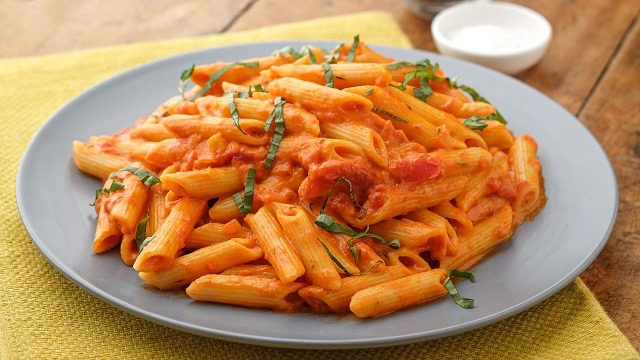 Penne Vodka Pasta Recipe
Posted in:
Recipe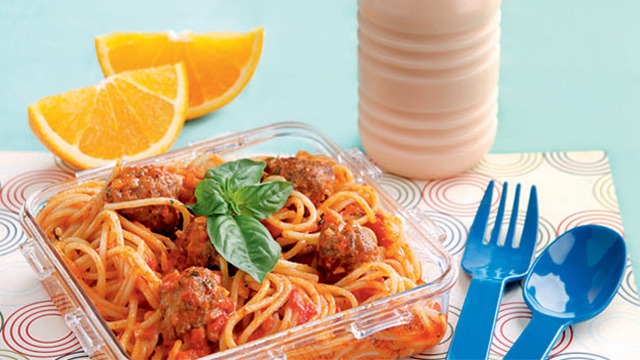 Meatball Pasta with Creamy Tomato Sauce
Posted in:
Recipe
Is your favorite kind of pasta on this list? What is your favorite pasta sauce? 
***