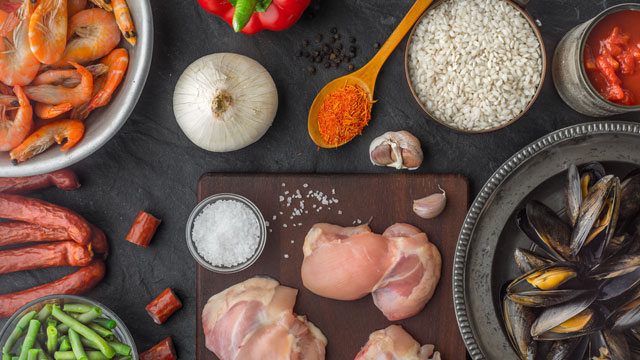 As families gather over the holidays, reunions are best remembered with great food. Conversations and laughter are like the background to the main dish. So, one of the typical Christmas or New Year staples is the paella.
The paella is a beloved Spanish rice dish made flavorful with an assortment of toppings. There are three types of paella: Paella Valenciana, Paella de Marisco, and Paella Mixta.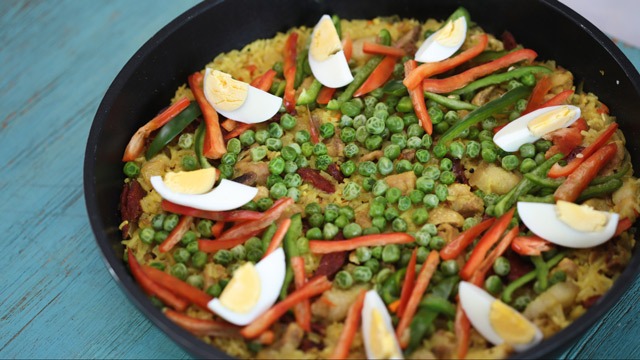 Paella Valenciana
This recipe traditionally uses rabbit, snails, and chicken. Although rabbit meat is already accessible in the Philippine market, most still prefer chicken. Rabbits though, have a light impact on the earth, and they're healthy all-white meat. Rich in high-quality proteins, omega-3 fatty acids, vitamin B12, and minerals like calcium and potassium, rabbit meat is lean and low in cholesterol. But, of course, its lack of fat means you need to take caution when you prepare it.
The white bean, on the other hand, is hard to get by outside of Spain and is also a standard component of Paella Valenciana along with saffron, artichokes, beans, peppers, and rosemary. Some of these ingredients are canned (Look for canned natural white beans) and can be used as substitutes. Just observe the difference in cooking time if using canned ingredients. 
Like all paella varieties, the star is the Spanish rice, the robust broth, and the saffron.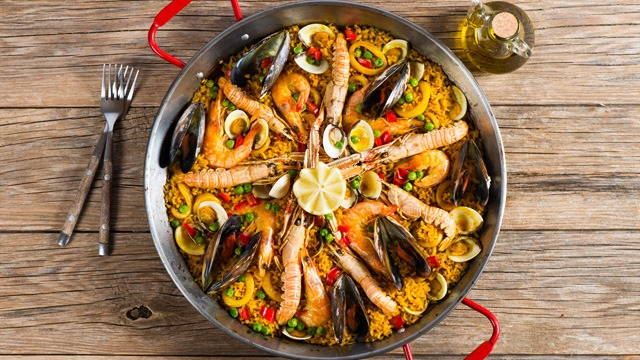 Seafood Paella or Paella de Marisco
Crustaceans and shellfish are arranged in a dramatic seafood paella that will impress. Crabs, shrimps, shellfish such as mussels, scallops, clams, and lobster can all be substituted for the usual kinds of seafood available. (Just remember to boil them separately and add before serving to be reheated). On the Alicante Coast, where seafood paella originated, fishermen's families make seafood paellas with no vegetables because their fresh catch of the day is usually enough for the topping. Plus, being fisherfolk, access to vegetables is harder.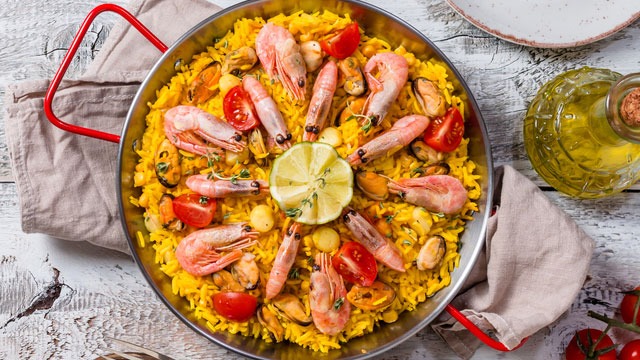 Paella Mixta 
Shellfish paellas originated in Catalonia, Spain.  It combines meat and seafood, included bits of chicken or pork and sausage. In other Spanish regions, it is common to add meat and vegetables to seafood paella, including seasonal vegetables such as green beans, peas, artichokes, or peppers. It's called paella mixta. In the past, wine wasn't used as a flavor enhancer, but it is occasionally used to deepen the flavor. You can also opt to top this dish with Aioli if you'd prefer.
Perhaps the popularity of the Paella Mixta in the Philippines is because of the carnivorous nature of most Filipinos. You might love rice, but you want your rice flavorful with meat. The Paella Mixta offers something for everybody, and the meat ratio reflects guests' preferences. The broth made with shellfish and shrimps is savory. You can really detect the umami notes. Aside from the meat, consider incorporating flavor-enhancing additives like pimientos or olives.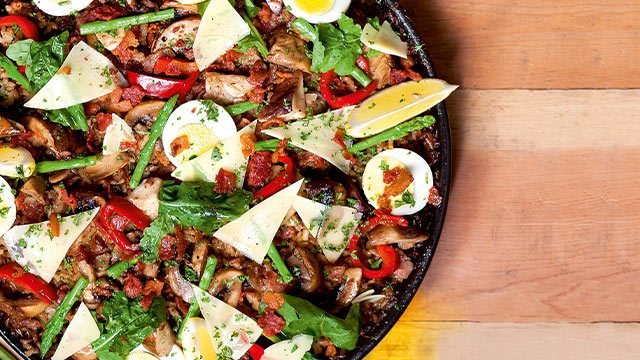 Vegetable Paella
There is one paella that might become more popular. It's less famous but has a growing following, and it is the vegetable paella. This version might be the practical option for health buffs and for those with other food items they want to share. It has savory rice but without the meat, just the vegetables. Purists might react, but chicken or seafood broth will do if you do not have a vegetable broth. Weight watchers and health enthusiasts can augment vegetables with chickpeas, pitted olives, and bell pepper. Smoked paprika is a welcome addition. Chickpeas have been documented to lower cholesterol, contain little sugar, and are packed with nutrients. Don't omit the flavorings such as paprika, chili flakes, and lemon since the ingredient base is sparser and might result in a paella that's lacking in enough flavor.
ADVERTISEMENT - CONTINUE READING BELOW
Recommended Videos
This dish is a great way to offer more options to guests. Imagine enjoying the paella experience without worrying about preparing seafood and meat. You'll still be able to partake of the other more decadent fare, too, because you can easily pair it with the other meaty dishes on the table.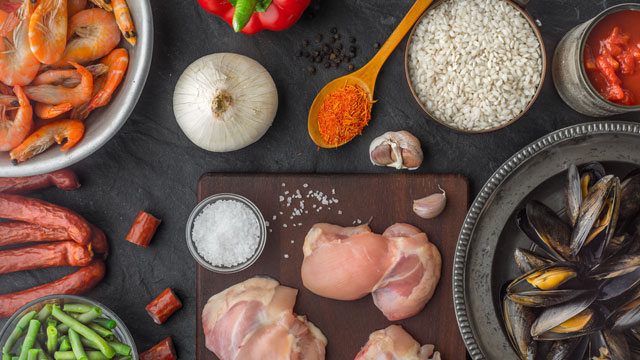 Different Ingredient Toppings For Paella 
When packed with colorful and appetizing toppings, paella is a show-stopper on its own. Consider these toppings:
• Crabs (Alimango or alimasag are crowd pleasers) 
• Seared shrimps (the contrast in color of charred orange is a beautiful backdrop)
• Marinated red bell pepper (red with hints of oil)
• Mussels or clams with shell intact (for convenience, some shells can be removed while the meat is mixed with rice while cooking)
• Meat like pork and chicken
What To Pair With Paella 
Paella is also best with side dishes that complement it. For example, if you already have a fully loaded version, consider pairing it with a soup and a salad. Classic Caesar Salad's fresh flavor will blend well with the meatiness of your paella. You might want to serve shrimps cooked like gambas al ajilo since the peeling was previously used to make the seafood broth. Foodies hail tapas as a good side dish and might even complete your charcuterie board. Consider adding bread and pâté to make your board more filling. Grilled fish or something similar that is lighter in flavor is a good side dish to balance the richness of paella.
If the paella is very flavorful, it is recommended to serve it with a young, fruity red wine that has been slightly chilled before serving. Cinsaut or Tempranillo might be appropriate choices. A chardonnay, for example, should be sought after by white wine enthusiasts who want a wine that is both robust in the tongue and has spent some time fermenting in the barrel.
Enjoy your paella with your family this season. Paella might be the fitting metaphor for a delightful mix of flavors blended to create an irresistible dish just like the diversity of a happy family.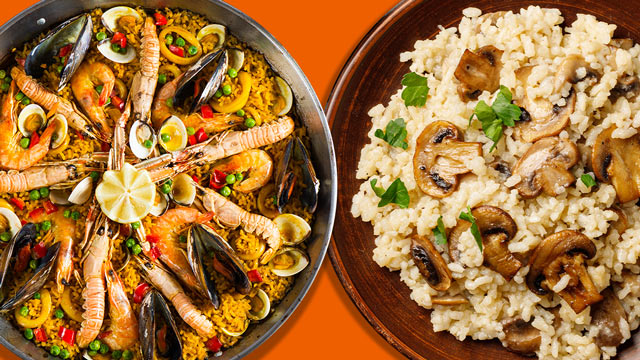 What's The Difference: Paella Vs. Risotto
Posted in:
Cooking
***