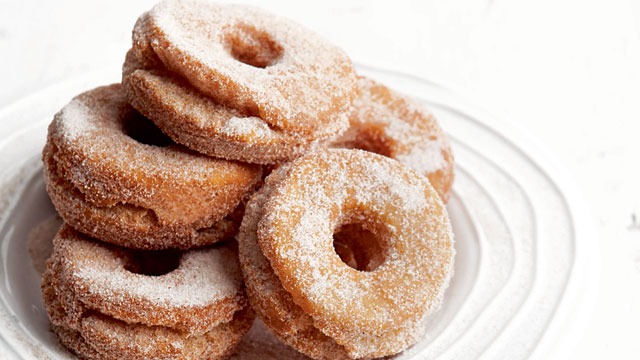 Still wishing you can stay all day in bed with a book or your fave Netflix show? Fuel your day with a delicious, cakey treat like these cinnamon sugar doughnuts and start working on your 2017 to-do and to-be list. Aren't the simplest treats often the best?
Cinnamon Sugar Doughnuts
Prep time 25 mins
Cooking time 8 mins
Makes 16 (3-inch) doughnuts
3 1/2 cups all-purpose flour
1 cup flour
1 tablespoon baking powder
1 cup sugar
2 teaspoon salt
1 teaspoon ground cinnamon
1/2 teaspoon freshly grated nutmeg
1/4 cup unsalted butter
4 yolks from large eggs
1 cup sour cream, at room temperature
shortening for deep-frying (we used four 16-ounce cans Crisco)
1 cup sugar
1 to 2 tablespoons ground cinnamon
1 Sift together flours and baking powder into a large bowl; set aside.
2 In the bowl of an electric mixer fitted with the paddle attachment, mix together sugar, salt, cinnamon, nutmeg, and butter on medium speed. Add egg yolks and mix until combined. Add sour cream and mix until combined.
3 Switch to the dough hook attachment. Add the dry ingredients. Mix until dough forms and pulls away cleanly from the sides of the bowl. Form dough into a flat disc, wrap in plastic wrap, and refrigerate for at least 1 hour, or up to 2 hours.
4 Roll out dough on a clean, lightly floured work surface until 1/2 inch thick. Cut out circles using a 3-inch round cookie cutter. Punch a smaller hole in the middle using smaller cutters or piping tips. Refrigerate until ready to fry.
5 Heat shortening in a heavy-bottomed pot over low heat until it registers 325°F on a deep-fry thermometer.
6 Make the cinnamon sugar: Combine ingredients in a medium bowl; set aside.
7 Fry each doughnut for about 2 minutes on each side. Drain quickly and toss in cinnamon sugar mixture until well coated. Serve immediately.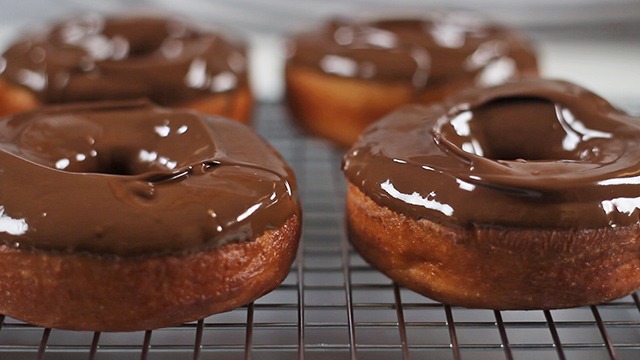 WATCH: How to Make Doughnuts
Posted in:
Cooking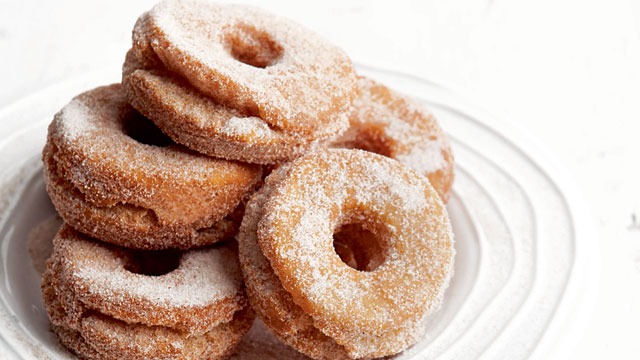 5 Fried Desserts That Don't Require Ovens
Posted in:
Cooking
ADVERTISEMENT - CONTINUE READING BELOW
Recommended Videos