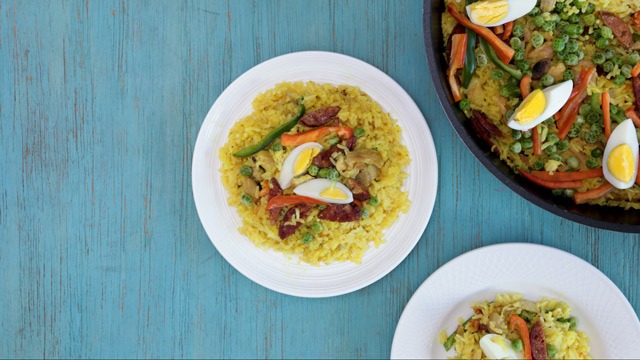 If you love paella, we bet you can make this special rice dish for Christmas dinner. This easy Arroz Valenciana recipe uses every day, supermarket ingredients to create a delicious and centerpiece worthy rice dish which you can serve for Noche Buena, Media Noche, or any occasion where you want to impress your guests. 
The bright yellow hue of this special rice dish is from the fresh turmeric that's added to the mixture. It's one of two fantastic and highly affordable ingredient substitutes for expensive saffron strands, so your budget won't be strained.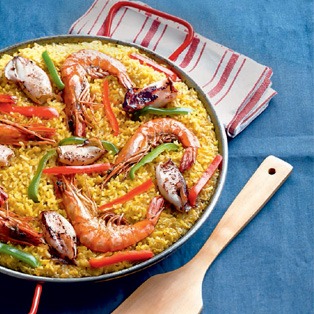 Reader Tips: The Path to Perfect Paella
Posted in:
Cooking
If you are still new to making paella, here's a pro tip: Paella isn't a risotto, so to avoid a sticky rice consistency, don't stir! Let the rice absorb and be cooked in the rice undisturbed as the broth simmers. Stirring releases the starch from the rice which is great for risotto but not for paella, where you want the rice kernels to be fully cooked through without any stickiness. 
With that tip, here is the easy recipe you should follow for this special rice dish: 
Easy Arroz Valenciana Recipe
Takes 40 minutes 
Makes 6 servings 
 
3 tablespoons vegetable oil
5 cloves garlic, minced
1 large white onion, peeled, chopped
1/4 kilo chicken thigh fillets, sliced into strips
1/4 kilo pork kasim, sliced
1 chorizo de Bilbao, sliced
1 tablespoon fresh turmeric, peeled and chopped finely
2 teaspoons salt, or to taste
1/2 teaspoon coarsely ground black pepper, or to taste
2 cups uncooked white rice
1 cup uncooked malagkit rice
1 chicken bouillon cube dissolved in 5 cups hot water
1/2 cup green peas
1 small red bell pepper, seeded, sliced into thin strips
1 small green bell pepper, seeded, sliced into thin strips
2 large hardboiled eggs, peeled, quartered
 
1 Heat oil in a large wok over medium-high heat. Add then sauté garlic until fragrant. Add onion and sauté for another minute or until softened.
 
2 Add chicken fillets, pork, and chorizo, sautéing each until half cooked before adding the next. Add and stir in fresh turmeric. Stir until well combined and meats begin to color. Season with half the salt and half the black pepper, or to taste. Add uncooked rice. Stir to coat with the turmeric mixture. Adjust seasoning as desired.
 
3 Pour in broth then bring to a boil. Lower to Medium heat then simmer and cover. Simmer for 15 to 20 minutes. Add more water if the rice is not yet cooked when the water has evaporated. Once the rice is almost cooked and just a little water is left, arrange the top of the paella with green peas and bell peppers. Let continue to cook until heated through. Top with hardboiled eggs.  Transfer to a serving platter before serving.
 
Need another special rice dish for Christmas dinner or New Year's Eve? Here's another equally centerpiece-worthy rice dish you may want to try, too, plus, a few more rice ideas: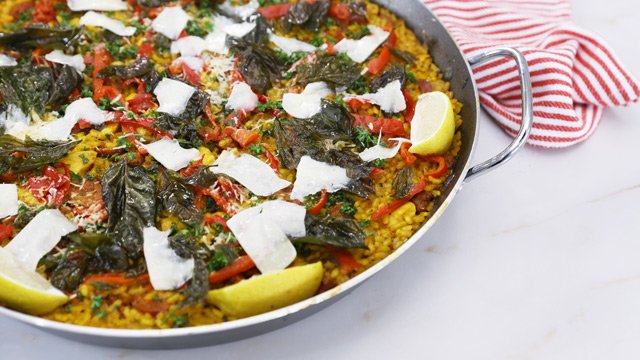 WATCH: How to Make Chorizo Paella
Posted in:
Cooking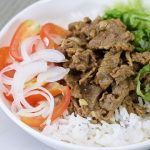 WATCH: How to Make Beef Shawarma Rice
Posted in:
Cooking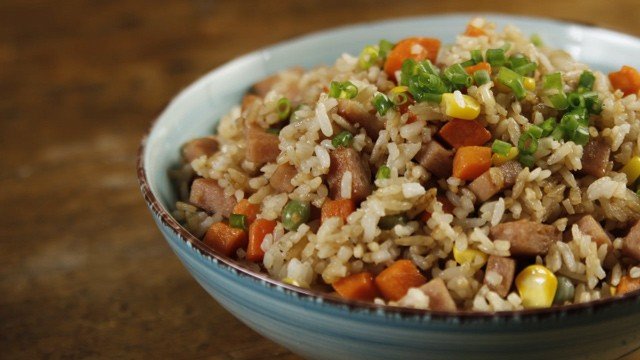 WATCH: How to Make Spam Fried Rice
Posted in:
Cooking