These days we are constantly reminded about how important and precious family is. From our parents and siblings to our beloved lolos and lolas, the family is what makes life meaningful — and mealtimes truly enjoyable.
Our grandparents, in particular, deserve to be treated like the VIPs that they are this September 13, Grandparents' Day.
Show them some love by giving them a gift that's both thoughtful and personal. How about a handwritten letter or card, or a photo album full of wonderful snapshots of your family? Better yet, cook a delicious and filling meal that they will surely enjoy!
Don't know what to make? Try creating these delicious chicken recipes! They're familiar and beloved favorites you will be proud to serve to your lola and lolo. And now, they're easier to make, too, thanks to Argentina Corned Chicken.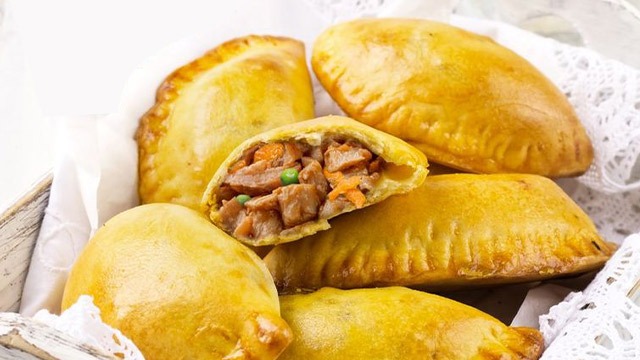 1 Corned Chicken Empanada Recipe
Impress your grandparents on their very special day with this no-bake empanada dish. Don't be intimidated! This recipe may be a little bit challenging at first glance, but with the help of Argentina Corned Chicken, you'll be done making it in no time.
Corned Chicken Empanada Ingredients
For the dough:
2 cups all-purpose flour
1/4 cup margarine
1/4 cup cold water
1/2 teaspoon baking powder
pinch of salt
For the filling:
1 small onion, chopped
3 cloves garlic, minced
2 small carrots, diced
2 medium potatoes, diced
2 150-g cans Argentina Corned Chicken (regular)
2 tablespoons oyster sauce
2 tablespoons soy sauce
1 tablespoon sugar
pinch of salt
1/4 cup garbanzos
1/2 cup green peas
oil for frying
How to make Corned Chicken Empanada
1 Make the dough: In a bowl, mix together flour, margarine, water, baking powder, and salt until fully combined. Knead for 5 minutes. Chill in the refrigerator for 1 hour.
2 Make the filling: Sauté onion and garlic until fragrant. Add carrots and potatoes. Continue cooking until the vegetables soften. Add Argentina Corned Chicken, oyster sauce, soy sauce, sugar, salt, garbanzos, and green peas. Cook for 5 minutes. Remove from the heat and set aside.
3 Remove dough from the refrigerator. Place on a flat surface lightly dusted with flour. Using a rolling pin, flatten the dough into a sheet. Get a bowl with a 6-inch diameter and use it to cut out round shapes from the dough.
4 Put 2 tablespoons of the Argentina Corned Chicken mixture in the middle of each round. Fold the circle into a half-moon shape. Crimp the edges closed using a fork.
5 Deep-fry each empanada until golden. Remove from the oil and let it cool. Serve.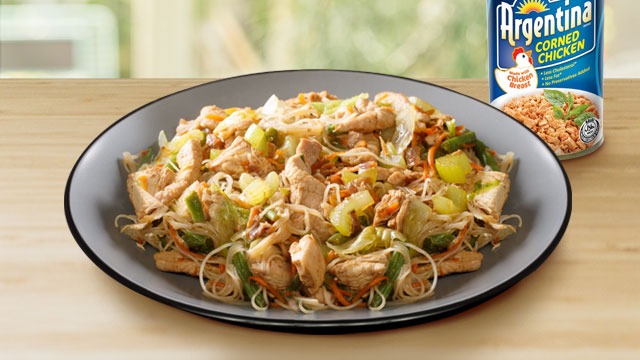 2 Chicken Pancit Bihon Recipe
Nothing says special occasion like a big platter of pancit bihon! A party-ready dish such as this is enough to celebrate momentous events like Grandparents' Day — all in the comfort and safety of home. Make sure you use Argentina Corned Chicken for your pancit sahog to save you time and effort!
Chicken Pancit Bihon Ingredients
2 teaspoons cooking oil
4 cloves garlic, minced
1/2 medium red onion, sliced
2 stalks celery, chopped
1/2 piece Chinese sweet sausage, sliced
1 150-g can Argentina Corned Chicken (regular)
1/2 cup carrot, sliced into 1-inch strips
10 pieces Baguio beans, sliced diagonally into strips
1 cup cabbage, sliced into strips
1 tablespoon soy sauce
1 250-g pack bihon noodles, soaked
How to cook Chicken Pancit Bihon
1 Heat oil in a pan. Sauté garlic, onion, celery, and Chinese sweet sausage for 2 to 3 minutes. Add Argentina Corned Chicken directly from the can and cook for another 2 to 3 minutes.
2 Add carrots, Baguio beans, and cabbage. Sauté until the carrots and cabbage are cooked through.
3 Pour in soy sauce and add the soaked bihon noodles. Stir to combine all ingredients with the noodles. Serve hot.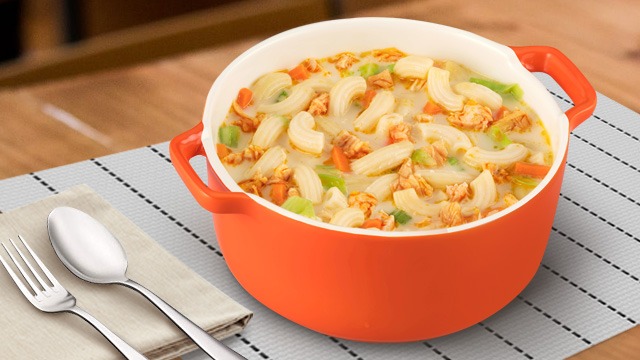 3 Chicken Macaroni Soup Recipe
You can never go wrong with a pot of hearty and filling sopas — and we're pretty sure your lola and lolo will also appreciate a big, warm bowl. Cook this with ease — but still with the creamy and rich flavors your grandparents love — with the help of Argentina Corned Chicken.
Chicken Macaroni Soup Ingredients
1 150-g can Argentina Corned Chicken (regular)
2 tablespoons butter
1 small white onion, chopped
2 cloves garlic, minced
1/2 cup carrots, diced
8 cups water
2 tablespoons patis (or to taste)
1 piece chicken broth cube
1/4 kilo elbow macaroni
1 410-ml can evaporada
salt, to taste
pepper, to taste
How to make Chicken Macaroni Soup
1 In a large pot, sauté Argentina Corned Chicken in butter with onion, garlic, and carrots until aromatic. Add water, patis, and chicken broth cube. Cover the pot and allow to boil.
2 Stir in macaroni. Cook for 10 minutes or until macaroni is tender.
3 Turn the heat to low and stir in evaporada. Season with salt and pepper. Remove from heat and serve.
Cooking for your grandparents is such a sweet and thoughtful way to honor them. After all, food is a love language Pinoys of all ages understand. And with the help of Argentina Corned Chicken, making delectable dishes for your loved ones is now hassle-free, too!
There is no need to defrost, boil, and shred the chicken. Argentina Corned Chicken is a ready-to-use chicken sahog made with chicken breast and a delicious blend of spices. It's a versatile ingredient that you can use for all kinds of chicken recipes — both modern and traditional — something your grandparents will definitely appreciate.
Happy Grandparents' Day!
Know more about Argentina Corned Chicken by following Argentina Meats on Facebook.