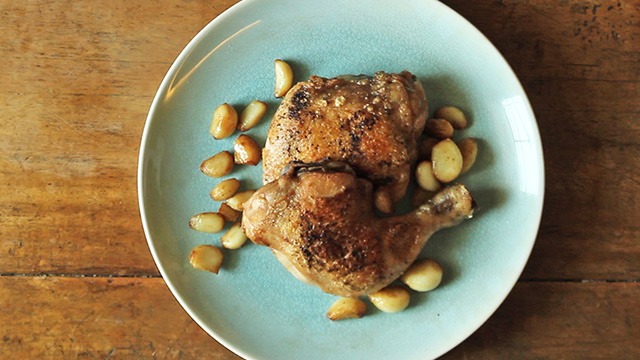 Fried chicken can be as simple or as complicated as a recipe as you want it to be. It can be fried until the chicken skin is crisp and light as a cracker or coated in a golden brown breading to give it a thick and crunchy layer before it gives and reveals the moist and juicy meat underneath. 
Whatever your preference, there's no denying that a good fried chicken is not as hard to make as it sounds. What you can do to make every fried chicken dish you make even better is to discover a sauce that will take it from delicious to extraordinary. 
If you love garlic, this is one sauce that you won't allow to run out when you discover how easy and versatile it is: garlic butter. 
Herbed Garlic Butter Recipe
Posted in:
Recipe
The main ingredients of a basic garlic sauce are butter, garlic, salt, and ground pepper. The garlic can be as powerfully aromatic as you can make it or it can be more mellow with the buttery flavors taking center stage. To add even more flavor and a pop of color to the mix, you can chop up some herbs such as a big pinch of chopped fresh rosemary leaves with a handful of parsley to give it a complementary flavor. You can add use garlic powder for a big boost of garlic flavor, lemon zest for a citrusy tang, or even a touch of cumin for a Mid Eastern flavor.  
The trick to making it perfect for fried chicken is to allow it to soften so that when you dollop it on top of the freshly cooked fried chicken, it melts and coats every nook and cranny with its buttery garlic flavor.
Here's how to make a simple garlic butter: 
1. Mix 1 225-bar salted butter, softened, and 6 cloves garlic, finely chopped. Season with salt and ground pepper to taste. 
2. Add any mix-ins (herbs and spices) to taste. 
3. Spread on fried chicken.    
This garlic butter isn't just for fried chicken. You can use this butter for seasoning steak, shrimp, crabs, or other seafood. Keep a tub of this flavored butter on hand so you can slather this on toasted bread to make easy garlic bread or if you're craving the kind of chicken wings they have in restaurants, mix in some grated Parmesan cheese for garlic Parmesan wings or brush it on freshly grilled corn, too. 
If fried chicken is all you want to douse in this buttery garlic sauce, here are some fried chicken recipes to consider making for this purpose: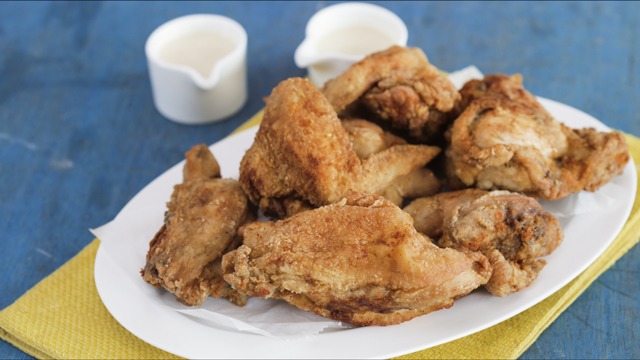 1 Classic Fried Chicken Recipe 
There is little that can defeat a good fried chicken recipe. For those of us who don't have the time to anything more than preparing the food and cook it soon after, any prep that needs hours or even overnight isn't a recipe that will do when time is short. 
For those who can't brine or marinate the chicken before cooking it, letting its natural flavors shine enhanced with only a little salt and ground pepper is as simple as it can get.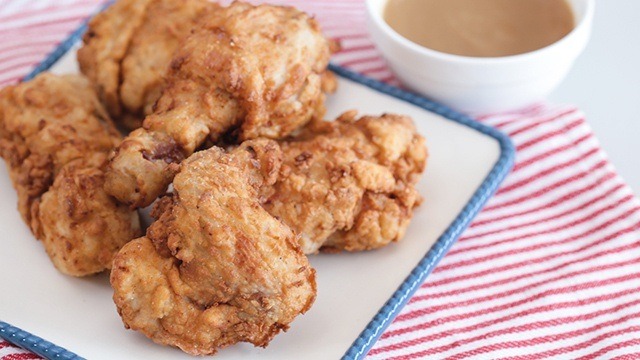 2 Southern-Style Fried Chicken Recipe 
The original Southern-style fried chicken recipe is a complex mixture of flavors and tastes of herbs and spices but the heart of this recipe is the buttermilk marinade that tenderizes the chicken and the thick flour coating it gets before being fried until golden brown and crispy on the outside. This is the perfect chicken to become coated in another layer of delicious flavor.
3 Air Fryer Max's-Style Fried Chicken Recipe  
A simple soak in a salty brine is all it takes for the chicken to become tasty and ready for the air fryer. Since the air fryer is a hot air-circulating cooking vessel, the chicken needs all the moisture it absorbed to remain juicy before it gets wicked away from the heat and air. The fryer also helps the fat under the skin render and baste the chicken before dripping off. Melted garlic butter would be the perfect sauce to dip this chicken into. 
ADVERTISEMENT - CONTINUE READING BELOW
Recommended Videos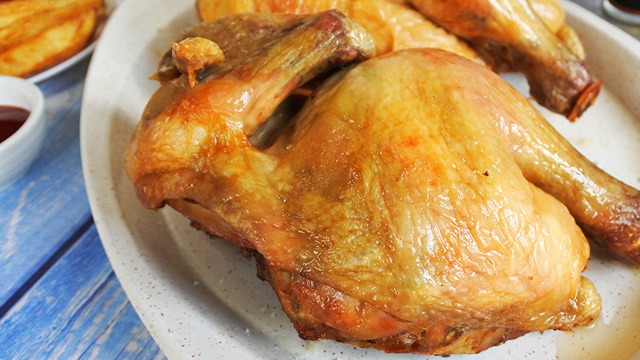 Air Fryer Max's-Style Fried Chicken Recipe
Posted in:
Recipe
ALSO READ: 
***
Thinking about what to cook next? Join our Facebook group, Yummy Pinoy Cooking Club, to get more recipe ideas, share your own dishes, and find out what the rest of the community are making and eating!
Got your own version of the classic dishes? Pa-share naman! Get your recipe published on Yummy.ph by submitting your recipe here!