Who doesn't love a great Italian meal? One with the usual refreshing salad, mouth-watering pasta and savory pizza? But if you're looking for something new, here are a couple of Italian recipes with a delightful and surprising twist.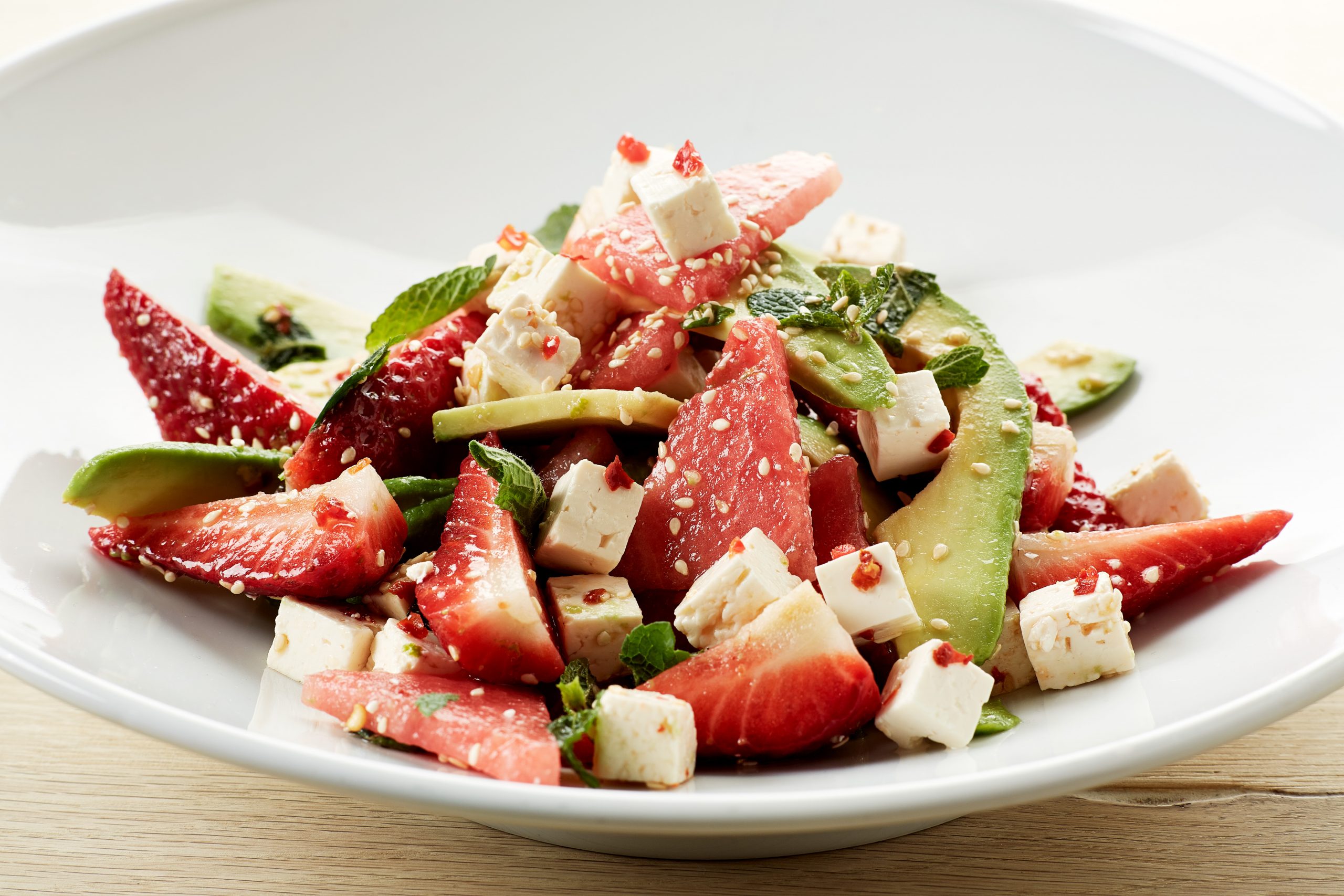 Watermelon and Strawberry Salad
Add a twist to your usual starter by tossing in fruits instead of greens. This refreshing salad is made with Arla Apetina Classic Cubes in Brine – the creamy cubes round off the fruity acidity of the salad, perfect for an afternoon barbecue or as part of a tapas menu.
Prep time: 15 minutes
Serves 4
200 grams Arla Apetina Classic Cubes in Brine
400 grams strawberries
2 avocados
400 grams watermelons
10 stalks of mint
1/2 lime
3 teaspoon virgin olive oil
1 clove garlic
Salt
Black pepper
1 tablespoon roasted sesame seed (optional)
1 Take the zest of half a lime and squeeze the juice out in a small bowl.
2 Add grated garlic to lime juice and olive oil – blend together.
3 Add a pinch of salt and black pepper to taste.
4 Wash the strawberries, take off the greens and slice thinly.
5 Cut the watermelon into small triangles.
6 Remove the stone from the avocado and cut the avocado thin slices.
7 Mix avocados, watermelon and strawberries in a serving bowl.
8 Roughly chop mint leaves and add to the salad.
9 Pour the dressing over the salad, add Arla Apetina Classic Cubes in Brine and toss gently.
10 Sprinkle roasted sesame seeds on top.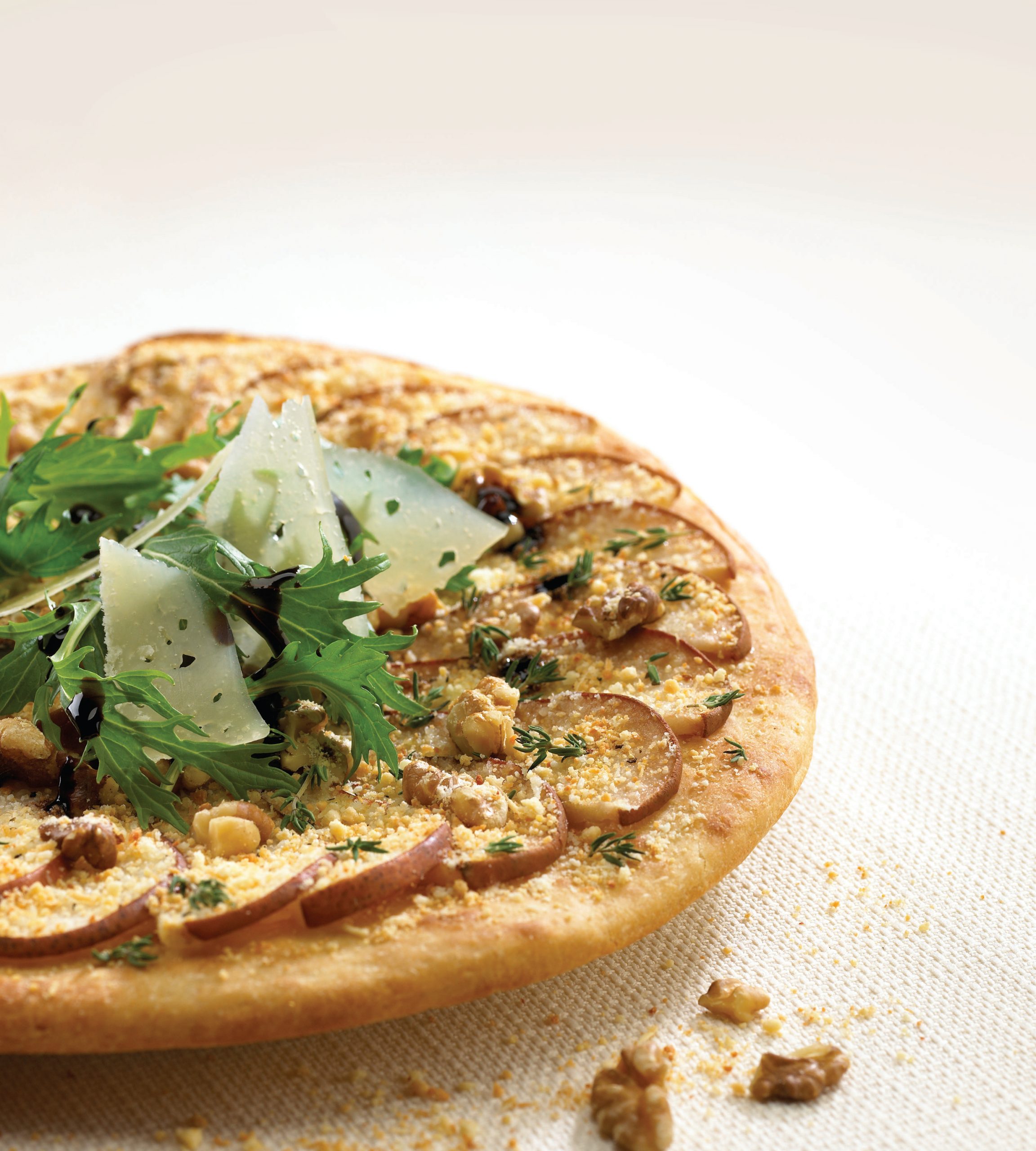 Cheesy White Pizza with Pears and Walnuts
Add a twist to this Italian staple by adding Arla Apetina Feta Cheese and drizzling with balsamic vinegar. The white cheese balances out the acidity of the vinegar nicely, bringing out the creaminess of the pizza. You can also make it even more special with a dash of parmesan cheese before serving.
Prep Time: 15 minutes
Level of difficulty: Medium
225 grams wholemeal flour
15 grams fresh yeast
1 tablespoon olive oil
250 milliliter water
1/2 tablespoon sugar
1 teaspoon salt
300 grams Arla Apetina Feta Cheese in Plastic Pack
175 grams walnuts
1 pear
20 grams thyme
50 grams rocket salad leaves
2 teaspoon balsamic vinegar
Black pepper
1 Combine yeast and water in a large bowl and whisk until mixed well.
2 Add olive oil and dry ingredients and combine using a stand mixer at low speed for 4 minutes.
3 Leave to rise until size doubles.
4 Flatten the dough and roll it out into a thin pizza base.
5 Cover pizza dough with Arla Apetina Feta Cheese and sprinkle with some walnuts.
6 Core and slice the pear vertically into thin slices, place the slices in a circle around the pizza base.
7 Sprinkle with the remaining cheese and walnuts and season with fresh thyme and pepper.
8 Bake the pizza in a pre-heated oven at 275-300°C for approximately 4-5 minutes.
9 Remove from the oven, top with rocket salad leaves.
10 Slice and serve.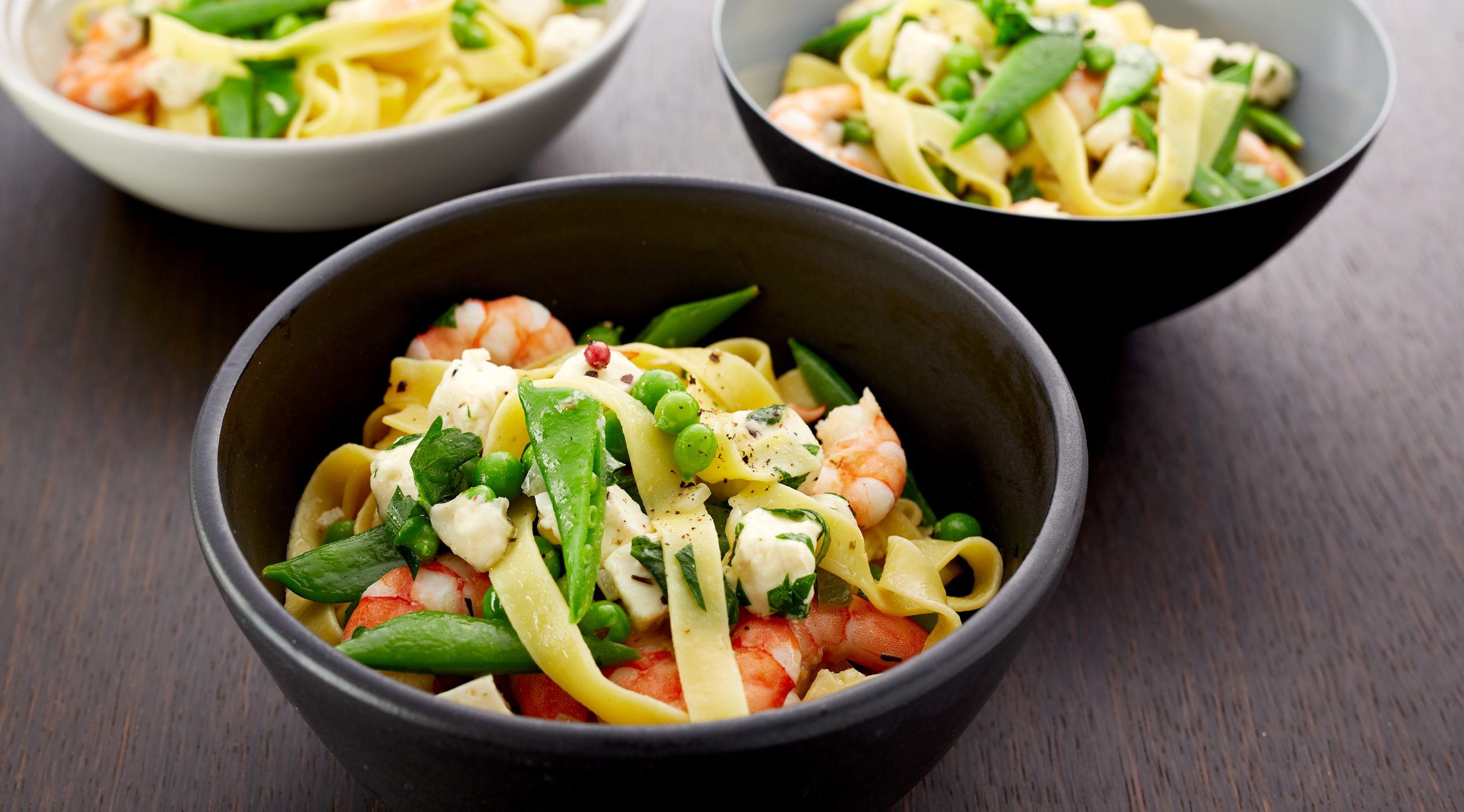 Pasta with Prawns and Lemongrass
Add a twist to your usual prawns and lemongrass pasta recipe by adding Arla Apetina Classic Cubes in Oil right in the end. After removing the pan from the heat, add the cheese and blend partially into the dish. The slightly melted cheese will give a nice contrast between the tanginess of lemongrass and the creamy peppery flavor of the cheese.
Prep Time: 15 minutes
Level of Difficulty: Medium
Serves 4
275 grams Arla Apetina Classic Cubes in Oil
20-25 pieces tiger prawn
2 liter water
350 grams tagliatelle
1 piece shallot
1 clove garlic
1 stalk lemongrass
3 tablespoon olive oil
125 grams green peas
125 grams sugar snap peas
15 grams parsley
Salt and pepper
1 Bring water to a boil, add tagliatelle and cook until al dente. Set aside.
2 Grate garlic and finely chop lemongrass and onion.
3 Sauté the onion, garlic and lemongrass for 2 minutes in olive oil.
4 Mix in shallot with peeled and deveined tiger prawns.
5 Cook over medium heat for 4-5 minutes.
6 Add sugar snaps, sliced diagonally.
7 Add the pasta and drained Arla Apetina Classic Cubes in Oil.
8 Sprinkle parsley, toss gently.
9 Add salt and pepper to taste.