Not knowing what to cook for your family's tanghalian is a challenge, particularly when you have a limited number of ingredients at home. We get it. No one wants to eat the same thing over and over every single day of the week.
Here's an idea. How about getting creative with the ingredients you typically have on hand? This way, you won't need to go on any extra trips to the grocery or neighborhood wet market to buy your ingredients.
Armed with what you already have at home, some dependable condiments that are readily available in the supermarket, and a little creativity, you can cook easy but delicious meals your family will enjoy.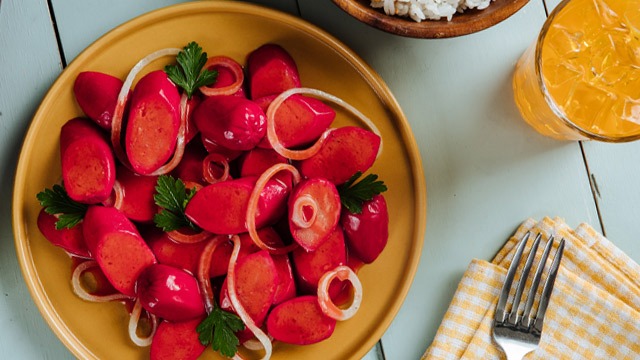 1 Sautéed Hotdogs with Catsup Recipe
Hotdogs are typically eaten during breakfast. They're easy to eat and even easier to cook — just fry 'em up in oil and you're done. But that's not the only way to enjoy this dish.
Try this recipe for a change — you only need three main ingredients: hotdogs, onions, and banana catsup. The best part is, it takes only about 10 minutes to make!
TIP: For an added spicy kick, use UFC Banana Catsup. The sweet-spicy flavor brings out perfectly the meatiness of the hotdogs and the sweetness of caramelized onions.
Get the complete recipe here: Sautéed Hotdogs With Catsup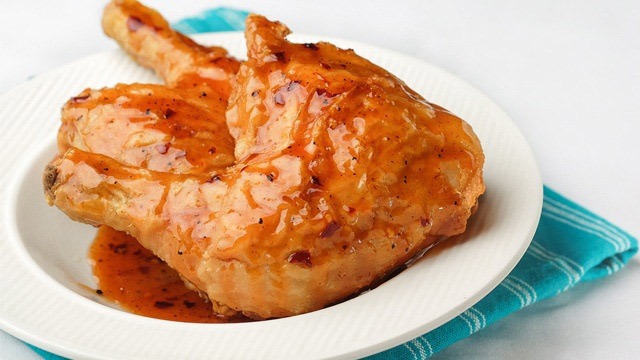 2 Fried Chicken with Sweet and Spicy Glaze Recipe
Fried chicken is another favorite in most Pinoy households. The smell of battered chicken being fried in a pan can perk up anyone feeling sad while stuck at home. When making this dish, how about giving it a lip-smacking twist?
Dress up your fried chicken with a sweet and spicy glaze, much like how popular Asian restaurants do it. Adjust the amount of hot sauce or chili flakes, depending on your desired level of anghang.
TIP: Use Jufran Sriracha Hot Sauce when creating your glaze. Sriracha is a traditional Thai hot sauce made from chili peppers, vinegar, garlic, sugar, and salt. This will give your glaze not just a spicy bite, but a sweet yet tangy flavor, too!
Get the complete recipe here: Fried Chicken with Sweet and Spicy Glaze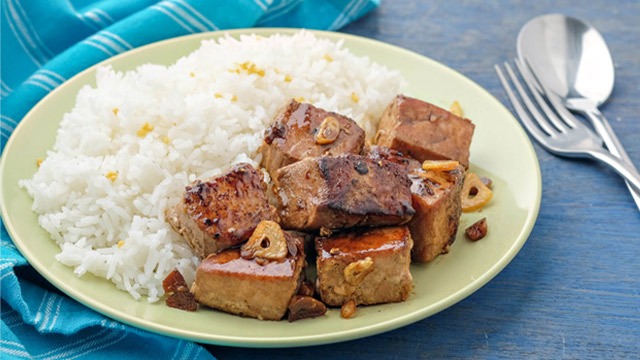 3 Adobong Tuna Recipe
Adobo is one of our go-to ulam, and for good reason. It uses ingredients everyone usually has in their kitchen. Adobo is pretty versatile as well. Aside from the usual pork or chicken, tokwa or kangkong can be used when making this dish.
If you're looking for something different, try this recipe that uses tuna. It only has four easy steps, and can be ready in just a few minutes! If you don't have any fresh tuna on hand, you can also use drained canned tuna chunks in vegetable oil.
TIP: Use a pre-made mix such as Datu Puti Adobo Series: Spicy Adobo Sauce to make this dish even quicker. It's easy and convenient to use — you'll never have to worry about getting the timpla just right for your adobo!
Get the complete recipe here: Adobong Tuna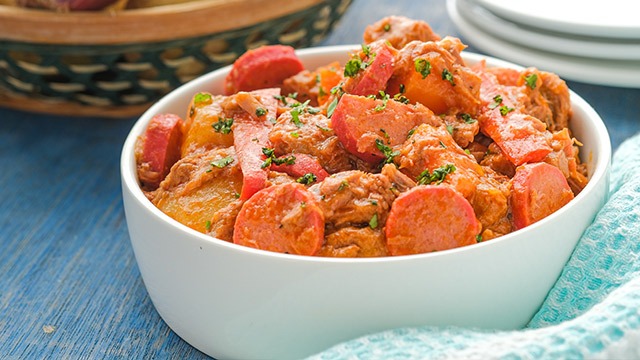 4 Beef Menudo with Hotdogs Recipe
If you want your ulam to have a balance of both protein and vegetables, go for a dish that's a little more substantial like menudo. It has both meat and veggies, simmered in a delectable tomato-based sauce. What's not to like?
Give this traditional Pinoy pork stew a delicious update for lunch. Swap pork with beef sirloin, and include hotdogs for added heft! Really easy!
TIP: Here's a great short cut when making menudo. Instead of creating the sauce from scratch, why not use a delicious pre-made mix like UFC Ready Recipes Menudo Mix? It's made from tomatoes, selected spices, and meat flavors, seasoned and mixed to achieve the menudo taste you know and love. Just pour and let simmer!
Get the complete recipe here: Beef Menudo with Hotdogs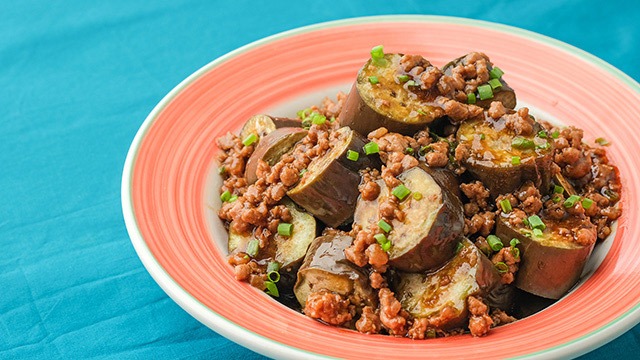 5 Steamed Talong with Ground Pork Recipe
Eggplant is a versatile vegetable you may want to stock up on in your refrigerator. Its simple flavor profile gives you the freedom to create all kinds of ulam at home. You can mix it up any way you want — add it as sahog to your veggie dishes, make tortang talong, or simply fry or grill it and dip it in your favorite sawsawan.
For a heftier option, try this recipe that calls for the addition of giniling na baboy. The meat and the sauce add a complex, sweet-savory flavor to an otherwise simple veggie dish. Bring on the rice, please!
TIP: Boost the flavor of this veggie dish by using Datu Puti Oysterrific Oyster Sauce. It adds a delicious linamnam to this nutritious ulam that your family will surely appreciate.
Get the complete recipe here: Steamed Talong with Ground Pork Recipe
These days, it pays to be smart and strategic when buying food for your family at the grocery or supermarket. You need to look for ingredients and condiments that allow you to be creative and flexible in the kitchen.
NutriAsia offers a wide range of products that can help make cooking at home easier. Aside from brands such as UFC, Jufran, and Datu Puti, NutriAsia also produces convenient-to-use products from brands like Silver Swan, Mang Tomas, Papa, Golden Fiesta, Locally, Big 2, and Mafran.
With NutriAsia, you're confident that you'll always have something delicious to cook at home for your family.
For more delicious recipes, visit www.nutriasia.com. Follow NutriAsia on Facebook for updates.