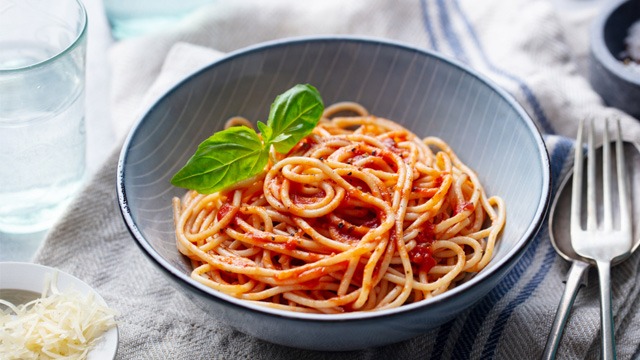 The most basic of spaghetti sauces is super flavorful. You may not have known you were making the start of a classic marinara sauce but the sauce is actually the delicious start of many other tomato-based dishes.   
What is a marinara sauce? 
The typical marinara sauce is a tomato sauce that has many uses in cooking apart from being a pasta sauce. It's the sauce that can be the base of your favorite spaghetti meat sauce. It can be used in place of plain tomato sauce in recipes that need tomatoes but it can also be used as a pasta sauce since it's already flavorful on its own. 
There are five ingredients in a classic marinara sauce: olive oil, tomatoes, garlic, basil, and a touch of red pepper flakes.
You can use any cooking oil you have but for that fresh olive taste, use olive oil. The tomatoes don't have to be fresh Roma tomatoes and the best substitute is actually canned tomatoes since these are picked and processed at its ripest. This is why canned tomatoes can be superior to fresh tomatoes that are not vine-ripened.
The garlic and the basil are both traditional flavors in the marinara. The garlic goes well with tomatoes as does the basil. That pinch of red chili flakes meanwhile is not added to give the pasta a heat or even a kick but is there to stimulate your taste buds and in essence, make it taste better.           
Want to know how to make this fantastic tomato sauce?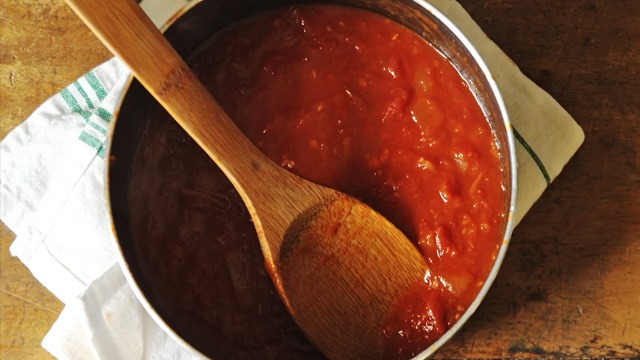 Here's how you can make a basic marinara sauce: 
1 In a large saute pan, heat 2 tablespoons olive oil. Add 5 cloves garlic, chopped, cooking until just softened.
2 Add 1 400-gram can diced tomatoes, 1/2 cup water, and 1 sprig basil leaves. Simmer until thickened. Season with salt, pepper, sugar, and a pinch of red pepper flakes if using.  
Make this tomato pasta sauce for spaghetti or even as the base of a tomato dish that you want to be easy to make but already super flavorful without more prep work.    
ALSO READ:
***
Thinking about what to cook next? Join our Facebook group, Yummy Pinoy Cooking Club, to get more recipe ideas, share your own dishes, and find out what the rest of the community are making and eating!
Got your own version of the classic dishes? Pa-share naman! Get your recipe published on Yummy.ph by submitting your recipe here.