There's nothing better than whipping up easy breakfasts on weekday and weekend mornings—especially when your options are quick, affordable, and give you space to be creative. The perfect blank canvas for fun breakfasts? Boxed hotcake mix!
Here are a few ideas on how you can make hotcake breakfasts more exciting:
1. Add matcha.
Known as a simple yet powerhouse ingredient full of antioxidants and nutrients that support your immune system, matcha is an easy addition to your breakfast menu (and did we mention how yummy it is, too?). For every cup of ready-made hotcake mix, add one tablespoon of matcha powder into the batter. Make your breakfast stack extra fresh by adding fruits, like sliced strawberries.
2. Make the syrup special.
Tired of the usual maple syrup topping? Make your own fruit compote! You need only a handful of ingredients: your favorite berry (strawberries, cherries, or seasonal blueberries will do), sugar, and a squeeze of lemon juice.
Over medium heat in a small saucepot, mix half a cup of sugar and one cup of sliced berries together. Do not add water—the juice from the berries will be released after a few minutes. You can lightly mash the fruit to make your compote a little runnier. Once your compote comes to a simmer, take the saucepot off the heat and add a squeeze of lemon juice. Add sugar to taste, if desired.
3. Go savory—and get a complete meal out of it!
If fruits, syrup, and whipped cream aren't up your alley, you can opt to top your hotcakes with savory breakfast options.
Crumbled chorizo or longganisa and a slice of kesong puti make the perfect sidekicks to fluffy breakfast hotcakes. Sliced bacon and a drizzle of honey also make an interesting sweet-savory combo. Looking for an extra-filling and hefty first meal of the day? Heat leftover fried chicken from the refrigerator, add a sprinkle of grated parmesan cheese on your hotcake and dig in.
4. Get artsy.
Another simple but fun idea is hotcake art. Aside from hotcake mix, you'll need liquid food coloring in assorted colors and squeeze bottles. After preparing your hotcake mix according to the package instructions, mix in a few drops of food coloring to achieve your desired shade. Pour the colored batter into the squeeze bottle, and start drawing.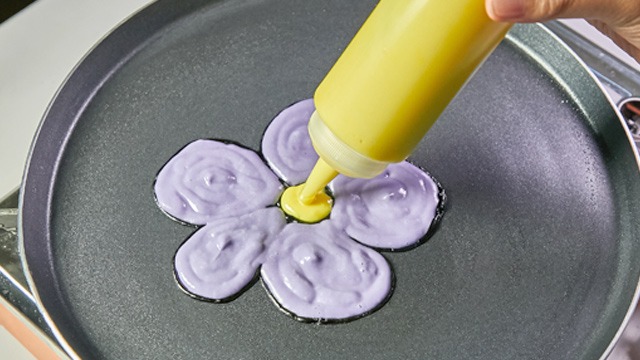 Don't forget to use a nonstick pan with a drizzle of oil when making your hotcake art. Another tip: Using the squeeze bottle full of batter, make an outline of your design on the pan. This way, when you fill in your design with more batter, it won't get distorted since the batter won't spill out. Watch this video for more tips on making hotcake art:
If you want to take your hotcake art to the next level, join the #MayaHotcakeArt contest. By showcasing your hotcake designs on Facebook or Instagram, you'll get the chance to take home P20,000 worth of Maya products and attend for free a Maya Kitchen lifestyle class. Go to this link to see the full mechanics of the contest.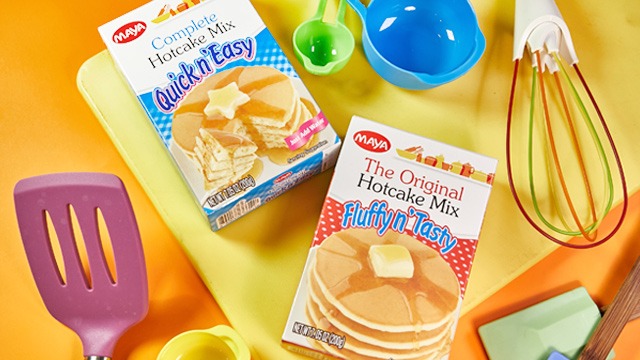 Follow Maya on Facebook and Instagram to know more about its products.