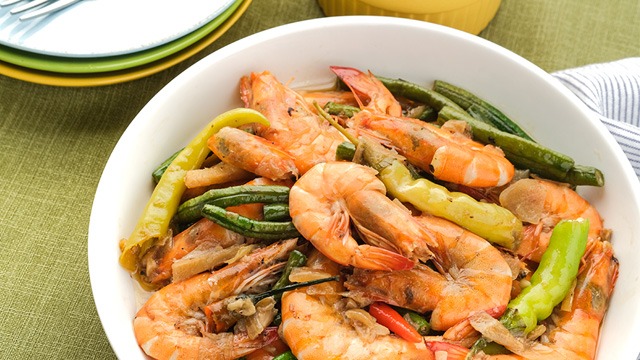 When it comes to shrimp or hipon, the biggest concern is overcooking it. Don't worry! You do not have to worry about overcooking the seafood with this easy shrimp cooking tip: remove the shrimp from the pan or the pot when it's cooked. 
Scoop those little pieces of shrimp out and away from the heat. No judgment! It's just a smart move that will ensure that whatever shrimp recipe you make will result in shrimp that are tender and perfectly cooked with a little extra effort. 
Before starting to cook, remember to also devein the shrimp while preparing the seafood. This ensures you don't get a burst of bitterness when you take a bite of the shrimp. These veins are easy to remove. Just follow these steps: 
1. Start at the head, and while holding the head securely, remove the head from the body. Reserve these (and the shells!) for making a super flavorful seafood stock.   
2. Tuck your thumb under the shell where the head was located previously and break open the shell casing from the legs. (You can opt to keep the last section and the tail on.) 
3. With a sharp knife (a paring knife is perfect for this task) on a cutting board, make a shallow slit along the back of the shrimp.
4. Use the tip of the knife to open the slice you just made to expose the vein then scrape the vein out. 
5. Rinse if necessary and repeat with the remaining shrimp. 
Are you worried about the vein in shrimps that you can't remove without removing the shells first? There's an easy way of deveining shrimps without removing the shells! All you have to do is use a toothpick to remove the vein on the back of the shrimps, shells on or off. The trick is to remember to be gentle so the vein won't break before you've completely pulled it out. 
Now that the shrimps are ready to cook, here are easy recipes with shrimp so you can try these clever culinary moves at home: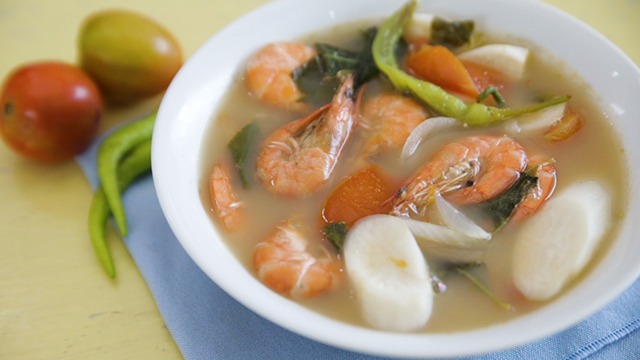 1 Sinigang na Hipon Recipe      
When it comes to classic recipes with shrimp, this is one of them. 
To make this so the shrimp remains tender and you do not overcook it in the simmering broth, add it in among the last ingredients. Simmer until the shells have all turned orange and then simmer for another minute or two before scooping them out or turning off the heat. You'll not only infuse the broth with the shrimp's flavor from both the meat and the shells (the shells are the most flavorful part of the shrimp!), but you'll ensure that the shrimps are cooked just right.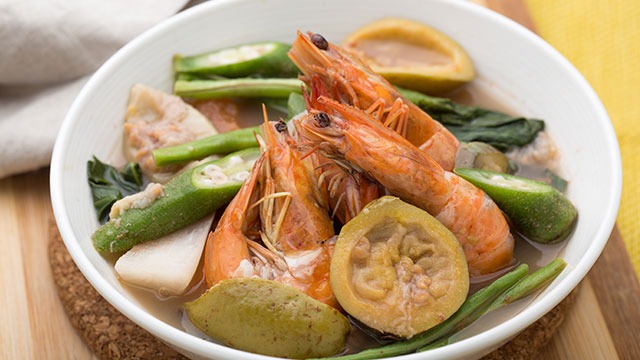 Sinigang na Hipon sa Bayabas Recipe
Posted in:
Recipe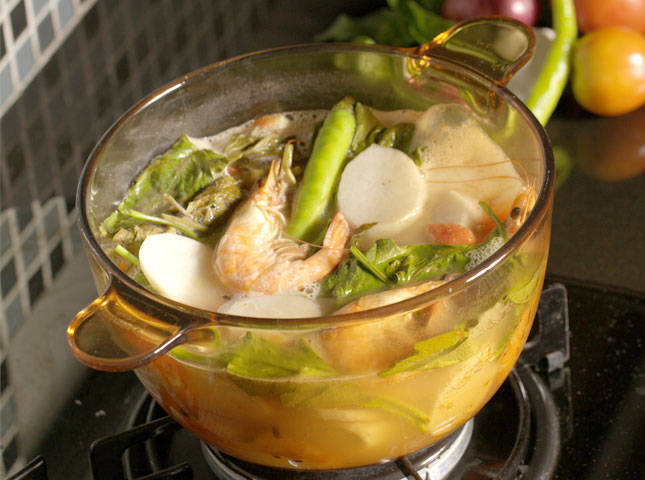 Sinigang na Hipon Recipe
Posted in:
Recipe
Sinigang na Hipon sa Kamias
Posted in:
Recipe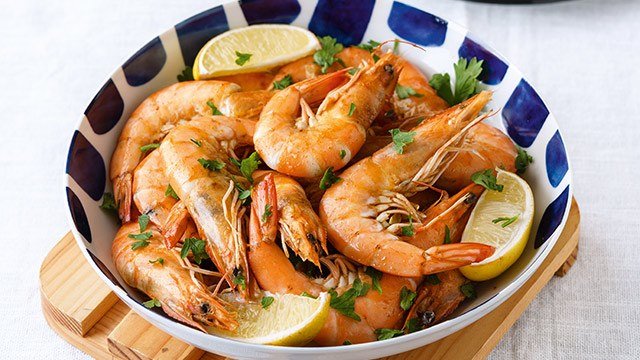 2 Beef-Boiled Shrimp Recipe 
Want another clever way of cooking shrimp? Try cooking it, not in flavorless water, but in beer. (You read that right!) Beer is commonly underused in cooking when it should be used more often, especially since more Filipinos enjoy an affordable bottle of beer than other alcoholic beverages.
What is great about this recipe is it uses the "boil and remove" tip we suggested above, so the shrimps are cooked just right while the beer-infused broth can be simmered down and made more flavorful. The brightness of the lemon juice and the buttery flavor together with the beer all contribute towards an enjoyable shrimp dish.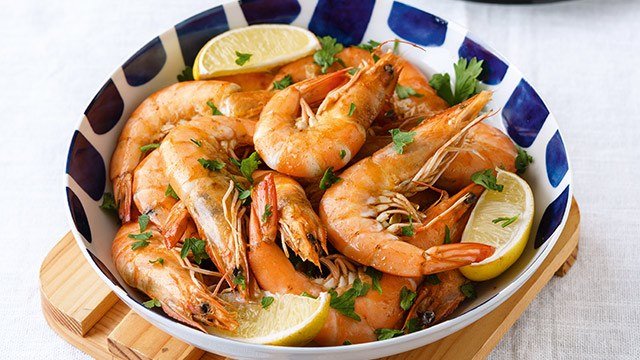 Beer-Boiled Shrimp Recipe
Posted in:
Recipe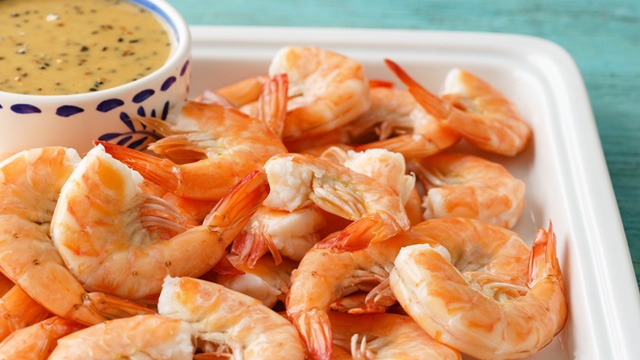 3 Steamed Shrimp with Seasame Mayo Dip Recipe
Shrimp doesn't have to be boiled or even simmered. Anyone who is afraid of overcooking shrimp can steam the little crustaceans instead of boiling them. Since there is no water for these flavors do not leech out into the water, steaming is actually a great way of preserving the natural flavors and juices of the shrimp. The resulting shrimp remain tender and juicy with lots of the flavor that you would taste if it came straight from the sea.
All that is needed is a fantastic dip or sauce to pair with it. Try this almost-from-scratch sesame mayo dip or make a simple lemon sauce that will make you think that crabs, too, would be delicious with it. 
ADVERTISEMENT - CONTINUE READING BELOW
Recommended Videos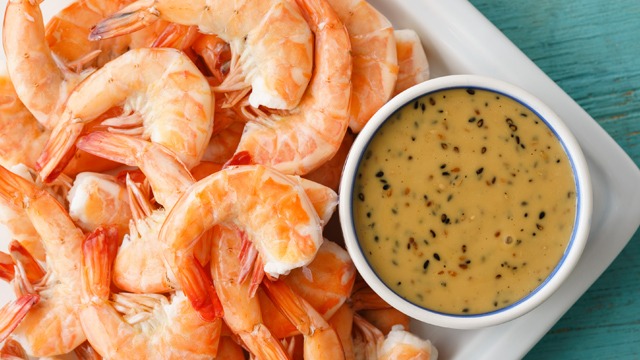 Steamed Shrimp With Sesame Mayo Dip Recipe
Posted in:
Recipe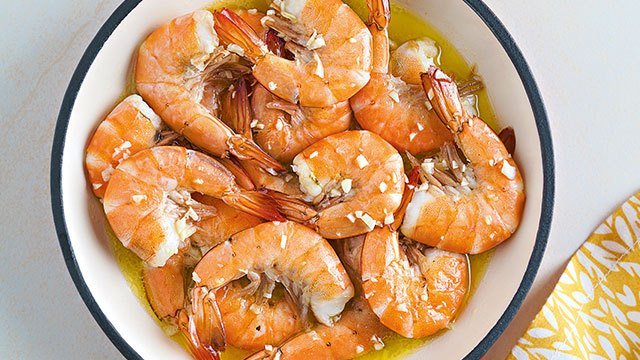 Shrimp in Lemon Sauce Recipe
Posted in:
Recipe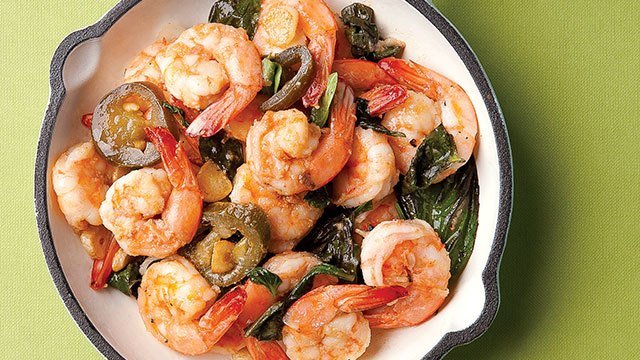 4 Stir-fried Shrimp with Basil Recipe 
Graduate from the school of boiling shrimp and stir-frying is the next step in your cooking lessons. This cooking method relies on speed and efficiency so this style of cooking is very friendly to shrimp. Since shrimp is just as quick-cooking as other ingredients you will find in a stir fried recipe, it's just natural that you will find it hard to overcook the shrimp. 
Just remember that ingredients in stir-fried recipes are meant to not cook for very long, so when you add the shrimp, it shouldn't take very long after that to have a delicious meal shortly afterward.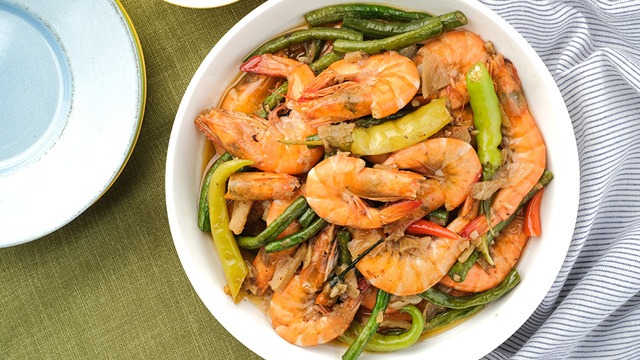 Spicy Ginataang Hipon Recipe
Posted in:
Recipe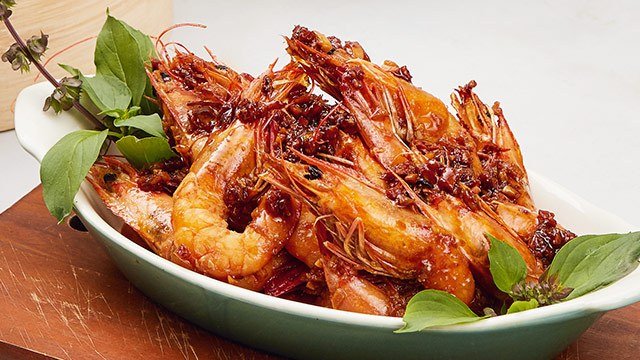 Stir-Fried Shrimp Recipe
Posted in:
Recipe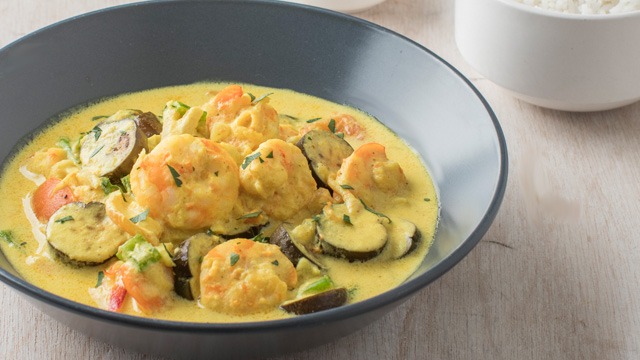 5 Shrimp Curry Recipe 
There's no harm in using a super flavorful sauce with shrimp. What's wonderful about shrimp is that it can stand on its own. Its flavor is so unique, you can't help but taste it, no matter what sauce you pour over it! 
This curry recipe is a great example of not worrying about overwhelming the shrimp, and enjoy a truly flavorful dish that's enhanced with the flavor of the sea.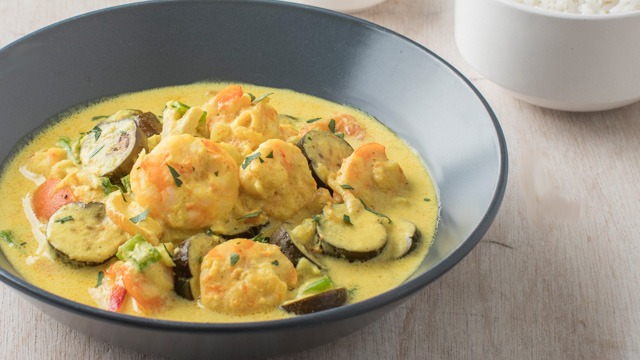 Shrimp Curry Recipe
Posted in:
Recipe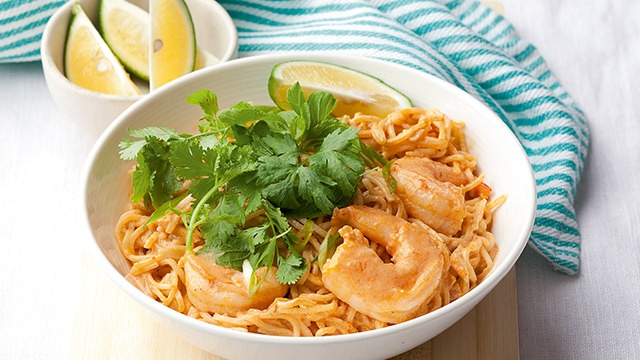 Shrimp Curry Noodles Recipe
Posted in:
Recipe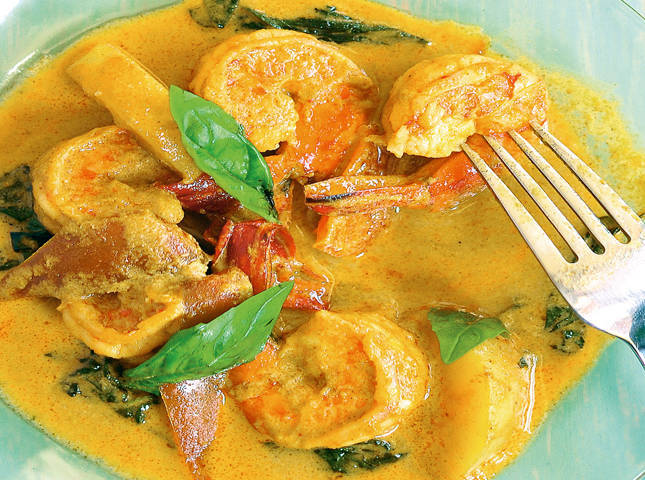 Yellow Shrimp Curry Recipe
Posted in:
Recipe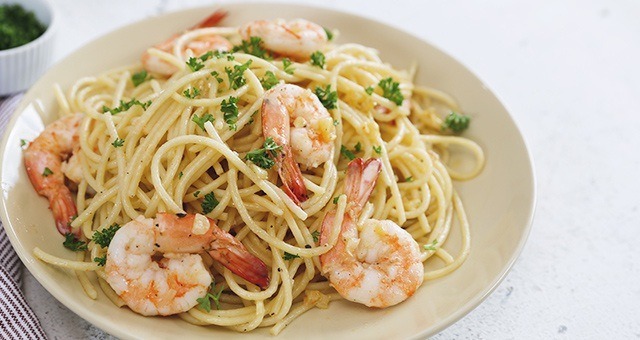 6 Garlic Shrimp Spaghetti Recipe 
Pasta and shrimp are no strangers, so this garlicky oil-based pasta is made even better when shrimp is added to the mix. If you love these two flavors together, you can even take it up another notch by adding cream. This makes a super creamy sauce that is garlicky but still delivers on the shrimp taste.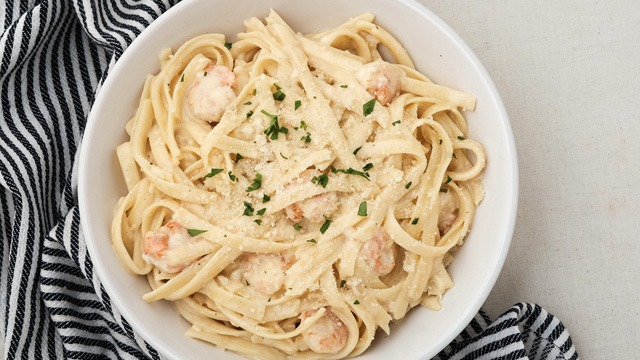 Creamy Garlic Shrimp Fettuccine Recipe
Posted in:
Recipe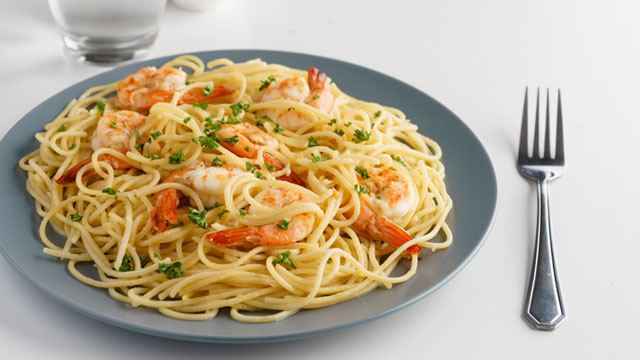 Garlic Shrimp Pasta Recipe
Posted in:
Recipe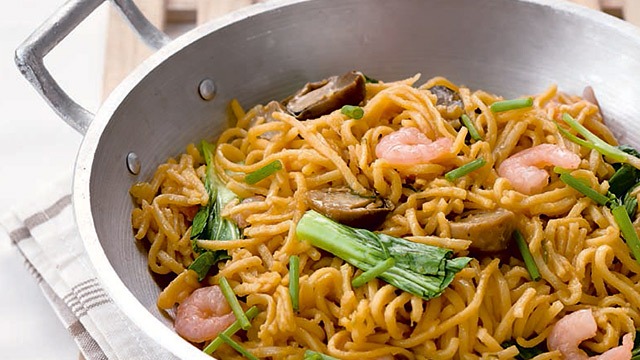 Garlic Shrimp Lo Mein
Posted in:
Recipe
ALSO READ: 
***
Thinking about what to cook next? Join our Facebook group, Yummy Pinoy Cooking Club, to get more recipe ideas, share your own dishes, and find out what the rest of the community are making and eating! 
Got your own version of the classic dishes? Pa-share naman! Get your recipe published on Yummy.ph by submitting your recipe here.