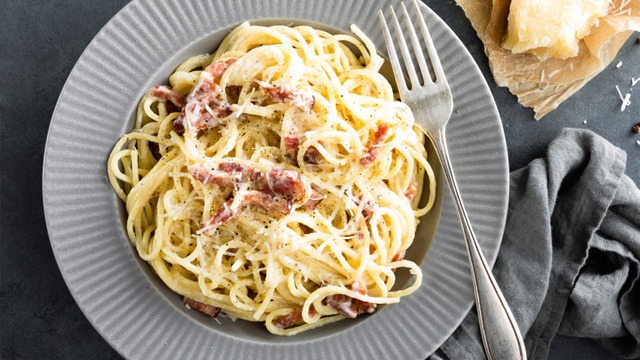 Spaghetti might be the most popular kind of pasta. It's a versatile noodle that you can use for any kind of pasta sauce. Plus, it's the pasta dish you want to have whenever there's a celebration and especially when there's a birthday party to hold. The spaghetti made for birthday parties, the Pinoy-style version, is even Alden Richard's favorite kind of food! 
Easy spaghetti recipes such as these use a select number of ingredients you love, so every bite you take is guaranteed to be delicious. Here are the kinds of easy spaghetti recipes to try: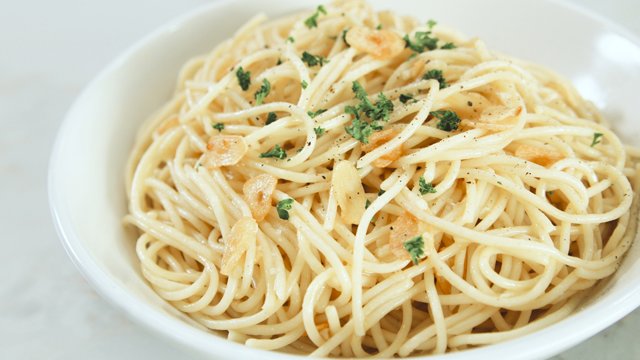 1 Garlic Spaghetti Recipes 
How much simpler can you make your spaghetti recipe when all you really add to the mix is garlic? Garlic spaghetti or aglio e olio is as simple as it gets! Since it's such a simple dish, be indulgent and use the best quality ingredients you have. Use the pure olive oil you've been saving to give your pasta that superior taste. Remember to toast (not burn!) the garlic just enough, so it lends its toasted garlic flavor to the oil and ultimately, the spaghetti. Salt and pepper become especially important in making this pasta delicious as will a pinch of red pepper flakes if you want a touch of heat. 
Care to give it a slight upgrade? Toss shrimps into the garlic oil, use chorizo to add more flavor to the oil, or add a bright green vegetable like broccoli, green peas, or even snow peas to give it a punch of color.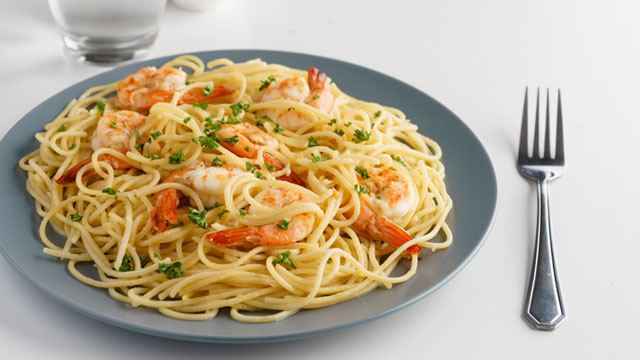 Garlic Shrimp Pasta Recipe
Posted in:
Recipe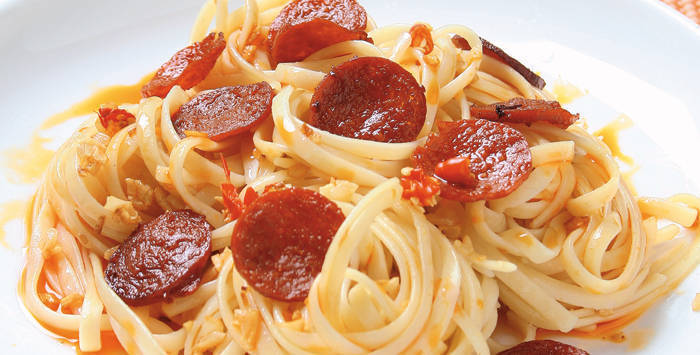 Pasta Chorizo Aglio Olio
Posted in:
Recipe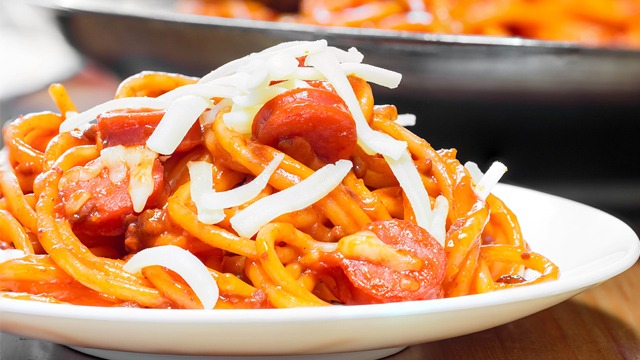 2 Pinoy-Style Spaghetti Recipes
When it comes to spaghetti, we have our preferences. Pinoy-style spaghetti doesn't mean it needs to be super sweet, but it does mean a few things that might make it vastly different compared to the other kinds of pasta recipes that you make.
For one, it needs to have hot dogs because it's the easiest way to add meaty chunks without making meatballs. It also needs a touch of sweetness because banana ketchup is commonly used instead of or with tomato sauce. 
For everyone who loves their spaghetti sweet but wants to make it super easy, you can use the prepared sweet-style spaghetti sauce. Jazz it up with ground meat and the required slices of hot dogs. Lots of cheese on top needed or, for the truly decadent of spaghetti lovers, stir in the cheese into the sauce for a cheesy Pinoy-style spaghetti to rival any fast food's version.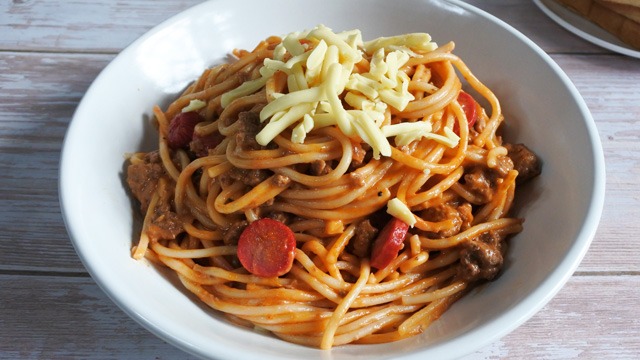 WATCH: How To Cook Pinoy Cheesy Spaghetti
Posted in:
Cooking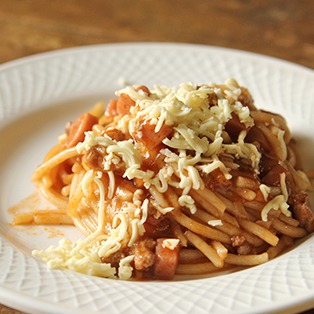 WATCH: How to Make Sweet-Style Spaghetti
Posted in:
Cooking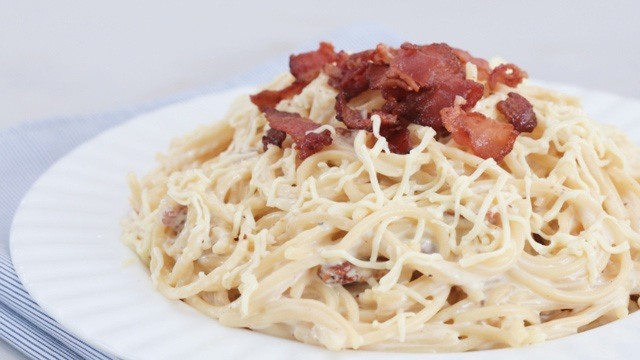 3 Pinoy-Style Carbonara Spaghetti Recipe
If there's one other thing we know about celebrations, it's that there's always someone who doesn't like tomato pasta but adores the creamy white sauced spaghetti dishes. For those who prefer their spaghetti creamy and loaded with bacon, this spaghetti recipe is for you. 
ALl-purpose cream is responsible for the intense creaminess of this pasta sauce. That also means it's one step from being a fantastic cheese sauce for another easy pasta recipe: the macaroni and cheese.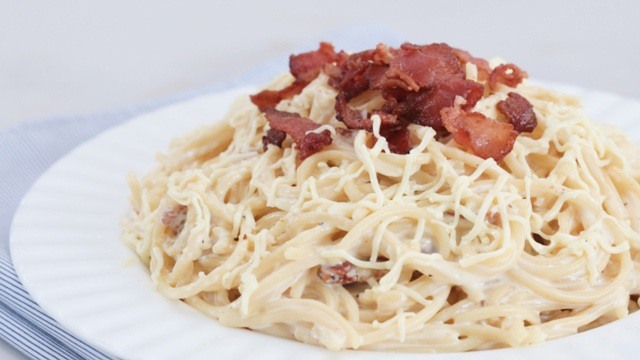 WATCH: How To Make Pinoy-Style Carbonara
Posted in:
Cooking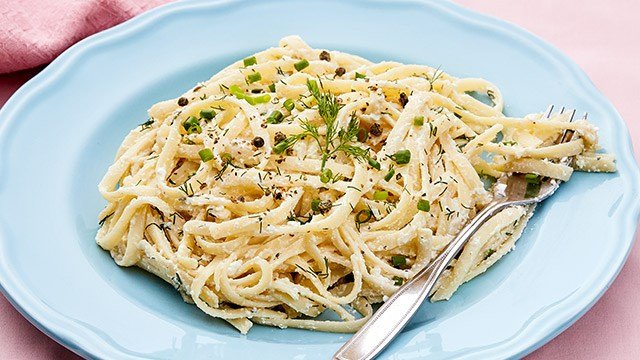 4 Cheesy Spaghetti Recipes 
The title of the pasta recipe says it all: it's macaroni pasta with cheese. It's a basic recipe: make a cheese sauce using milk, flour, and cheese, and toss this with pasta, normally macaroni shells. Voila! Easy pasta recipe that's made in minutes.  
ADVERTISEMENT - CONTINUE READING BELOW
Recommended Videos
However, whoever said that only macaroni is the only pasta you can use? A cheese sauce perfectly acceptable when tossed with spaghetti noodles, too! You can even choose a different kinds of cheese to make it. The kind of of cheese is highly debatable and can even include more than one kind of cheese. This is what results when you have a super simple recipe: you want to make it even more delicious by adding more ingredients. Just use spaghetti and it can become the spaghetti dish of your cheesy dreams.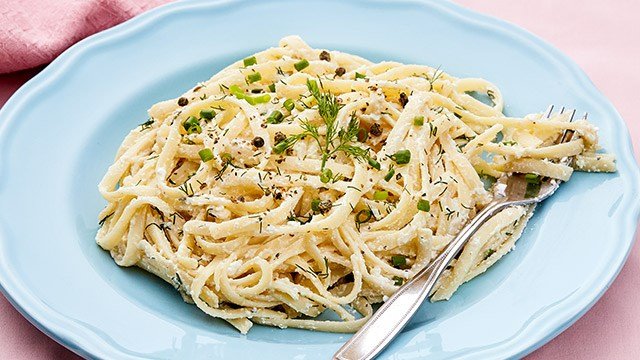 Cheesy Spaghetti Recipe
Posted in:
Recipe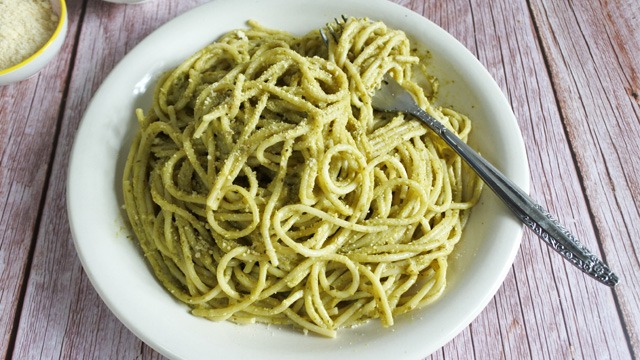 5 Easy Pesto Spaghetti Recipes 
Pesto is one of those indulgent sauces that you commonly get already prepared in a bottle. That's why it's so easy to make into a spaghetti meal! For the simplest pesto pasta meal, simply toss the prepared pesto with spaghetti noodles.
However, some may prefer when it's made into a creamy sauce. To do that, you'll need to do some cooking. Heat up a little oil, garlic (for those who can't get enough of garlic), the prepared pesto, and finish off the sauce with a good helping of all-purpose cream. Toss this with cooked spaghetti, and serve it with a crispy chicken fillet or just a slice of bread toasted with butter and garlic.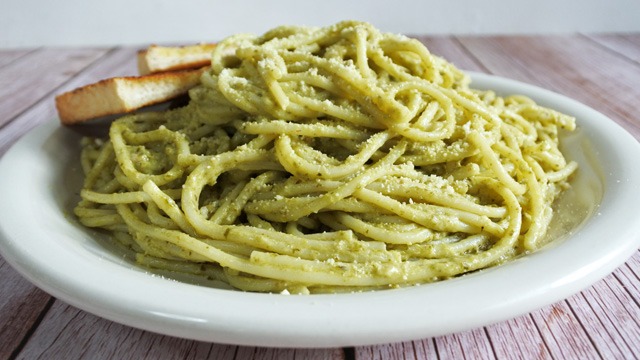 Easy Pesto Pasta Recipe
Posted in:
Recipe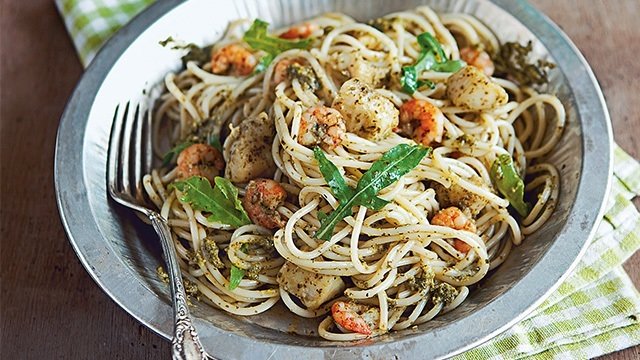 Seafood Pesto Pasta Recipe
Posted in:
Recipe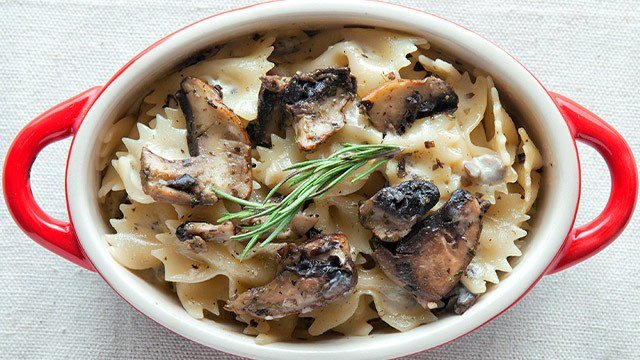 Mushroom and Pesto Pasta Recipe
Posted in:
Recipe
Easy spaghetti recipes do not have to be complicated to be delicious. Should the craving for pasta hit, you can turn to any of these recipes to satisfy that craving simply yet quickly.   
ALSO READ: 
***
Thinking about what to cook next? Join our Facebook group, Yummy Pinoy Cooking Club, to get more recipe ideas, share your own dishes, and find out what the rest of the community are making and eating!
Got your own version of the classic dishes? Pa-share naman! Get your recipe published on Yummy.ph by submitting your recipe here.