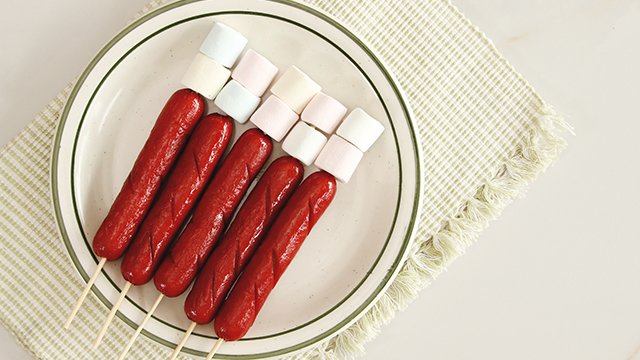 No matter how old we get, the kid inside us will always get giddy and excited over treats we had in our childhood. Remember those red hotdogs paired with marshmallows, your mom's jiggly Jello cups, and your favorite afternoon Milo chocolate drink?
These classics have special places in our hearts but it's time we made updated, grown-up-friendly versions of these treats. And yes—there is alcohol involved.
1 Bacon-Wrapped Cheesedogs
Upgrade the red hotdog and marshmallow combo with bacon, cheese, and toasted mallows. All you have to do is wrap the sausages in bacon, give it a quick pan-fry, and finish it off it the oven until the marshmallows are toasted. Remember to put your oven on the broil setting—the marshmallows will be toasted within 30 seconds!
2 Milo Iced Mocha
This drink is a fun twist to the chocolate drinks you had every afternoon as a kid. Freeze a combination of Milo and water into ice cube trays, and pour brewed coffee over them once they are set. Drizzle chocolate over for extra oomph and you're all set to beat that energy gap.
3 Jello Shots
Grown-up versions of childhood favorites aren't complete without a shot or two of alcohol! To make Jello shots, dissolve one pack of Jello in 1 cup of boiling water. The recipe in the box will call for 1 cup of cold water to mix into the dissolved gelatin—all you have to do is replace the water with 1 cup of liquor of your choice. Cheers!