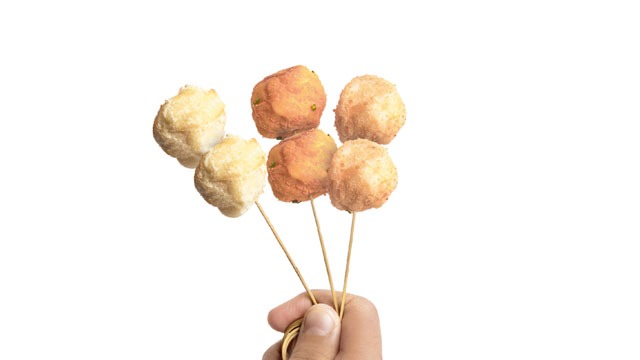 Squid balls are a street food favorite. Make them more fun by adding cheese, barbecue, and sour cream flavors. The best part? You can do this at home!
Flavored Squid Balls Recipe
Makes 30 balls
oil for deep-frying
1 tablespoon barbecue powder
1 tablespoon cheese powder
1 tablespoon sour cream powder
For the aioli:
1/2 cup mayonnaise
2 cloves garlic (grated)
2 teaspoons lemon juice
salt and pepper, to season
How to Make Flavored Squid Balls
1 Preheat oil in a deep frying pan to 350°F. Deep-fry 30 squid balls for 5 to 7 minutes or until golden brown. Drain on a paper towel-lined plate.
2 Toss 1 tablespoon barbecue powder into 10 squid balls, 1 tablespoon cheese powder into the next 10, and 1 tablespoon sour cream powder into the remaining balls.
3 Make the aioli: Mix together mayonnaise, grated garlic, and lemon juice. Season with salt and pepper; mix until well combined. Serve with squid balls.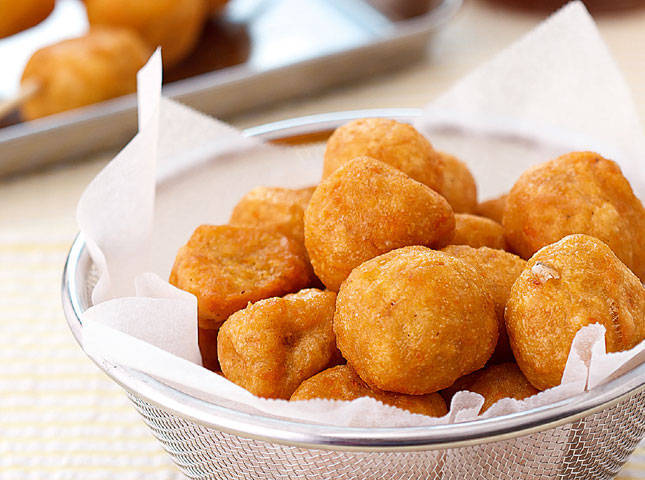 Homemade Fish Balls Recipe
Posted in:
Recipe
Recipe by Mikel Zaguirre of Locavore and FAT. Recipe appeared in the September 2015 issue of Yummy magazine