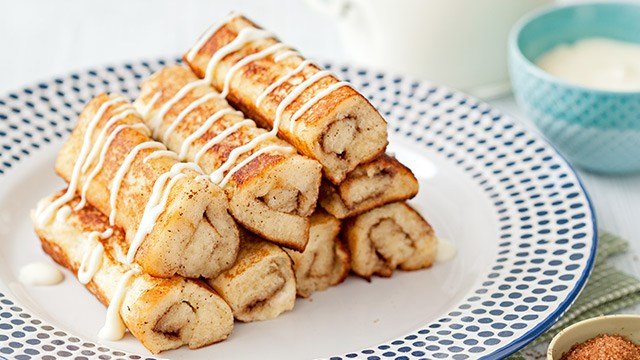 Make your morning meal more exciting with this easy breakfast recipe. French toast can be turned into rolls! The kids can help makes these, too. The best part? You can serve it for merienda as well.
Prep time 5 minutes
Cooking time 15 minutes
Makes 4 servings
1 tablespoon ground cinnamon
1/4 cup brown sugar
1 large egg
1 cup fresh milk, divided
1/2 cup butter, softened, divided
12 bread slices, crusts removed if desired
1/2 cup cream cheese, softened
1/4 cup sugar
1 In a small bowl, combine ground cinnamon and sugar. Set aside. In another bowl, beat egg, 1/2 cup milk, and 1 tablespoon of the cinnamon mixture.
2 On a cutting board, flatten bread slightly with a rolling pin. Brush with softened butter then sprinkle with cinnamon mixture. Roll into a log then set aside. Repeat with remaining bread.
3 Heat a frying pan over medium heat. Brush surface with butter. Dunk just enough rolls to fill the pan into the egg mixture, then quickly add to the pan. Fry until browned on all sides. Remove from pan, and keep warm.
4 Meanwhile, whisk cream cheese and sugar in a saucepan. Stir in milk. Bring to a simmer over medium heat, until sugar has melted and mixture is heated through. Drizzle over cinnamon rolls. Serve.