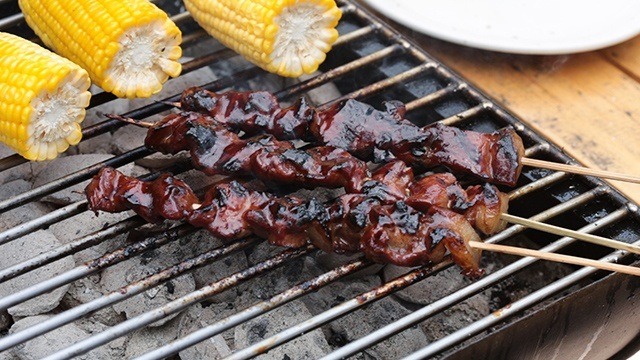 Grilling is a wonderful way to cook your food. It delivers a delicious smokiness that you can't achieve with any other cooking method. Plus, it's fun. If you're grilling for the first time, here is all you need to know about the basics of cooking food on the grill: 
Before Grilling:
1 Blot off any excess moisture form the surface of the meat with paper towels to get the best sear. If the meat is marinated, let excess liquid drip off, then blot off any more moisture before placing on the grill to avoid the charcoal flaring up and to get the best sear.  
2 Only have salt and pepper? That's okay Salt and pepper is the universal seasoning and yes, it's enough. You not only enhance the flavor of the food you're seasoning, it's going to taste exactly like it should, too. 
3 Have a spray bottle full of water nearby just in case the charcoal flares up. 
4 Have a plate ready for the food to come off the grill when done. Don't reuse the plate used for the uncooked meat! 
On the grill: 
5 Oil not just the grill grates but also the food, including the vegetables lightly, before placing on the grill to prevent sticking. 
6 Grilling fruits, especially pineapples, is a great way to enhance their natural flavor. The sugars will char on the grill, and this gives it flavor, including a smokiness that it otherwise doesn't have. 
7

 

Don't have

 tongs? Use a fork or a spatula or whatever you had on hand! A few pokes or several to either flip the meat and check doneness as it cooks won't let all its juices flow out. 
8 Baste with your prepared barbecue sauce in the last few minutes of grilling to avoid burning the sugars. 
9 Let meats rest at least 5 minutes before digging in.Resting allows for meat juices to settle and not leak out when sliced. The residual heat will continue cooking it so it's best to take meat off the grill just a little bit early to account for this off-the-heat cooking. 
10 Cover with foil to keep the food warm until all the other food is cooked. 
ADVERTISEMENT - CONTINUE READING BELOW
Recommended Videos