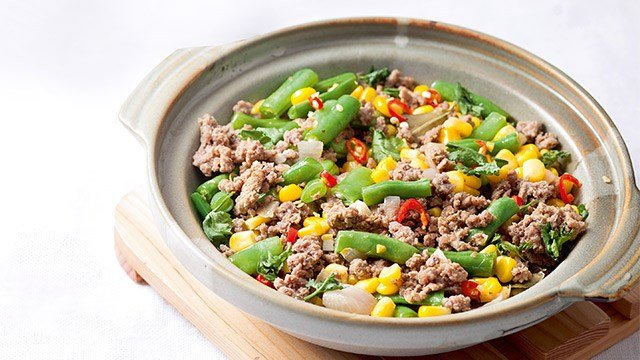 Ground beef is an extraordinarily versatile ingredient. You can turn it into a patty, a filling, or a saucy ulam. Plus, because it's ground up into tiny pieces, it cooks really fast. This means that a lot of these recipes we're about to give you take little time to make as well: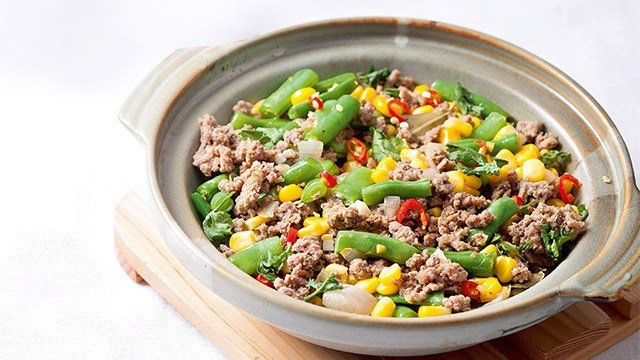 1 Beef and Corn Stir-Fry Recipe
As most stir-fried recipes go, this recipe not only takes just a few minutes to make, the procedure is a no-brainer as well. Toss up your prepared ground beef and veggies and voila! You've got something delicious. Don't be fooled, though! This recipe is beyond your average stir-fry as it takes advantage of the complex flavors of basil, cilantro, and kaffir lime leaves, and the crunchy texture of corn kernels and Baguio beans. Those bold strong flavors of this recipe make it the perfect pair to rice.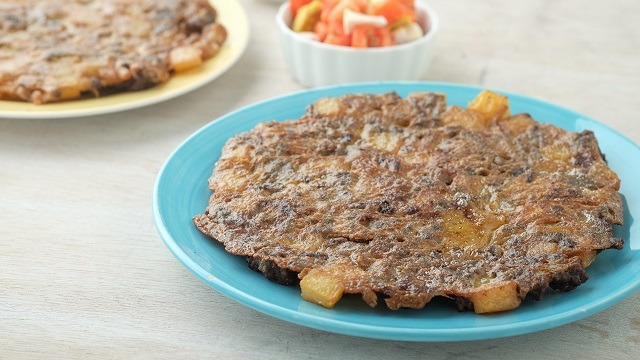 2 Tortang Beef Giniling Recipe
This simple 20-minute ground beef omelet is a recipe you can use anytime at all. The addition of creamy potatoes adds texture and depth to this dish.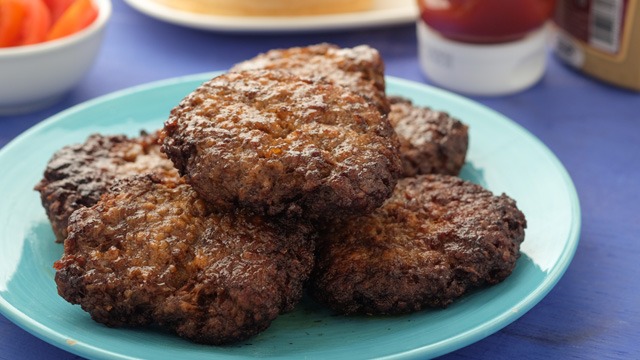 3 Beef Hamburger Recipe
We all love the basic hamburger sandwich, but pairing them with rice? It's even more satisfying! Take this 5-ingredient recipe as a blank canvas. Add cheese, gravy, garlic, or whatever you so desire.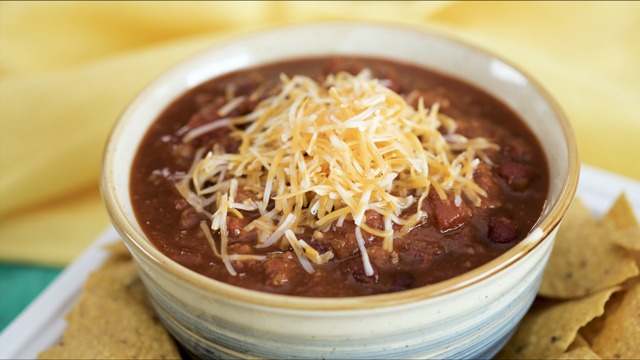 4 Chili Con Carne Recipe
It's the combination of spices, the mushy, earthy beans with the hefty ground beef in this chili con carne dish that will make you go back for seconds. We're giving you a fair warning right now: cook extra rice than usual! It's just so good. The way those deep, spicy, earthy flavors of this saucy dish wraps around a spoonful of rice is heaven-sent.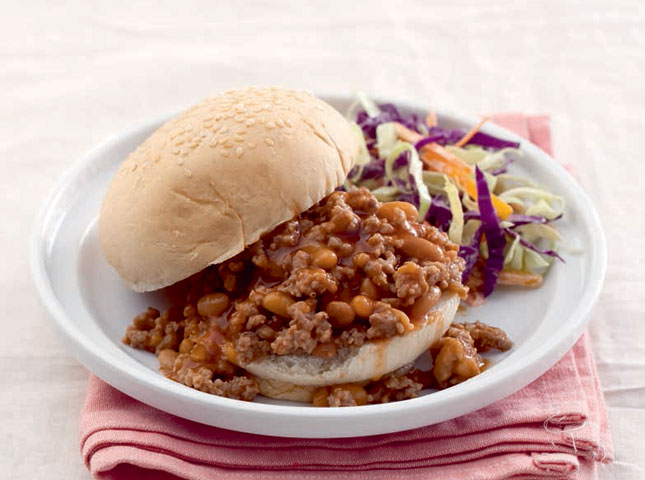 5 Pork and Beans Burger Recipe
Don't be limited by the bun. You can skip it and add rice to this protein-packed recipe.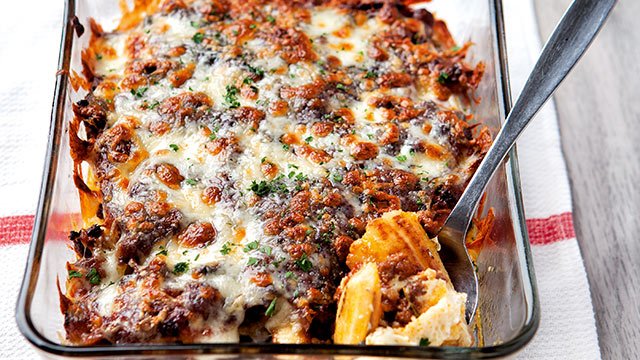 6 Pastelon (Beef and Sweet Plantain Lasagna) Recipe
Pastelon is a Puerto Rican recipe that's full of surprises. Although it looks like lasagna because of the layers, the flavors are a world away. Instead, you get the familiar homey flavors of longganisa, bay leaves, and even sweet, tender saba. It has a cheesy component too, as it's layered with mozzarella cheese and cottage cheese. The most surprising thing about it, though? It only takes 35 minutes to make.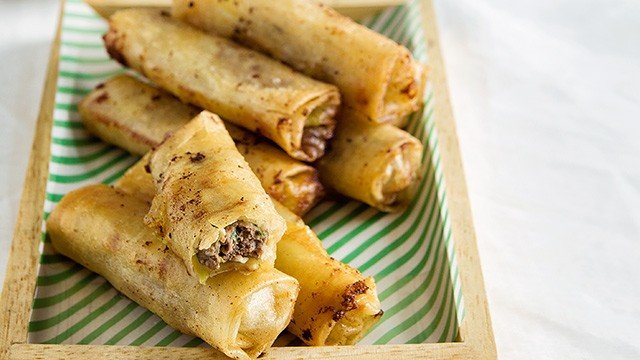 7 Taco Lumpia Recipe
Who doesn't love lumpia? Its simple form makes it the perfect packed lunch, finger food, or viand. Plus, because each piece is thoughtfully wrapped, you get the perfect bite each time. This recipe gives a delicious twist to your favorite lumpia with the addition of taco seasoning, cheese, and the Mexican dips salsa and sour cream that go best with it.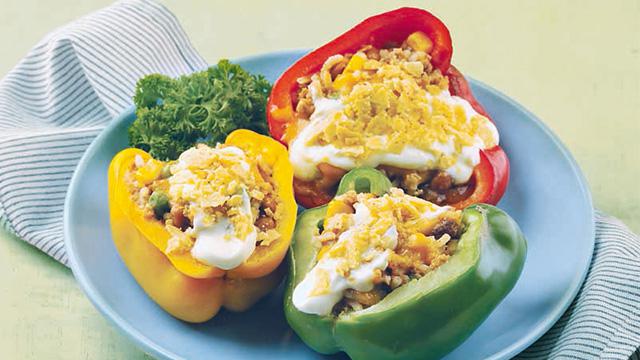 8 Mexican Stuffed Peppers Recipe
Buy just a few of those gorgeous, sweet bell peppers, and you can elevate humble ground beef into a conversation-starting main course that's infused with Mexican flavors.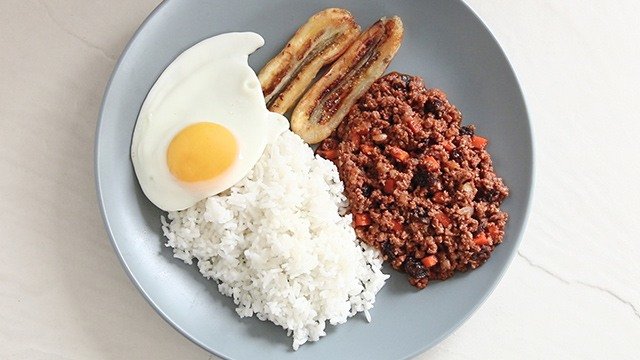 9 Arroz a la Cubana Recipe
What makes this breakfast classic so special? It uses saba and raisins as a sweet component that bring out the umami flavors of beef.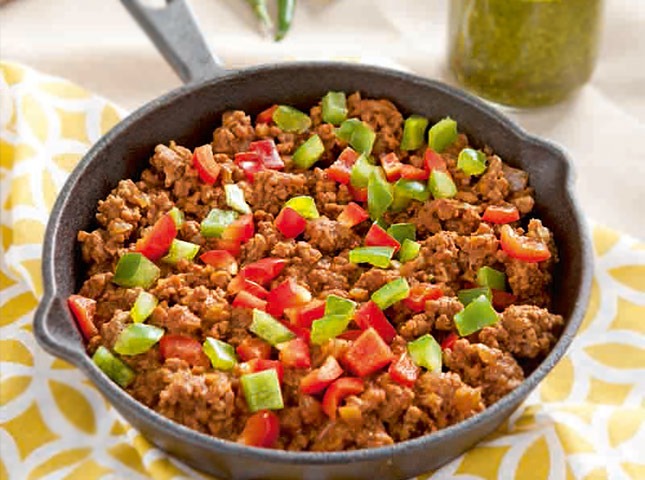 10 Picadillo Cubano Recipe
This Cuban way of cooking ground beef is pretty basic, but spices cumin and oregano, plus the dry white wine used, take it up a notch. Don't forget the bell peppers that add sweetness and crunch.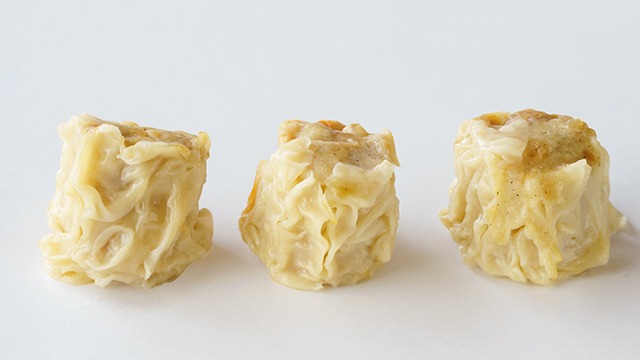 11 Beef Siomai Recipe
Who can deny the joy of having siomai with rice? It's a nostalgic meal that's super satisfying. Grab your soy sauce and get ready for unli-siomai.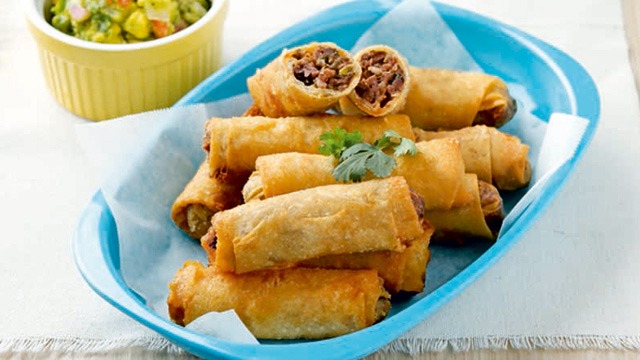 12 Beef and Cheese Flautas Recipe
You cannot miss out on these crunchy, flavorful flautas. Using a combination of beef and chicken, it's amped up with spices and given a creamy, satisfying component with mozzarella cheese and an avocado dip on the side.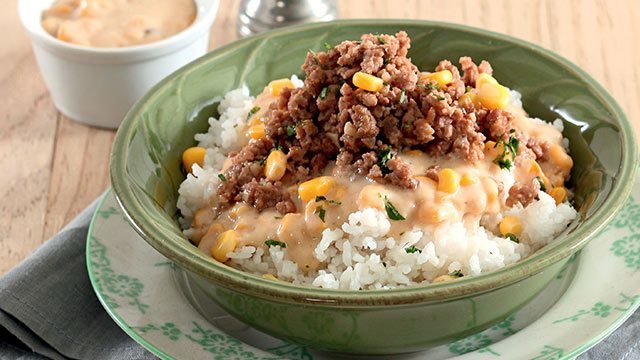 13 Cheesy Beef Rice Topping Recipe
There's a reason why cheese and beef go so extraordinarily well together: they're both natural sources of umami! With a hearty broth, butter, corn, and nutmeg, this quick and scrumptious ground beef recipe is unlike any other.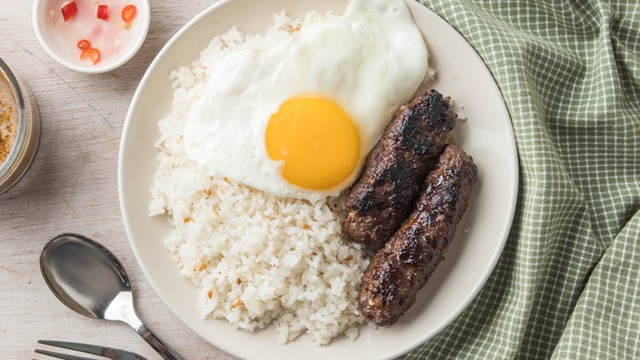 14 Skinless Spicy Beef Longganisa Recipe
You won't believe how easy it is to make homemade longganisa. In just 30 minutes, you can have a quick breakfast option that's better than store-bought versions. Partner it with some rice, coffee, and a sunny-side-up and you're sure to have one good morning. Have the best longsilog ever!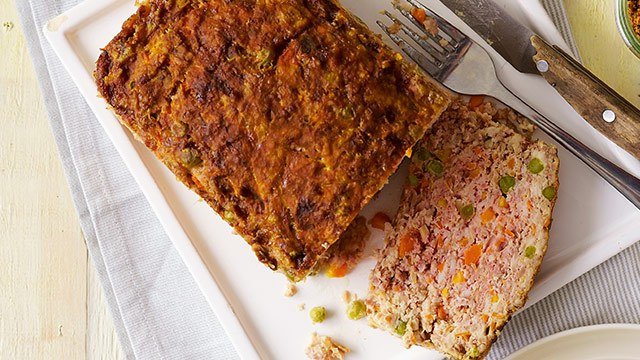 15 Chicken and Beef Meatloaf Recipe
Here's another recipe you can make ahead so you can have a rice meal (that already comes with veggies) anytime you want, effortlessly.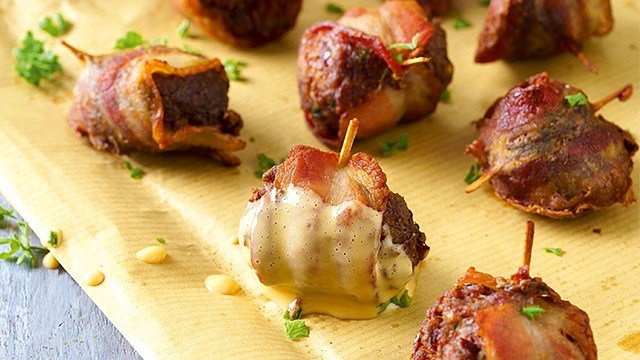 16 Bacon-Wrapped Meatballs Recipe
Who doesn't love bacon? Wrapping your meatballs in bacon sounds like a fool-proof, no-fail plan, don't you think? No one will be able to say no to that.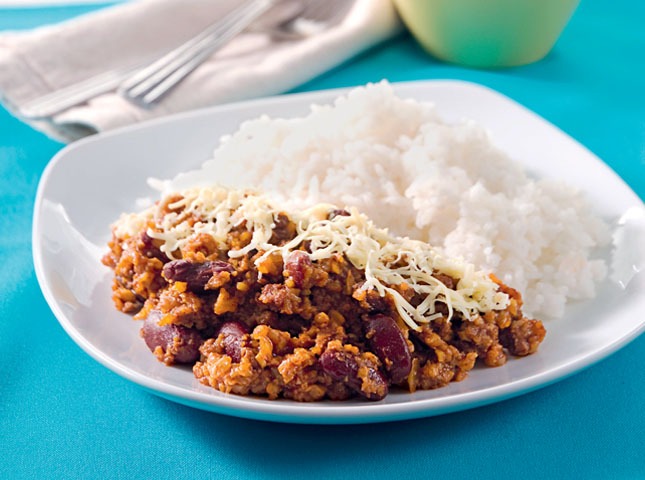 17 Cauliflower-Chili Recipe
Cauliflower does wonders for this dish: it gives you texture, flavor, heft, and vitamins.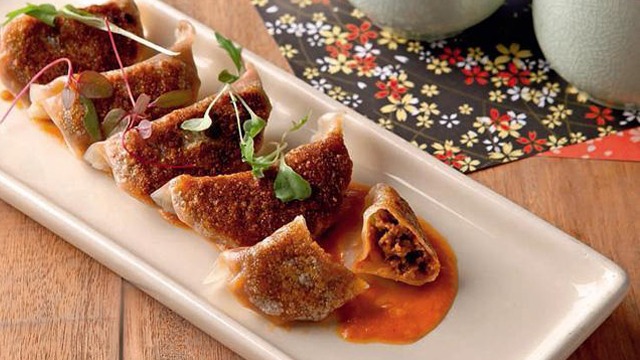 18 Beef and Cheese Kaldereta Gyoza
Have you ever had gyoza this special? The gyoza filling is intensified with the flavors of kaldereta such as tomato sauce, liver spread, cheese, and peas. Every bite is sure to make you smile.
Here's an idea: why not hoard some ground beef for your freezer? After all, that simple ingredient can be used to make so many dishes! There are even more recipes you can use it for like Bolognese pasta or these burger recipes! It's versatile, it's quick, it's delicious, and it's beefy—how can you not get hooked?
Looking for more recipes using ground meat? Check this out.
ALSO READ: