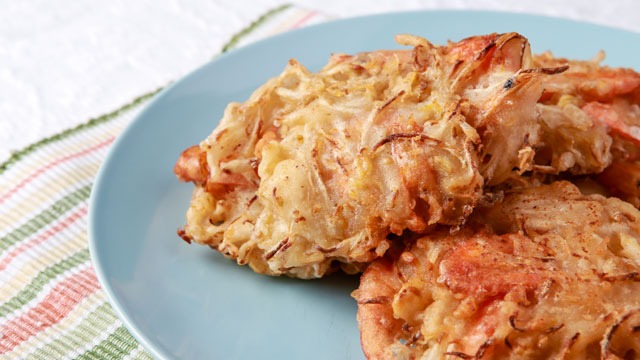 Okoy is a deep-fried shrimp-and-veggie fritter. The best kind is one that looks like it has an amazing crunch, is crispy with its light, batter-coated veggies and shrimp just waiting to be dipped into some spicy suka.
Make sure you don't end up with limp okoy ever again with these tips:
1 Keep it dry.
Vegetables with high water content is the first indicator that your okoy will become soggy. So how do you remove all that water that's in the vegetables? Salt the vegetables generously, let it sit for about 30 minutes to 1 hour, then rinse, and drain well. Pat it and your shrimps dry with paper towels. Do this before adding the batter so the vegetables have less moisture from the very beginning.
2 Use cold liquid.
Whether it is beer, soda, or plain water you're using to make the batter, make sure it's cold or, for best results, ice cold.
3 Use enough dry ingredients.
Add more cornstarch if the batter is too liquid or if the mixture looks too wet. By keeping it dry, just like you did with the vegetables, most of the leftover water will evaporate as it cooks and ensuring it cooks as crunchy as it can get.
4 Drain on a wire rack.
Draining excess oil on paper towels means your okoy is sitting in paper towels soaked in oil, which could lead to your okoy becoming soggy the longer it stays there. Instead, use a rack and you'll avoid an oil-soaked fritter.
5 Eat it now.
Best advice to enjoy okoy? Eat it as soon as possibly, preferably fresh off the heat for best results.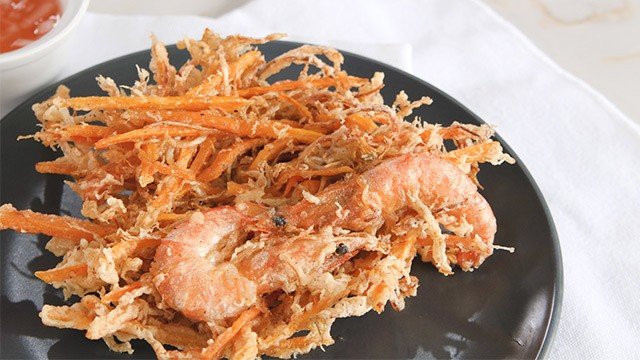 WATCH: How to Make Okoy
Posted in:
Cooking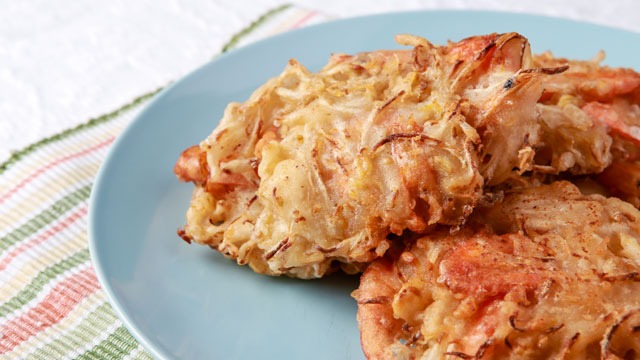 Okoy Recipe
Posted in:
Recipe