Adobo has always been a staple in every Pinoy's home. It's the contrast between the savory taste of soy sauce and the tanginess of vinegar that makes it a Pinoy favorite. Adobo is also very simple to prepare and is incredibly versatile.
But what if you find out there's another way to make it even more special?
This creamy adobo, made with NESTLÉ All Purpose Cream, gives a whole new dimension to the classic adobo taste. It's incredibly wonderful with rice too! It's not everyday that you see this. But what do you exactly get if you add cream to adobo? Eight people tried this adobo recipe with NESTLÉ All Purpose Cream, and here's what they thought about Creamy Chicken Adobo:
"Just by looking at its texture and color, I expected Creamy Chicken Adobo to taste like chicken a la king, but it still tasted very much like adobo and it was much more malinamnam." —Betty Malicdem, artist
"I thought Creamy Chicken Adobo would taste the same regardless of the twist. Initially, I thought it looked and tasted like ginataang manok. But when I tried it, I was able to taste the adobo flavor. I think the cream maximized the traditional adobo and made it more memorable to the palate." —Tanya Sta. Maria, project manager
"The taste of Creamy Chicken Adobo was unique because the sour flavor and the creaminess were a good match. It's a perfect ten!" —Maan Tapia, college student
"I thought Creamy Chicken Adobo would not taste like adobo at all, but it actually tasted good. The combination of adobo and NESTLÉ All Purpose Cream worked really really well." —Terrence Castillon, producer
"At first, I thought Creamy Chicken Adobo would taste weird. I felt that cream didn't go well with adobo sauce. But it was suprisingly good!" —Gina Noble, writer
"For me, Creamy Chicken Adobo was perfect as it was, but I'll probably try adding herbs next time to provide an interesting contrast." —Katie Cruz, managing editor
"I did not think that Creamy Chicken Adobo would taste good, but I was in for a great surprise! It was a different kind of savory flavor and it really made adobo taste extra special." —Karina Pangan, editor
"When NESTLÉ Cream was added to adobo, I expected something sweet and creamy, but this was really savory. The Creamy Chicken Adobo was really very delicious! It's the cream, people. It's the cream!" —Joanne Pinpin, contributing editor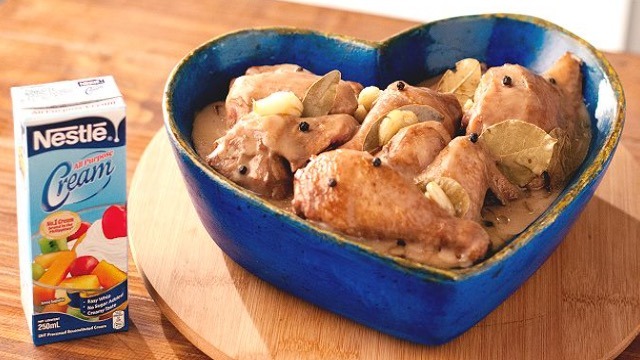 Want to know how it tastes for yourself? Give the recipe a try! Click here for the complete list of ingredients and procedure!