If you're looking to impress your family this holiday season, how about creating these scrumptious cheesy chicken potato croquettes à la Judy Ann Santos?
The famous actress, restaurateur, trained chef, YouTube star, and mom has graciously shared with Yummy.ph the recipe for one of her family's favorite holiday dishes. These little balls of deliciousness make for a great handaan dish whether you're cooking for your family's Noche Buena or Media Noche celebration.
The best part? Even though it's a chicken recipe, you don't need to defrost, boil, or shred chicken to create these croquettes. Judy Ann uses Argentina Corned Chicken — a ready-to-use chicken sahog made with chicken breast and seasoned with a delicious blend of spices — to save time and effort but without sacrificing flavor.
After all, holiday dishes need not be too time-consuming, they just have to taste good!
Cheesy Argentina Corned Chicken Potato Croquettes with Garlic Aioli Recipe
Yield: 4 to 5 servings
Prep Time: 30 to 45 minutes
Cooking Time: 25 minutes
Cheesy Argentina Corned Chicken Potato Croquettes with Garlic Aioli Ingredients
1 kilogram potatoes
3 150-gram cans Argentina Corned Chicken, drained
salt, to taste
1/4 cup unsalted butter
2 tablespoons cooking cream
1/4 cup grated Parmesan cheese
ground white pepper, to taste
1/4 cup pasteurized cheese or mozzarella cheese, cut into cubes
oil for deep frying
2 cups all-purpose flour (plus 2 tablespoons for potato mixture)
3 medium eggs
2 cups Panko breadcrumbs
flat-leaf parsley, chopped (for garnishing)
For garlic aioli:
1/2 cup mayonnaise
2 cloves grated garlic
paprika, a pinch
salt, a pinch
ground black pepper, a pinch
How to make Cheesy Argentina Corned Chicken Potato Croquettes with Garlic Aioli
1 Peel potatoes and cut into equal sizes. Boil until fork tender (10 to 15 minutes) in a large pot.
2 In a bowl, strain Argentina Corned Chicken. Press with a spoon until all or most liquid has been extracted.
3 Once potatoes are tender, drain the water. Mash the potatoes using a potato masher.
4 Add the Argentina Corned Chicken to the mashed potatoes. Add a pinch of salt, butter, cream, 2 tablespoons of flour, Parmesan cheese, and white pepper.
5 Mix well until all ingredients are well combined.
6 Divide potato mixture using an ice cream scoop or cookie scoop. Form potato mixture into a bowl. Make an indentation in the center using your thumb. Put cubed cheese into the center, before rolling and closing the ball around the cheese. Repeat with the remaining potato mixture and cheese cubes.
7 Once all potato mixture has been rolled into balls, arrange them on a plate or tray. Chill overnight if cooking the next day, or freeze for 10 to 15 minutes if cooking the same day.
8 Heat oil deep enough for deep frying.
9 Prepare 3 separate plates or bowls with the following: flour, egg, and Panko breadcrumbs. Season each plate with a pinch of pepper and mix.
10 Coat potato ball in flour, then egg, and breadcrumbs. Double coat in the egg, then the breadcrumbs again. Repeat this process for all the potato balls.
11 Once the oil is hot enough for deep frying (350 degrees F or 180 degrees C), fry the balls in batches. (Make sure that you don't crowd the balls when frying to achieve an even, golden-brown color.)
12 In a separate bowl, combine all the ingredients for garlic aioli (mayonnaise, garlic, paprika, salt, and pepper) and mix thoroughly. Adjust saltiness according to your taste.
13 Serve on a platter and garnish with chopped flat-leaf parsley.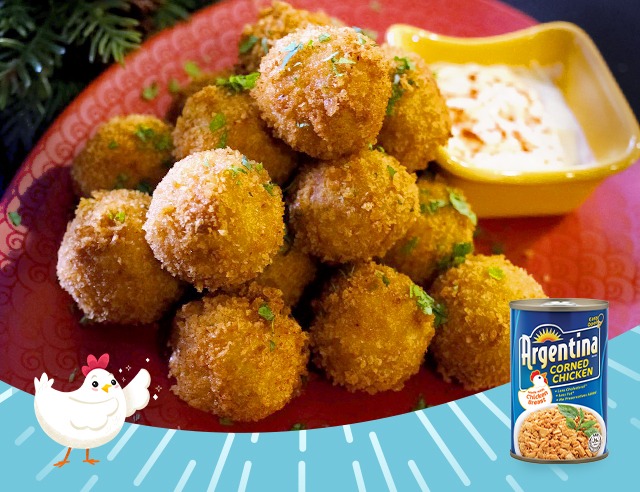 With the help of Argentina Corned Chicken, you can create delicious, hassle-free, and holiday-ready dishes just like Judy Ann Santos! Happy Holidays!
Follow Argentina Meats on Facebook for more details.