The holidays are fast approaching, and as any Filipino knows, it's time to eat, eat, eat! But for those of you who like to celebrate Christmas with the family over home-cooked meals, the holidays also mean one more thing: higher food budgets.
Good news! Your grocery list doesn't have to get pricier this time of year. With the right recipes and a little savvy, you can prepare a four-course meal—appetizer, soup, main course, and dessert—for a family of four that will cost just under P1,500. Here's how:
Appetizer: Creamy Smoked Bangus and Garlic Spread
A generous amount of this rich spread on crackers makes for a satisfying start to the meal. The smokiness of the bangus adds a layer of depth to the cream and garlic blend. Go here for the complete recipe.
1 tablespoon garlic, minced
vegetable oil
1/2 cup tinapang bangus, shredded
1 can NESTLÉ CREAM (300g)
2 tablespoons red onion, minced
3 tablespoons calamansi juice
1 tablespoon spring onion, sliced
2 tablespoons celery, minced
1/4 cup cheese, grated
1 teaspoon sugar
salt and pepper to taste
crackers
Total cost of the dish: P221.02
Soup: Fresh Mushroom Soup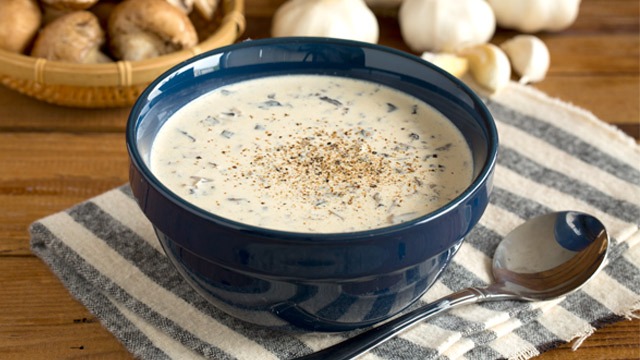 Skip the canned soups and make this creamy dish from scratch. The wide assortment of mushrooms in the recipe creates a wonderful medley of textures and flavors that's bound to put a smile on everyone's face. Visit this link for the complete cooking instructions.
2 tablespoons unsalted butter
1/2 cup shallots, minced
3 cups mixed mushrooms (white button, shiitake, oyster, enoki), coarsely chopped
2 sachets Maggi Magic Sarap® (16g)
salt and pepper to taste
3 cups water
1 cup NESTLÉ ALL PURPOSE CREAM
1/4 cup leeks, sliced
Total cost of the dish: P265.87
Main Course: Scrumptious Creamy Carbonara
Carbonara is a family favorite in most Pinoy households, and this sure-fire hit recipe makes for an extra-creamy, extra-cheesy dish. Get the recipe here.
300 grams spaghetti
1/2 cup bacon, chopped
2 tablespoons garlic, chopped
2 cups NESTLÉ ALL PURPOSE CREAM
1/4 cup Parmesan cheese, grated
1/4 cup cheddar cheese, grated
1/2 cup water
Total cost of the dish: P540.28
Dessert: Creamy Buco Salad Marvel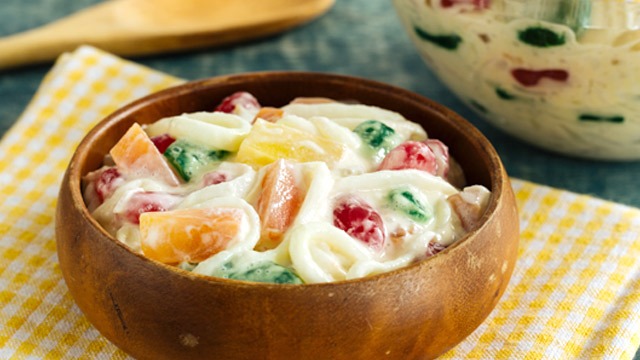 To cap off the feast, another indulgent Christmas tradition: buko salad. Prepare this before everything else so the whole family can end the dinner on a sweet note. For the complete recipe, visit this link.
1 cup NESTLÉ ALL PURPOSE CREAM
1/2 cup condensed milk
800 grams fruit cocktail, drained
5 pieces young coconut, grated and drained
1 cup green or red kaong, drained
1 cup nata de coco, drained
Total cost of the dish: P458.32
Total cost of all four courses: P1,485.49
Take note that all of the estimated costs per dish are based on grocery prices.
You can find all of the recipes above—and a lot more—on CreateWithCream.ph, a website dedicated to showing you all the yummy things you can make with NESTLÉ ALL PURPOSE CREAM.
For more information about NESTLÉ ALL PURPOSE CREAM, follow its official Facebook page.