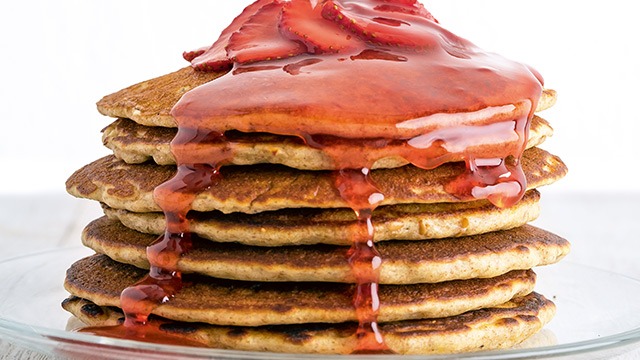 A delicious stack of fluffy pancakes is a great way to start your day. It can be a cheery breakfast, a leisurely brunch, or even a fun breakfast-for-dinner thing with the kids.
Here's how to make a stack of perfect pancakes:
1. No to boxed ready-mixes!

Sure, there a lot of boxed ready-mixes available in the supermarket but you already have ingredients in your pantry that will let you make pancakes from scratch! It's actually simple and easy. This way, you'll know every single ingredient that goes into your batter—no preservatives and artificial ingredients involved.
2. Fresh Start: Always use fresh ingredients.

Always check to see if your ingredients are fresh. Stale flour gives an off-putting smell and an unpleasant taste. Your pack of baking soda should have been opened within siz months to a year—or else it loses its effectiveness.
ALSO READ: How to Check If Your Baking Soda and Powder Are Still Active
3. You can make them from scratch!
In a bowl, mix together 1 cup all-purpose flour, 2 teaspoons baking powder, 2 tablespoons sugar, ½ teaspoon salt. In a separate bowl, beat together 1 large egg, ¾ cup milk, and 2 tablespoons melted unsalted butter. Add wet ingredients to the dry ingredients. Mix until incorporated.
This recipe makes 8 pancakes.

4. Don't overmix.
Make sure not to overmix the batter. Don't obsess over small lumps! Overmixing overly agitates the gluten in the flour, resulting in dense pancakes instead of fluffy ones.
5. Oil lightly.
To cook pancakes, swirl around a tablespoon of oil in a griddle or non-stick pan. Pour out the excess. Do this for every pancake.
6. Mind the bubbles and holes.

Ladle ¼ cup batter into pan over low-medium heat. Observe the bubbles forming on top. The more it cooks, the more bubbles will appear. It's time to flip when the bubbles pop and form holes in the batter. By this time, the edges of the pancake will appear golden. Use a spatula to loosen the edges, then lift the pancake about 3 inches off the pan, then flip.
Let the other side cook for a few seconds more then transfer to a plate.
Don't worry if you mess up the first couple of pancakes. Use this test batch to gauge if you need to adjust the heat of the pan or the amount of oil you're using.
7. Mix-ins matter.

If you want to add ingredients like chocolate chips, bananas, berries, or cooked bacon, don't mix it into the batter. Ladle batter into the pan, and wait until there are a lot of bubbles popping then distribute the ingredients evenly on top. Don't clump it all together so it is less likely to burn once you flip the pancake and cook the other side.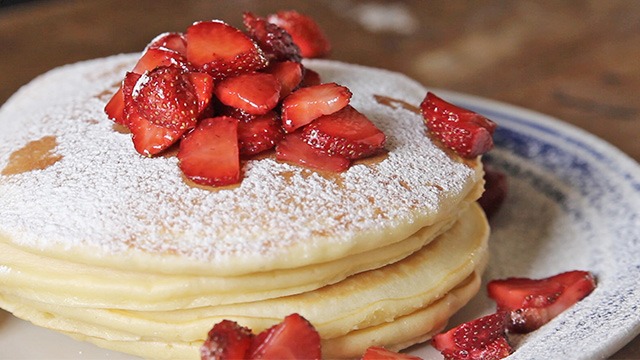 WATCH: How to Make Pancakes from Scratch
Posted in:
Cooking
8. Top with toppings!

It's fun to jazz up your pancakes with delicious toppings. Go for natural sweeteners like honey and maple syrup or sprinkle pancakes with cinnamon sugar.
For more flavor, add a smear of butter, a dollop of whipped cream, chocolate spread, nut or cookie butters. Aside from fresh fruit, you can use jam or a fruit compote.
ADVERTISEMENT - CONTINUE READING BELOW
Recommended Videos
Crispy bacon is also a fave siding that adds savory flavors to a glorious pancake stack.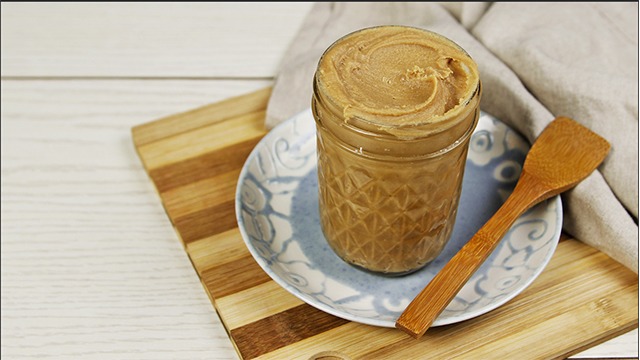 How to Make Dulce de Leche from Scratch
Posted in:
Cooking