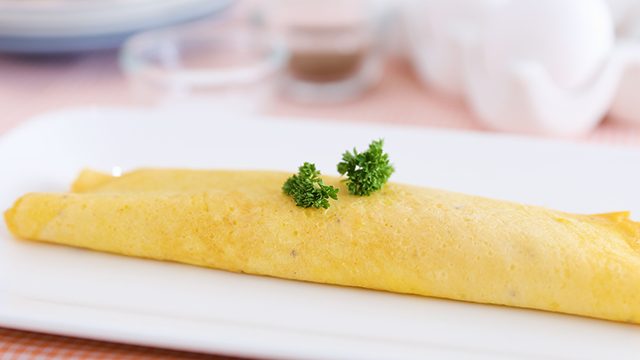 Dry, rubbery eggs do not make for a good breakfast, but it's easy to make a delicious and soft omelet if you know what to do. The trick really is to be more gentle with the eggs. And once it's done, you can be assured of an omelet that's worthy to be served at any restaurant. 
The French omelet is folded at least three times. While the more common and more popular version, is the American version which is folded into a half moon shape. The French omelet is distinct in that it isn't allowed to brown and remains a beautiful yellow color when served.  
French Omelet
Takes 10 minutes
Makes 2 servings
3 large eggs
1/2 tablespoon butter
Salt and ground black pepper, to taste
1 Break eggs into a medium bowl. Season with salt and ground pepper to taste. Beat until well mixed. Set aside.
2 In a medium nonstick frying pan over medium-low heat, melt butter and spread butter over the surface of the pan. Give eggs one last beat to ensure it's well beaten. Pour into the pan.
3 Using a spatula or a fork, stir the middle of the eggs until it starts to set and the edges have set, too. (If filling the omelet, add the filling into the middle of the omelet.) Hold the underside of the handle of the pan and, using the spatula, fold one side of the omelet over towards the middle and then again. Once you reach the last fold, flip omelet out of the pan and onto a plate. Serve while hot.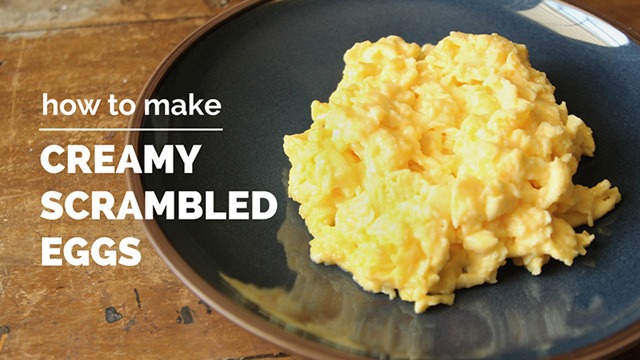 WATCH: How to Make Creamy Scrambled Eggs
Posted in:
Cooking
ADVERTISEMENT - CONTINUE READING BELOW
Recommended Videos