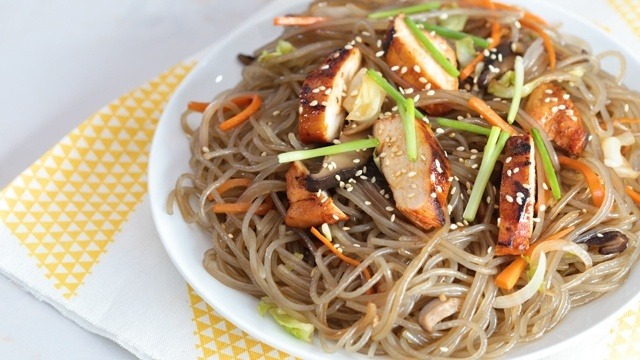 Chapchae, cellophane or glass noodles tossed in a sweet-salty sauce with carrots, mushrooms, and cabbage, is usually paired with your main dish. It's the Korean version of our pancit bihon but using a sweet potato-based noodle that, when cooked, turns transparent. 
Look through the international section of your local supermarket or drop by a Korean grocery for the noodles, bulgogi sauce, and even the mushroom.     
Chapchae
Takes 1 hour 20 minutes
Makes 6 servings
1/2 kilo Korean glass noodles, uncooked
1/2 kilo chicken breast fillets, skinless, boneless
1/2 cup bulgogi sauce
4 tablespoons soy sauce
2 1/2 tablespoons sugar
1 1/2 tablespoons vegetable oil
2 cloves garlic, minced
1/2 small red onion, sliced thinly
3 to 4 dried shiitake mushrooms, soaked in warm water, stems removed and sliced
1 small head cabbage, sliced into strips
1 medium carrot, sliced into thin strips
2 stalks green onions, sliced into 1-inch lengths, divided
1/2 tablespoon sesame oil
1 teaspoon white sesame seeds, toasted
Salt, to taste
1 Cook glass noodles in a large pot of boiling water for about five minutes; drain. Rinse under cold running water. Cut noodles into 6-inch lengths if desired. Set aside.
2 Meanwhile, marinate chicken in bulgogi or kalbi sauce for at least 30 minutes. Preheat a grill pan or a frying pan. Cook chicken until cooked, about 10 minutes; let cool. Slice chicken into 1/2-inch strips. Set aside.
3 Mix soy sauce and sugar in a small bowl. Set aside.
4 Heat oil in a wok over medium-high heat. Add garlic, onions, mushrooms, cabbage, and carrots; cook for about two minutes. Add half of the green onions; stir-fry for one more minute.
5 Lower heat and add soy sauce-sugar mixture, noodles, and sesame oil; season with salt. Stir to combine. Transfer to a plate, top with chicken and remaining green onions. Sprinkle with sesame seeds, if desired.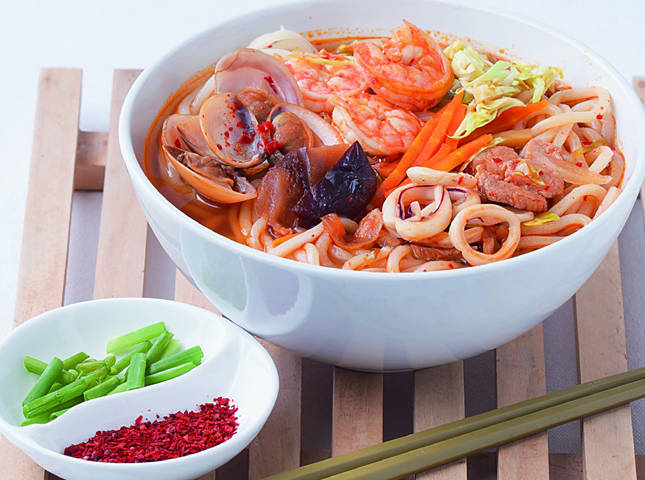 Jjambong (Korean seafood noodle soup)
Posted in:
Recipe
ADVERTISEMENT - CONTINUE READING BELOW
Recommended Videos