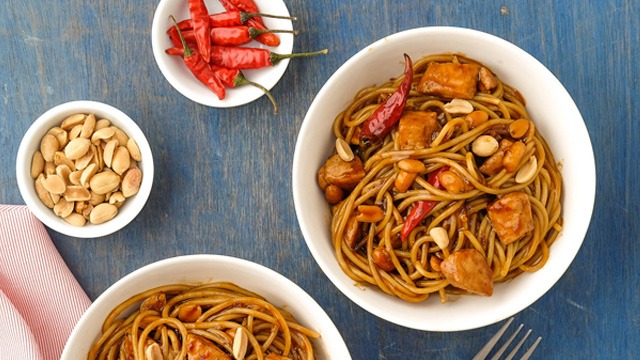 You know this sauce as the sweet, spicy sauce that coats the spaghetti from your favorite pizza place. It's called the Charlie Chan Pasta. It's not only tossed in a sweet and spicy sauce but it's got chunks of chicken, dried chilis, roasted peanuts, and slivers of shiitake mushrooms.
But did you know that there is no "Charlie Chan"? You might be surprised that despite the name, there is no "Charlie Chan". The name is based on a police detective from a series of popular mystery novels in the early 1900s.
The sauce that this is based on however has been around for far longer than its first appearance on this pizza delivery menu. It is a sauce is called kung pao.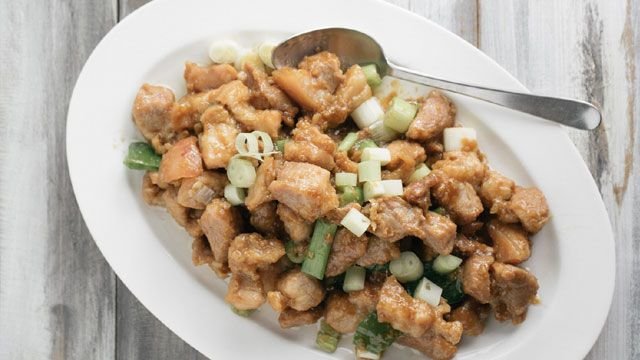 What is kung pao? 
The kung pao is allegedly the favorite dish of a 19th-century Chinese official named Ding Baozhen. He was allegedly a foodie and his favorite dish was a stir-fried chicken dish. It consisted of chicken marinated in Shaoxing wine, a starch, salt, and egg whites. This was fried until crisp before being tossed in a sauce with peanuts and spicy Sichuan peppercorns. It was allegedly also served to officials who visited Baozhen, including a certain General Zuo Zongtang, more popularly known as General Tso. 
The popularity of the dish however has caused it to be tweaked over the years, leading to the version that we now know. 
How to Make Kung Pao Sauce aka Charlie Chan Pasta Sauce
The sauce can be is easy to make and store. You can make the sauce and toss it with cooked chicken when ready to serve. You can even use this spicy, sweet sauce in other ways, too! Here are the ingredients you'll need: 
Charlie Chan Pasta Sauce Recipe 
3/4 cup chicken stock
2 tablespoons cornstarch
1/2 cup soy sauce
1/4 cup rice wine
3 tablespoons chili garlic sauce
1/4 cup sugar
2 tablespoons red vinegar
2 tablespoons sesame oil
Here's how to make it:
In a saucepan, whisk together chicken stock, cornstarch, soy sauce, rice wine, chili garlic sauce, sugar, red vinegar, and sesame oil. Whisk until sugar and cornstarch are dissolved. Bring to a boil. Lower heat and simmer until the sauce thickens. Set aside. 
Feel free to tweak this recipe to your desired taste and use it to season not just chicken but shrimp, stir-fried pork, beef strips, vegetables, and tofu. Try it using any of these recipes:
***
ADVERTISEMENT - CONTINUE READING BELOW
Recommended Videos