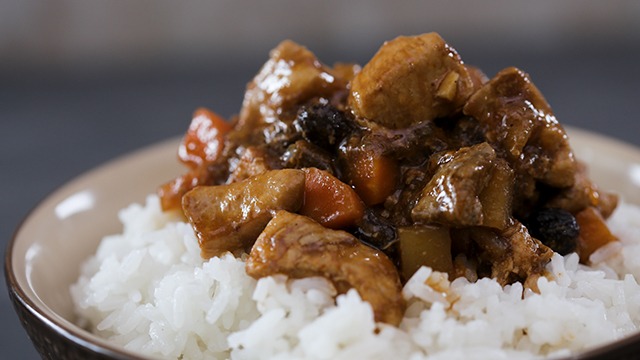 Chunky, hearty, and best of all, cooks in half the time, this chicken version of your favorite pork menudo recipe is just as delicious and just as satisfying as the original. 
The use of chicken fillets makes this a fast, easy recipe yet just as flavorful, as delicious, and just as loaded with all the ingredients you love. There's no need to simmer longer than necessary for the chicken to become tender so as soon as all the ingredients are cooked, it's ready to serve immediately. 
Chicken Menudo Recipe
Takes 30 minutes 
Makes 6 servings 
2 tablespoons cooking oil
1 small red onion, peeled, chopped
3 cloves garlic, peeled, minced
1 kilo chicken fillets, cubed
1/4 cup soy sauce
1 tablespoon Worcestershire sauce
3/4 cup tomato sauce
1/2 cup water
2 medium potatoes, peeled, cubed small
2 medium carrots, peeled, cubed small
1/4 kilo chicken livers, cut into bite-sized pieces
1/2 cup raisins
2 tablespoons pickle relish
Salt, to taste
Ground black pepper, to taste

1

In a medium pot over medium heat, heat oil and then sauté garlic and onion.
2

Add the chicken, and cook for 5 minutes. 
3

Pour in soy sauce, tomato sauce, Worcestershire sauce, and water. Simmer for 5 minutes. Add potatoes and carrots, and then season with salt and ground black pepper. Simmer until potatoes are tender and mixture has thickened.
4

Add liver, raisins, and pickle relish. Cook until liver is just cooked. Season with salt and pepper to taste. Serve while hot.
ALSO READ: 
WATCH: How to Make Menudo Sulipeña
Posted in:
Cooking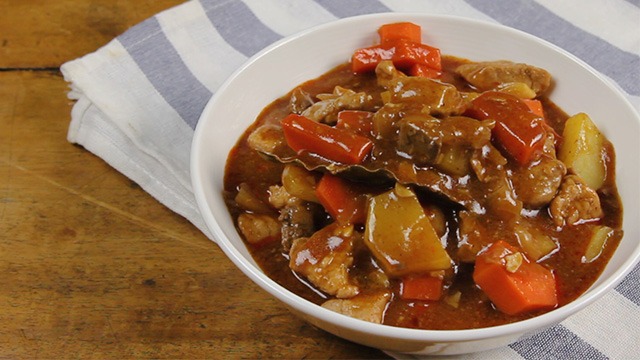 WATCH: How to Make Menudo
Posted in:
Cooking
ADVERTISEMENT - CONTINUE READING BELOW
Recommended Videos