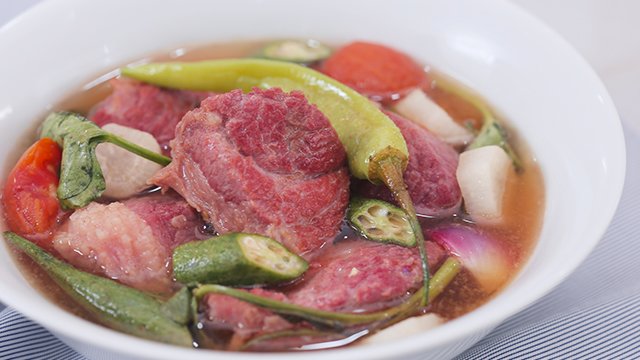 Level up your typical sinigang sa sampaloc with corned beef! Its distinct saltiness gives sinigang an umami boost with its beefy flavor that surprisingly complements the tartness of the sampaloc really well. Serve it with lots of steamed rice. You'll need it!   
Corned Beef Sinigang
Takes 35 minutes plus simmering
Makes 6 servings
3 tablespoons canola oil
1 kilogram fresh corned beef, cubed
1 1/2 liters water, or as needed
1 medium red onion, peeled, quartered
4 tomatoes, cored, quartered
1 labanos, lightly peeled, sliced into rounds
1 bunch okra, halved
1 siling pangsigang or siling haba
2 (40 grams each) packs sinigang sa sampaloc mix
1 bunch kangkong, leaves and tender stems
1 In a large pot over medium heat, heat oil. Add corned beef cubes and sear. Pour in just enough water to cover the beef. Bring to a boil. Remove any scum that rises to the surface. Cover and simmer for 2 to 3 hours or until the beef is tender.
2 Once beef is tender, remove cover and add onion, tomatoes, labanos, okra, and sili. Sprinkle in sampaloc mix. Bring to a boil, and simmer just until vegetables are tender.
3 Before serving, add and stir in kangkong. Cook just until kangkong leaves have brightened in color. Remove from heat. Serve hot with steamed rice.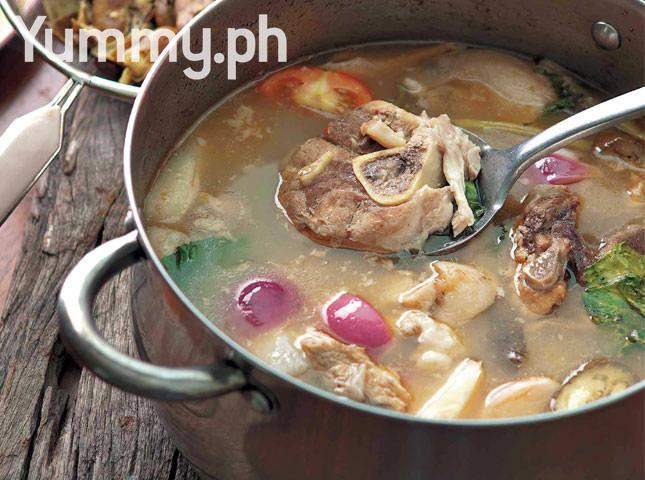 Sinigang na Baboy sa Sampalok
Posted in:
Recipe