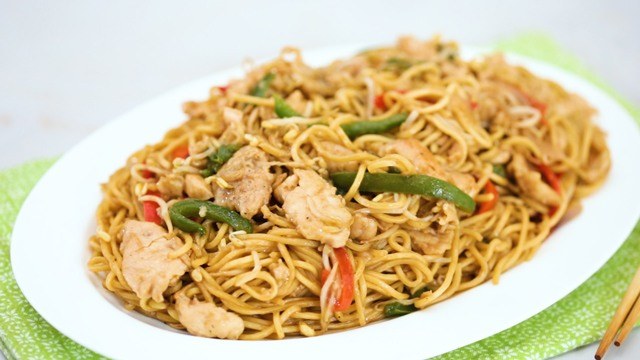 This pancit canton recipe is quite different from the usual pancit canton you are used to. Instead of the usual vegetables, peppers take its place and instead of the usual seasoning, other Asian ingredients lend its flavor to the noodle dish. It's a great version that while different, still reminds you that it's an Asian noodle that everyone can love.
Easy Chicken Chow Mein
Takes 30 minutes
Makes 6 servings
2 pieces chicken breast fillets, sliced thinly
1 large egg white
2 tablespoons cornstarch
1/4 cup vegetable or canola oil
1 medium red onion, peeled, sliced
1 small red bell pepper, seeded, sliced into strips
1 small green bell pepper, seeded, sliced into strips
2 tablespoons rice wine
1 tablespoon soy sauce
2 tablespoons oyster sauce
1 1/2 cups chicken stock
2 teaspoons sesame oil
1 small package pancit canton (egg noodles)
1 tablespoon cornstarch, dissolved in 2 tablespoons water
1 cup bean sprouts (togue)
Ground black pepper, to taste
1 In a bowl, season chicken with salt and pepper. Add egg white and cornstarch, and mix until well coated. Set aside.
2 In a wok over high heat, heat oil. Once hot, add chicken and stir continuously until cooked through. Remove from heat and set aside.
3 In the same wok, add onions and saute until softened. Add bell peppers and stir until just heated through.
4 Add rice wine, soy sauce, oyster sauce, broth, and sesame oil. Bring to a boil. Add pancit canton. Simmer, tossing as needed, until all the noodles have softened. Return chicken to the wok and add bean sprouts. Drizzle in cornstarch mixture and cook, tossing, until sauce has thickened. Season to taste with pepper. Serve while hot.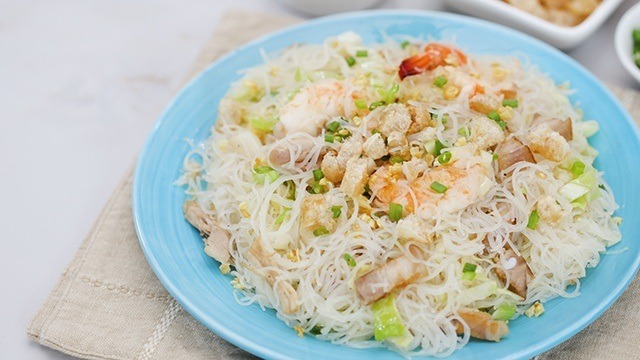 WATCH: How To Cook Pancit Puti
Posted in:
Cooking
ADVERTISEMENT - CONTINUE READING BELOW
Recommended Videos