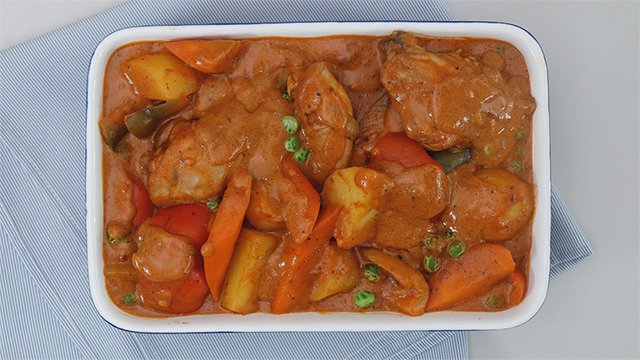 If you love your kaldereta, then you'll love that you won't have to wait too long to dig into this meal. There's no waiting for the beef to become tender, so if you need this dish on the table now, use chicken and it will be done within the hour. Now, that's a winner winner, chicken dinner. 
Kalderetang Manok (Chicken Caldereta) 
2 tablespoons cooking oil 
1/2 tablespoon garlic, minced 
1 medium red onion, chopped 
1 medium carrot, sliced 
1/2 kilo potatoes, peeled, quartered 
1 kilo chicken, cut into 8 pieces
500 grams tomato sauce
1 85-gram can liver spread
1/2 cup cheddar cheese, grated
1 cup water
1/2 cup coconut cream
2 pieces red bell peppers, seeded, chopped
1/2 cup green peas, thawed
Salt, to taste
Ground black pepper, to taste
1 Preheat a medium pot and add cooking oil. Saute garlic and then onion until translucent.
2 Add carrots and then potatoes, and cook until browned. Remove from the pot, and set aside. In the same pot, add chicken and saute for around 10 minutes until browned.
3 Add in tomato sauce and liver spread, and let it simmer for 10 minutes.
4 Add the grated cheese; stir. Pour in water and coconut cream. Stir to mix. Return potatoes and carrots to the pot. Add bell peppers. Let it simmer for 10 minutes. Adjust to taste with salt and ground black pepper. Add green peas, and stir. Simmer until heated through. Serve while hot.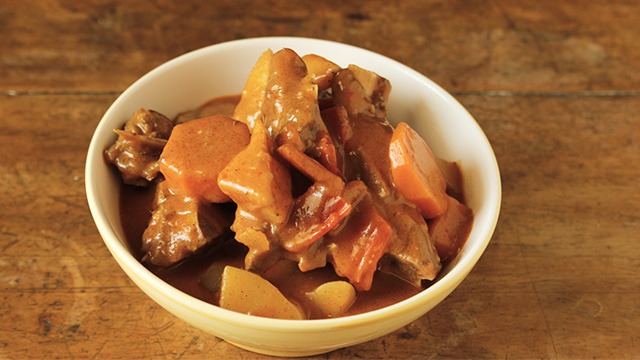 WATCH: How to Make Beef Kaldereta
Posted in:
Cooking

Short Ribs Caldereta
Posted in:
Recipe