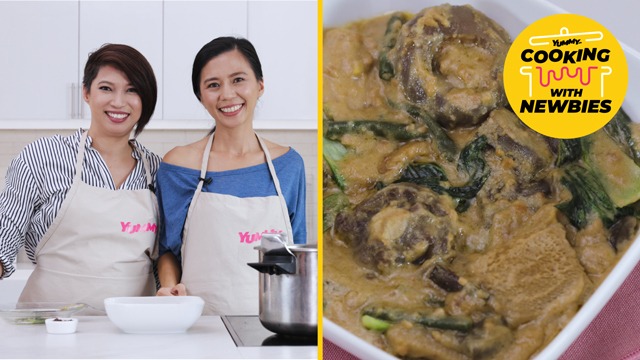 The kare-kare recipe is one classic Filipino dish. Made with oxtail, tuwalya or tripe, and vegetables smothered in a thick and rich peanut sauce dyed with astuete or annatto seeds, the kare-kare is a delicious albeit bland dish. It's bland because the salty seasoning is reserved for the condiment that's commonly served with this dish: the bagoong alamang.
Kare-kare, you might be interested to know, has a confliciting yet fascinating origin story. It's a debate whether it was the Kapampangans, the Tagalogs, or the Indians who created the dish. It's said that the Kapampangans created the dish called kari. However, that's where the similarity ends because the "kari" is more like a fish curry than the oxtail version we currently know it to be. Another version is that the British-Indian soldiers who stayed behind after the Battle of Manila claim made attempts at recreating an Indian dish with local ingredients, basically revamping the entire recipe. The Indian-inspired dish resulted in the oxtail version we are more familiar with. The Tagalogs meanwhile claim that their attempts at recreating the kari of the Kapampangans who moved to Manila basically resulted in this new version using oxtail and peanuts.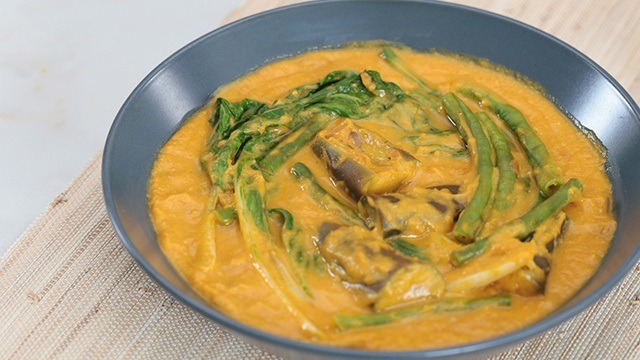 WATCH: How To Make Vegetable Kare-Kare
Posted in:
Cooking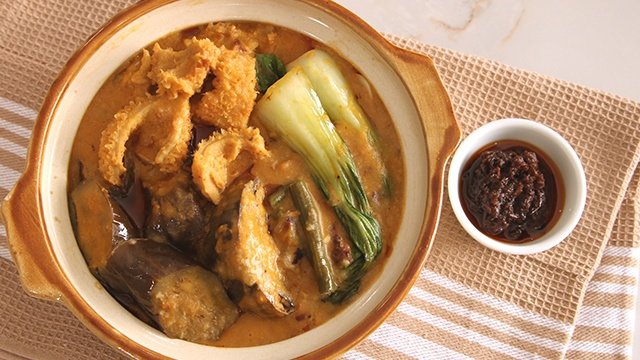 WATCH: How to Make Kare-kare
Posted in:
Cooking
The majority of us are more familiar with the kare-kare recipe that's made with oxtail in a reddish-orange-hued peanut sauce and served with bagoong on the side. The kare-kare, in general, is not an easy dish to make, but there are ways to make it easier and even taste even better than anything you can get in a mix or packet from the store.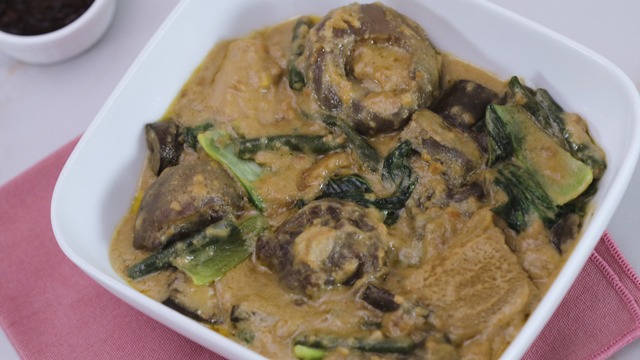 That's what newbie cook Nina Javier, artist and stay-at-home wife, plans to do. She has never cooked kare-kare before but she does know that it's one of her husband's favorite dishes. It's her husband who does more of the cooking at home. While she has never used a pressure cooker before, her husband has. 
It's her moment to show him that she, too, can be an accomplished cook in the kitchen with the help of Yummy.ph food editor Roselle Miranda guiding her through the complex recipe that's from almost from scratch. 
Nina doesn't only does this dish cook faster by using a pressure cooker, she also learns the trick to making sure the tripe isn't gamey. She even grinds peanuts into a paste herself to give this dish even more flavor. It boosts the flavor that otherwise would solely be the responsibility of ready-made peanut butter.
ADVERTISEMENT - CONTINUE READING BELOW
Recommended Videos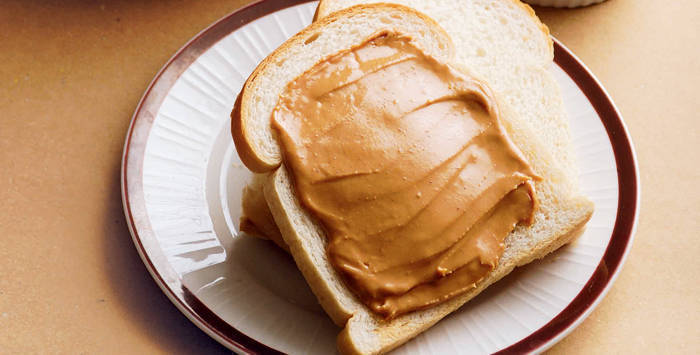 Peanut Butter Recipe
Posted in:
Recipe
That's where this kare-kare recipe differs from other easy recipes. It's "almost from scratch" since the recipe procedure includes crushing the peanuts into a paste. While this is easily substituted with ready-made peanut butter, local peanut butter has other ingredients stirred into it that might not be the right seasoning for your kare-kare. In this case, the sugar in prepared peanut butter might be unpleasant. You can combat this by using more freshly-made peanut paste. 
The recipe is easy to follow and we suggest you grind your own roasted peanuts and toast rice kernels for the best flavor. Here's the recipe: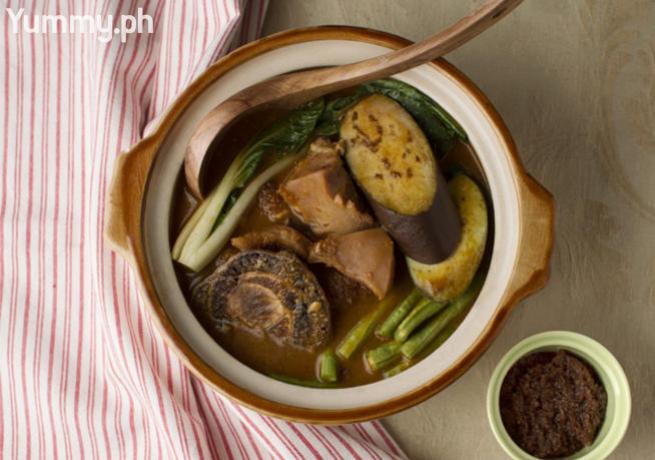 Filipino Kare-Kare Recipe
Posted in:
Recipe