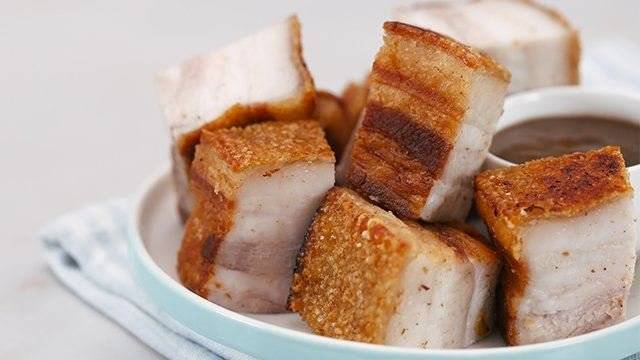 A Pinoy favorite, lechon kawali is tenderized pork belly that's been deep-fried until the outside is browned to perfection and crispy. If you've always to know how the restaurants do it, this recipe shows you the trick to getting it perfectly every time. 
Classic Lechon Kawali 
Takes 55 minutes plus cooling and chilling 
Makes 8 servings 
1 (about 1 kg) pork belly, lechon kawali cut 
1/4 c. salt 
1/2 tsp. ground black pepper
1 bay leaf 
Water, as needed
Oil, for deep frying 
Lechon sauce, to serve 
1 Place pork in a pressure cooker. Pour in enough water to cover. Add salt, pepper, and bay leaf. Bring to a boil, lock the lid, then simmer until tender, about 60 minutes in a pressure cooker. Release the pressure before removing the lid. Remove pork from broth, and set both aside to cool. Freeze pork overnight or until ready to cook. Reserve pork stock for another use. 
2 Once ready to cook, heat enough oil in a deep heavy-bottomed pot for deep frying. Using long tongs, place frozen pork into the hot oil and deep fry until golden brown and crispy. Drain on paper towels. Chop into serving pieces, and serve with lechon sauce and steamed rice.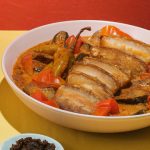 Lechon Kawali Binagoongan sa Gata Recipe
Posted in:
Recipe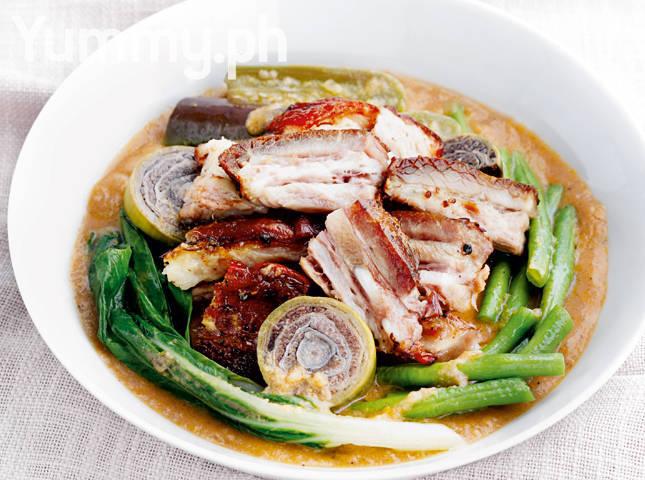 Lechon Kawali Kare-Kare Recipe
Posted in:
Recipe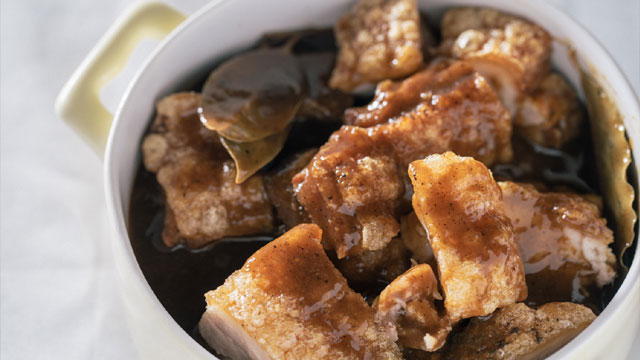 Lechon Kawali Paksiw Recipe
Posted in:
Recipe