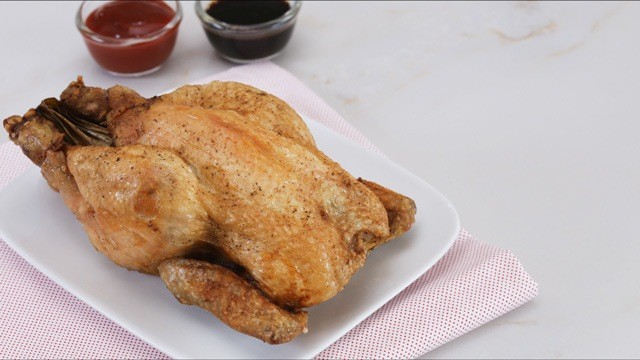 Fried chicken, without the coating, is a classic Pinoy-style fried chicken. It's an easy process that will ensure you have the crispiest skin on your chicken. We found out how to make it and here's how you can do it at home:
Max's Style Fried Chicken
Takes 55 minutes
Makes 4
2 whole spring chickens, (800 grams each), neck and giblets removed
1/4 cup rock salt
20 pandan leaves
2 tablespoons fish sauce
1 teaspoon black pepper
Oil, for deep-frying
Banana ketchup, to serve (optional)
Atchara, to serve (optional)
1 Wash chicken thoroughly. Rub cavity and flesh with rock salt. Wash to remove salt and drain. Stuff cavity of each chicken with 10 pandan leaves.
2 Arrange chicken in a preheated steamer and steam for 20 minutes. Remove chicken from steamer and let cool.
3 Rub each chicken with 1 tablespoon fish sauce and 1/2 teaspoon black pepper. Let stand for 15 minutes in the refrigerator.
4 Heat oil in a large wok or deep fryer. Deep-fry chicken for 5 to 8 minutes per side, until skin is golden brown. For extra crispy chicken, chill the chicken in the refrigerator after frying. When ready to serve, re-fry for 2 to 3 minutes per side. Serve with banana ketchup and atchara, if desired.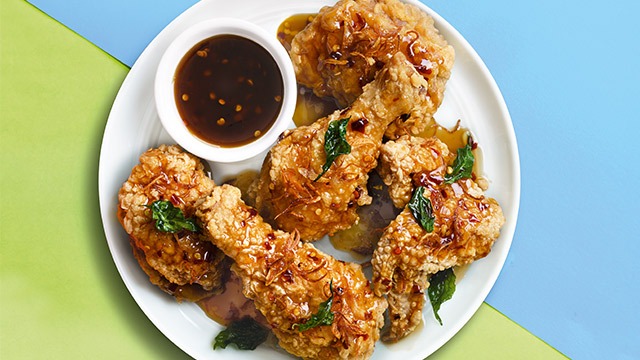 Patis-Glazed Fried Chicken Recipe
Posted in:
Recipe