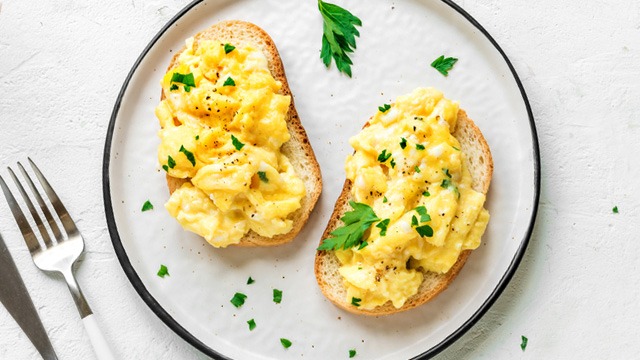 Less a minute is really all you need to cook eggs. That's because eggs do cook fast and easily in a really hot pan. When that hot pan is smoking hot and nonstick too, it is not far-fetched to think that you can cook a cheesy omelet in that pan in seconds.
That's exactly what Jamie Oliver proves is possible on his Instagram page last June 19.  
What's wonderful about his technique and recipe is that it's the ultimate in its simplicity. It's really just a couple of eggs with a little cheese quickly cooked on the stove and served immediately on a piece of toast.  
Here's how he did it: 
1 Heat a medium nonstick frying pan on medium to medium-high heat. 
2 Meanwhile, break 2 large eggs into a bowl and beat well with a fork. Toast 1 slice bread in the toaster. 
3 Pour the eggs into the super-hot pan and swirl to coat the surface of the pan with the egg mixture. 
4 Let the eggs set on the bottom and sides but the center is still wet. Sprinkle about 2 tablespoons grated cheddar cheese in the center. 
5 Using a silicone spatula, gently lift one side of the omelet towards the center to make a fold. Repeat until the omelet is folded all the way. 
6 Gently use the pan to place the omelet on top of the toast. Serve immediately. 
Gotta love the speed with which he makes this entire meal in a matter of 1 to 2 minutes. Care to see how the pro does it?  
*** 
ADVERTISEMENT - CONTINUE READING BELOW
Recommended Videos